The radio alarm woke me the morning of June 6, 1968. I listened to the news, silently wept and pulled the covers over my head. I couldn't get out of bed. After some time, my mother came in to see why I wasn't up yet. "They got Bobby", was all I could get out between my tears. Eventually I got up and got on with my day. It was almost the end of the school year and I listened to Ted's beautiful eulogy for his brother while sunning myself in the backyard. Somehow, my life would go on, even though the world had changed in ways I didn't yet understand. The liberal dream was never the same, but 50 years later, we can only imagine what life might have been like had RFK lived.
The year began for me with auditions for "Bye Bye, Birdie". I was truly upset that I didn't get the role of Kim, the 16 year old who is chosen to go on the "Ed Sullivan Show" and be kissed good bye by Conrad Birdie before he enters the Army. I was called back for the role, but it went to Freshman Debbie Lakin, the sullen girl I knew from my cabin at Camp Nahelu in 1963. She will show up in a photo and story in a few weeks. In my opinion, she wasn't nearly as qualified for the role as I was, but they didn't ask my opinion. I did meet Rick Hartsoe, new to the school, director of the top choir and our musical director. He'd be my choir conductor for my remaining high school years and my friend to this day.
I had the role of Randi, Kim's little sister (the role was originally a little brother, but never mind). I was also in all the teenager scenes, so got to sing "The Telephone Hour", "Got a Lot of Living", but also "Hymn for a Sunday Night" ("Ed Sullivan…we're gonna be on Ed Sullivan"), and "Kids"; classic songs. The show was lots of fun and I made friends for life; John Zussman was the rehearsal pianist and Patti Peters (now Zussman) was choreographer. Truly, friends of a lifetime.
This photo depicts Hugo, Kim's steady boyfriend after he knocks out Conrad. I am the girl just to the left of center, being comforted by my mother, looking horrified, with knee bent. Also in this photo was my other best friend – since 8th grade and other future bridesmaid – Debbie Fauman Horwitz, leaning way over with fingers in her mouth.
Throughout 10th grade, in religious school, we prepared to be confirmed into our religion. At the time this was a big deal in Reform Judaism. It took place on the holiday of Shavous, which celebrates the giving of the Ten Commandments and usually takes place in early June. Several of us wrote parts of the service. I still have that program. Since my congregation was not yet performing bat mitzvot (for girls), this felt important and meaningful. My parents had a big party at our house in the evening to celebrate and, in my grandmother's name (though she wasn't aware enough to realize it), I was given a lovely garnet ring which I still have tucked away. My grandmother passed away a few months later, not even remembering my name. The last time I saw her, she was bound to a chair so she wouldn't wander and she called me "Little Girl". I vowed I would never let that happen to my mother and, decades later, I kept that promise.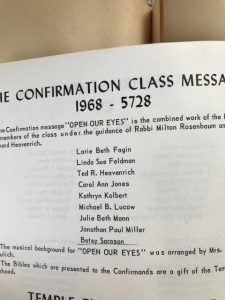 Later in the month I went off to my beloved National Music Camp in Interlochen, Michigan for the fifth summer. I majored in acting, and had a small role in "Hamlet", sang in the choir, took a dance class after lunch and, of course, Operetta later in the afternoon. We performed "Princess Ida" that summer, one of the more operatic of the Gilbert and Sullivan repertoire and one of the few in three acts. I was thrilled because, unlike most, this one had a few speaking parts and I had the role of Chloe, so I wasn't just "chorus" and my name was actually in the program! The Featured photo is in the third act, as we prepare for war against the men. I am on the right…we are singing, "Please you do not not hurt us…" (hence the long face). We aren't nearly as fierce as our leader would like us to be. Second from the left is Marcy Zussman, John's sister, with whom I was quite friendly. We lived around the corner from each other back home also. The production was quite brilliant and a life-long friend had a lead, while other great friends were in the chorus. I will see several this summer as we return to camp to celebrate the life of Dude Stephenson, our beloved operetta director, recently deceased. As was custom, camp ended with a tearful rendition of Liszt's "Les Preludes", always the last piece performed by massed orchestras, choirs and dancers. The singers hum along on the last few measures, which include a high "C" and our conductor, Mel Larimer, always called it "murder on the high C"! It didn't matter, we were all sobbing by that point. The summer had drawn to a close.
I returned to Royal Oak Dondero High School for 11th grade, was finally in A Cappella choir, to my delight and auditioned for the autumn play, "Arsenic and Old Lace". I got the role of Elaine, the girl next door and fiancee to Mortimer, the lead (played by Cary Grant in the movie, which was much more slap-stick than the play). My favorite line from the show was: "Insanity runs in my family, it practically gallops." I knew just what that meant. I liked this role, dated the bad boy who played the Jonathan/Boris Karloff character for a while. I also did his make-up for the play. Here is a photo of us after a performance, along with another friend. I made all the scars on his face.
In December, I turned 16. My parents had a Sweet 16 party for me and my girlfriends at a Swedish smorgasbord restaurant. It was a thing that year. Chanukkah came and soon the year was over. Yes, all in all, an up and down year for me. I didn't even discuss the political upheaval of the country. I was caught up in my theatrical world.
Betsy Pfau
Retired from software sales long ago, two grown children. Theater major in college. Singer still, arts lover, involved in art museums locally (Greater Boston area). Originally from Detroit area.
Tags: "Birdie", confirmation, camp, "Arsenic and Old Lace", RKF
Characterizations: been there