Summers on Martha's Vineyard start slow, pick up steam, then fly by. The third week in August has a particularly frantic pace, as the Agricultural Fair runs Thursday-Sunday of that week, with a carnival side-show, all sorts of animal displays, judging other displays within the Agricultural Hall; photos, crafts, giant pumpkins, everything from across the island to delight young and old. Tourists book a year ahead to be on-island for this week.
Wednesday and Friday of this week have long-standing special events in Oak Bluffs too. Oak Bluffs is one of the eastern port towns. Founded as "Cottage City", it was the site in the mid-1800s of the location for Methodist revival camp meetings. The large tents erected for these events turned into Victorian "Gingerbread" cottages, built around an iron-frame Tabernacle, still used for high school graduation, summer concerts, movies, and on this one Wednesday, "Grand Illumination Night", a custom that dates back over a hundred years. The local band plays, every one sings patriotic songs and songs one learned as a child by Stephen Foster and others. All the fantastic cottages that circle around are hung with precious old Japanese lanterns. On signal, the lights are turned off and the lanterns lit. Everyone in the audience is invited to admire the lanterns, mingle with the owners, who offer cookies and lemonade. It is a wonderful, warm night, full of nostalgia and neighborly good feelings.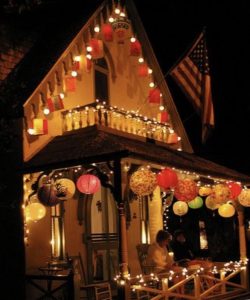 Ocean Park, just outside the camp ground, borders the Atlantic Ocean. On Friday night, all roads entering this area are blocked off and the Oak Bluffs Fire Department puts on a spectacular display of fireworks over the harbor. Firemen's boots are at each corner of the park to be stuffed with money in support of the department, T-shirts and glow sticks are sold. Kids run around for hours before the main event, swinging their glow sticks and parading around the band shell, where the local band plays a variety of Sousa marches and patriot songs.
Families spread out blankets and picnic in the park. When our kids were little and my in-laws came to the island, we'd pick up pizzas and subs to eat for our picnic. Now we grab a bite before coming, but sit with a large group of friends. Whoever gets there first spreads out blankets, puts up beach chairs and saves as much space as possible so we can all sit together. Some still bring food. All the kids are grown now; some have children of their own, so the quality of food has changed throughout the years. Now it is more "rosé and paté" rather than PB & J. Still fun to sit with friends and catch up, though we've probably just been with them a few hours earlier on the beach.
At 9pm, the street lights turn off and warning flares go off. The fireworks are about to begin. There are always a few standing displays: an American flag, a tipsy drunk. Those are ground level and may be difficult to see. Then the skies explode with fireworks coming off two barges in the harbor. The display goes on for about 45 minutes, building and building to a huge climax. Every year we wonder how it can be topped, but it does get better and better. The crowd "oohs" and "ahs" over the beauty of the favorites, usually the weeping willow pattern, or multiple colorful shots. There is always a false climax and we wonder and wait to see if there will be more, as another squib explodes and the crowd cheers. The finale sees a huge burst that goes on for minutes which clouds the air. Lanterns swing from the barges to declare the show is over, the street lights come back on. We hastily say goodbye to friends, fold our chairs in the dark and get out as quickly as we can, trying to get out ahead of the multitudes of people, also watching the fireworks, knowing that summer is drawing to a close.
Betsy Pfau
Retired from software sales long ago, two grown children. Theater major in college. Singer still, arts lover, involved in art museums locally (Greater Boston area). Originally from Detroit area.
Tags: End of summer, Oak Bluffs, harbor, picnic, fireworks
Characterizations: well written