I am writing this after returning from a wonderful four-day vacation in Las Vegas with my daughter Molly. However, I feel no need to write about it, because everything we did is so well documented in pictures. With cellphone cameras, we were taking photos constantly, clicking with such abandon that my phone now tells me that my memory is almost full and I need to get rid of some things. Molly and I each posted a Vegas album on Facebook chronicling the trip. If a picture is worth a thousand words, I have written a forty-thousand word story.
Memorial Day to the Fourth of July, a good length of time for a vacation
Looking back at the pre-cellphone-camera era, the vacation that stands out the most in my mind, both for its length and its variety of experiences, was a trip I took in 1981. It stretched exactly six weeks, from Memorial Day weekend to the Fourth of July. I know this with certainty, because I had only been at my job for three years and had limited vacation time, so I wanted to take advantage of both of those paid holidays. I still had to take a couple of weeks of unpaid leave after I ran out my accrued vacation, but it was well worth it.
I flew from Sacramento to Barcelona. My best friend Jane, who had been at the Attorney General's Office with me and lived across the street from me, had quit her job, sold her house, and moved to Barcelona a few months earlier. She had been unhappy at work, so when she read a short blurb in Parade Magazine that said that in the wake of Franco's death there was a high demand for English teachers in Spain, she decided to move there. She did a little research at the library and concluded that Barcelona sounded like the most interesting place in Spain. So she went. No job, no connections, she just showed up there and found a place to live and students who wanted to learn English.
When I arrived in Barcelona Jane met me at the airport and took me home. She had to go to work, so she had one of her friends get me some lunch and help me acclimate. After the redeye flight and the nine-hour time change I was almost comatose, but managed to eat something and then crash at Jane's place. I spent the next 10 days with her in Barcelona, living in her apartment, meeting all her friends, and sightseeing with her or by myself when she was teaching. We had a fabulous time together. At the end of that time, my boyfriend Barry, whom I would later marry, flew over to join me. We spent another day or so in Barcelona and then bid Jane adios and went off to travel around, equipped with our RailPasses and a spirit of adventure. We had no definite itinerary, and no reservations anywhere, because we preferred to make it up as we went, and find accommodations in each place when we got there.
I'm a little bit hazy on the routes we took, but I know we went to the Principality of Andorra, a tiny country in the Pyrenees Mountains between France and Spain. Really just a cute little town, and an opportunity to get a passport stamp from another country. We went on to Madrid, admired the great art at the Prado Museum, and called some friends of my aunt and uncle's, who invited us over for supper. They served us a wonderful gazpacho, but we didn't want to eat too much of it because we wanted to save room for the main course. After the soup was taken away, we discovered that it WAS the main course. This was supper, not dinner, they had eaten their big meal at midday. So we were still hungry and had to get more to eat after we left their house.
Our next stop was Toledo, where we stayed in a parador, our one splurge accommodation of the trip. Supposedly we could see the same view of Toledo that El Greco saw when he was working on his famous painting, but it didn't look quite the same. One theory about his art is that he had astigmatism, which would explain why he saw things differently. Also, maybe in the sunny summertime we just couldn't get that sense of gloominess.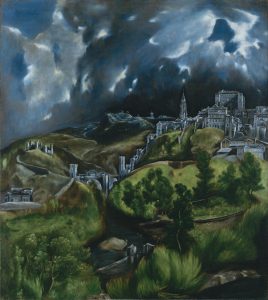 While in Toledo we went to the Cathedral, where some nuns enlisted Barry's help moving an enormous rolled up carpet (the kind that looks like it might have a dead body inside). I wasn't sure what was going on, he just disappeared with the nuns for a while and eventually came back. He got to see a part of the Cathedral that most tourists never do.
From Toledo we headed south and visited Cordoba, Sevilla, and Granada, with all the wonderful Moorish architecture. In one of these cities we went to a bullfight, because that was what one did in Spain, at least in those pre-animal-rights days. There were three types of tickets: Sombra, Sol, or Sol-y-Sombra. We knew we didn't want Sol even though those were the cheap seats, because it would be too hot sitting in the sun all afternoon. The Sombra tickets, in the shade, were very expensive so we couldn't afford them. I figured that Sol-y-Sombra meant that it was dappled, sun and shade, which seemed ideal, so that's what we bought. However, it didn't mean dappled, it meant that for half of the afternoon the seats were in the sun, and then eventually, when the sun had moved enough, they were in the shade. There were six bullfights, so for the first three we sweltered in the sun, and for the last three we were a little chilly in the shade. I was rooting for the bulls to win, but they lost every time. It was kind of awful, I don't even know why we stayed through all six fights.
Somewhere in our travels we saw flyers for a tour to Morocco, so we decided to do that. It was a three-day trip from Tarifa, Spain to Tangier and Fes, the two cities closest to Spain. We would have liked to go to Marrakesh (which we only knew about thanks to Crosby, Stills, and Nash) or Casablanca (which we knew about thanks to Humphrey Bogart and Ingrid Bergman), but they would have required a much longer trip. Our tour group consisted of one busload of people, most of whom were not American, which was nice. It was fascinating touring these two cities with an articulate and knowledgeable guide. We bought lots of souvenirs in the bazaars, after engaging in the requisite bargaining.
After taking the ferry from Morocco back to Spain, we went to our fourth country, Portugal. We headed first to the Algarve, the southern beaches that are the Portuguese Riviera, for some swimming and sunbathing. Then we went north to Lisbon and Oporto (which is now called Porto for some reason). We wanted to do some port tasting in Oporto, but the day we were there must have been a holiday because all the wineries were closed. We had the same experience when we wanted to taste sherry in Jerez de la Frontera, Spain, which is south of Sevilla, and found everything closed the day we were there. It would have been so nice if the internet had existed then and we could have looked up whether things were open before we went.
We did have a camera or two with us, and must have taken some pictures, although not nearly as many as one does nowadays, just snapping away at everything. Of course, you didn't know whether the pictures were any good until you got home and had them developed. And then, if you were like me, after you looked at them, and maybe showed them to a few friends, they went back into the envelope they came in from the developer, and there they stayed. I wonder if I have the pictures from that trip in any of the hundreds of envelopes of pictures that I have in plastic bins. Maybe some day I'll look for them.
Suzy
Characterizations: funny, right on!, well written