How many times has the question, where do I go for love been asked and more importantly, how does one go about finding the right place to find it? While I can't speak for anyone else, for me it all began when I was about 7 years old. My father began running a lumber mill in the small town of Bandon, Oregon along the coast of Southwestern Oregon. Growing up in Bandon, Oregon means growing up hearing numerous stories of George Bennett, the founder of Bandon. He attended Devonshire Academy and earned a Bachelor of Laws degree from Trinity College in Dublin. In May 1873 Bennett, his sons Joseph W. and George A., and a friend named George Sealy sailed on the schooner City of Baltimore for New York. The foursome crossed the United States railroad, arriving in San Francisco.  From there they boarded the steamship Eastport for the Coos region eventually reaching the mouth of the Coquille River.
"Bartender, drinks on the house for the entire castle!"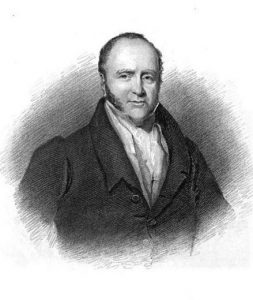 Bennett viewed this location as an ideal location for future economic development, close to vast stands of timber, the ocean, and the mouth of a navigable river. The rich soil here was suitable for agricultural endeavors and made it even more attractive and so it was here in 1874 he established Bandon, named after his hometown in Ireland.
Bennett served as Justice of the Peace, participated in community affairs, and served as official observer for the United States Weather Bureau. He may be almost as well remembered as the person who introduced gorse, also known as furze, to Oregon's South Coast. The yellow-flowered, spiny, European shrub is highly flammable and nearly impossible to eradicate. Growing thick and wild, this oily evergreen fueled Bandon's devastating fire in 1936 a not so welcome legacy long attributed to Bennett. Little did I realize that one day Lord Bennett's legacy would lead to fueling a fire of another sort, that being one of burning love within my own heart.
About a year ago, a very special lady and I began discussing traveling to Ireland. Not only had I grown up wanting to see Ireland because of having grown up in Bandon, but my ancestors hailed from County Cork, in the south of Ireland which just happens to be where Bandon, Ireland is located. Over the last several years I found myself engaged in attempting to help formalize the twining of the two "Sister-Cities." The modern concept of town twinning, conceived after the Second World War in 1947, was intended to foster friendship and understanding among different cultures and between former foes as an act of peace and reconciliation, and to encourage trade and tourism. In my pursuit I found myself serving as Ambassador to Bandon and it was'nt long until I received a formal invitation from Bandon, Ireland who was equally interested in the formality of twinning our two towns.
Before we knew it, my lovely Karol and I were on a plane to Ireland where not only would we accept the honor bestowed upon us by the citizens of Bandon, Ireland, but to also tour as much of Ireland as possible. Our plans included staying in numerous castles, seeing miles of amazingly breathtaking country, cities, towns and more. An entire book of the holiday could be written but for now that will wait and this memoir of my hunt for love will have to suffice.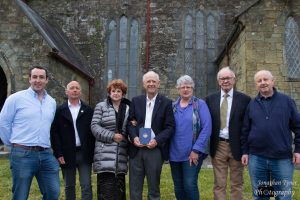 Ireland seems so right at home and our arrival to Bandon; Ireland was no different as we were greeted by locals who took Karol and I on an amazing walking history tour of Bandon including meeting shop owners. Afterwards we were taken to the Cork Heritage Center where we met many locals and toured the center filled with history of Bandon. From there we were taken to a hall where we spent the evening being greeted by Irish historians, authors, clergy, politicians, city officials, musicians, dancers and a poet. Also, in attendance were descendants of George Bennett himself. We were honored with speeches of city officials, historians, were entertained by dancers and musicians, poetry and more. To my great delight everyone involved expressed their delight and best wishes for the formal twining of our two wonderful towns, both sharing the DNA of George Bennett.
After our overwhelming experience in Bandon, Karol and I traveled to places like The Blarney Castle, where yes indeed, I kissed The Blarney Stone, The Dingle Peninsula, The Cliffs of Moher, just to name a few, eventually finding us at the premier fishing castle in all of Ireland, The Ballynahinch Castle. Ballynahinch Castle has been intertwined in the history of Connemara and its people for centuries, from the recorded battle between the O'Flahertys and O'Malleys, in 1384, to the visit by all the Lord Mayors and Mayors of Ireland and some from overseas, to celebrate the Quincentennial year of Galway city receiving its charter.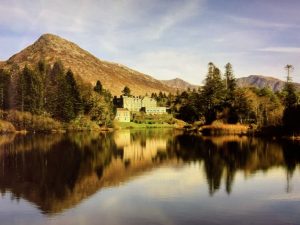 The Castle passed into the hands of His Highness the Maharaja Jam Sahib of Nawanager, better known as Ranjitsinhji, or Ranji Prince of Cricketers. Ranji had come to know Ballynahinch through its famous fisheries and in 1924 he purchased the property. He had fallen in love with the beautiful and rugged scenery of Connemara and wished to own part of it. It was Ranji who was responsible for most of the landscaping of the gardens and woods, plus the erection of the fishing piers and huts along the river. He was a fabulously wealthy man, having property in England, and, of course, his many palaces in India. He is best known as a world class cricketer and is regarded as second only to the legendary W.G. Grace, of whom Ranji was a teammate. He still holds many cricket records, and has two mentions in The Guinness Book of Records, which have yet to be broken.
Before leaving America for Ireland I knew it was here, over 5000 miles away that I too would find my love and as much as I love fishing, it would not be my love of fishing I would be in search of. One evening during dinner I asked our waitress to call the maitre d'. When he arrived, I told him that two days prior I overheard a man in a pub say there's an old Irish saying that says, if you should make a wish then just happen to hear a bagpiper in the distance that your dream will come true. The maitre d' was quick to reply, "Yes, that's quite true indeed." Then I looked at Karol and asked her to make a wish but not tell me what it was. She thought about it for a moment while the maitre d' patiently waited and so she made her wish.  It was then out of nowhere a bagpiper appeared and began playing while passing the front of the castle below our table window. Karol looked on with an expression you had to see to believe as the bagpiper walked up the stairs and into the formal dining room as the castle staff open the doors into the dining room. As the castle staff and everyone in the dining room looked on, I got down on one knee, while wearing a formal-dress kilt, where I told Karol how much she means to me and asked her to spend the rest of her life with me. With tears of joy streaming down her lovely cheeks Karol said yes and so as I placed a traditional Irish Claddagh engagement ring on her finger as the entire castle erupted with applaud and respectful cheers.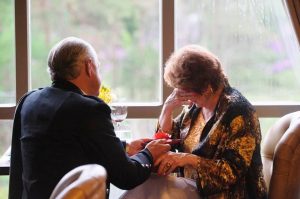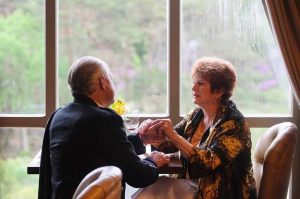 We exited the formal dining room following the bagpiper playing the bagpipes where he lead us the castle's pub where our engagement was announced and for the first time in my life I raised my glass and announced, "Bartender, drinks on the house for the entire castle!"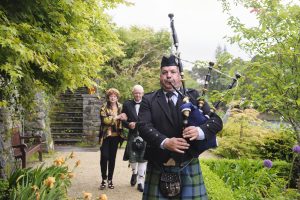 Indeed, I had found what I was looking for many miles from that small town I had grown up in so far away. It was the best "Yes" I had ever heard and a glorious moment while the luck of the Irish was looking down on me that day. It seems the concept of twinning not only applies to fostering friendship and understanding between cities but also between two souls, both of whom love each other so very much.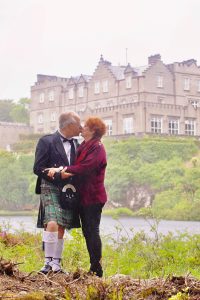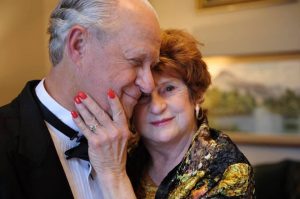 Gary Faules
Gary Faules is a former Oregonian who still holds records as a former Olympic skeet shooter, racecar driver and team owner and competed in the world famous 2007 La Carrera Panamericana. He has traveled the world as both a big-game hunter and angler and has been a freelance writer for both racing and automotive as well as sport shooting publications not to mention his latest book I Slept In Africa made The Forbes Book List. Seeking adventure is only second nature as he continues his dream of living life to the max since almost being left blind as a child due to a freak accident. Gary has been the recipient of numerous awards, several being congressional recognition awards for helping others. A once retired CEO of his own corporation, Gary continues to work and lives near San Francisco, California, where he spends much of his time enjoying the love of his life and waiting for the next adventure so that he can continue the journey.
Characterizations: moving