Having just come back from Las Vegas, the city that epitomizes temptation, only to overeat at Thanksgiving, and looking ahead to holiday gluttony, I realize how hard it will be for me to resist all of the yummy desserts put before me. My mother loved to bake, a trait I inherited. The only way to avoid sweet treats and baked breads at home is to deny myself the pleasure of creating them. But in restaurants and at other people's homes, it's much harder to resist.
My mother loved to bake, a trait I inherited. The only way to avoid sweet treats and baked breads at home is to deny myself the pleasure of creating them.
Growing up with a tradition of dessert following every meal was not the best model for healthy eating. My family loved ice cream and chocolates, and even Oreos were considered an acceptable end to a meal. My father could never deny himself a Hershey chocolate bar. His rationale was that if he ate a pound of chocolate, he would gain a pound but no more. Not very scientific, but this is how I was raised.
I just baked this: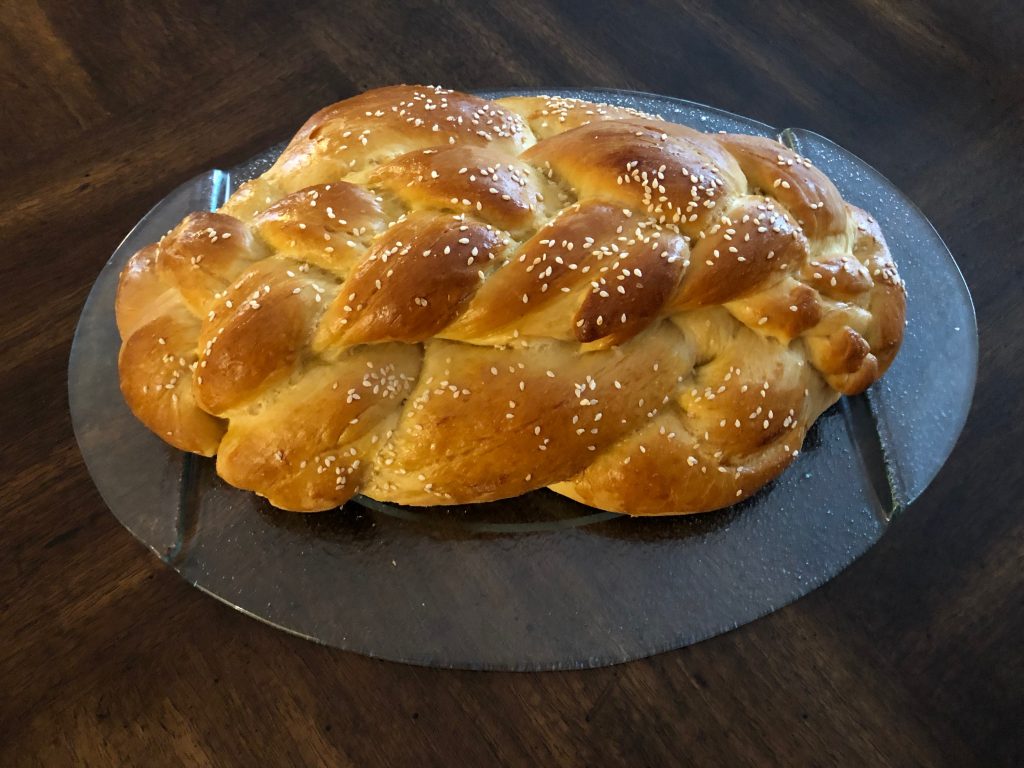 It's my most delicious challah bread, but it currently resides in my freezer waiting for a special occasion at which I can share it with many others. Thus, I will not be tempted to eat more than one slice. If it tempts you, here's the recipe.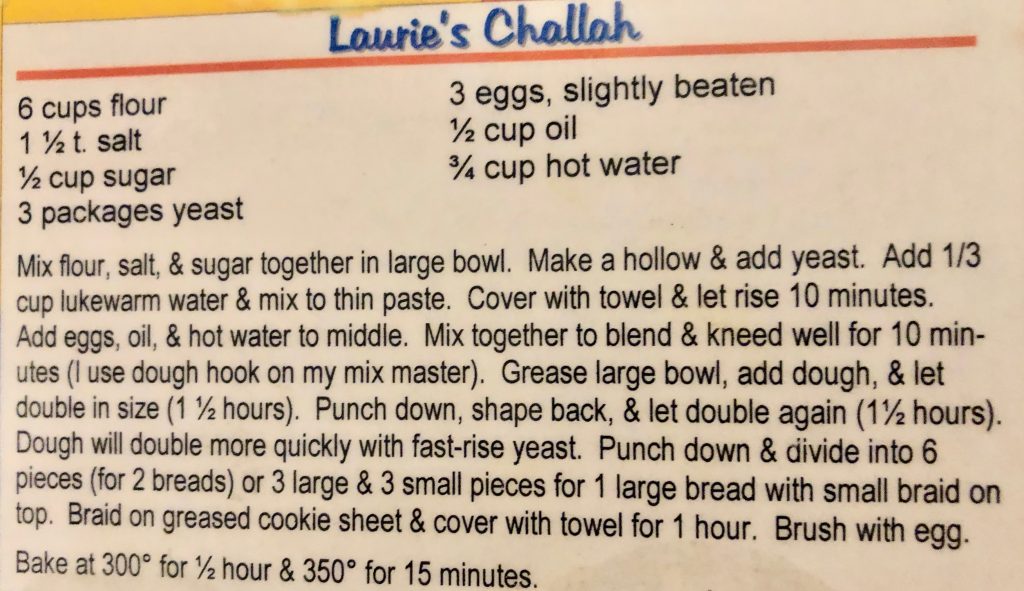 Before I retired, I was the director of Cherry Preschool, which had an all-female staff. People were always bringing us treats and all of us brought our leftover goodies to school to share with our colleagues. Much of this was put in the freezer in the hopes that having to defrost it would serve as a deterrent to the impulse to consume it. Sadly, we discovered the joy of frozen Halloween candy. As for the extra cakes, cupcakes, brownies, and cookies, we also consumed these by hacking off small portions – many times. The running gag was that there were no calories in frozen treats and eating several tiny portions added minimal calories. Then, everyone went on a diet in January.
There are a few desserts that cry out to be baked from time to time. First, there's my mother's chocolate (of course) birthday cake. I had abandoned this recipe in favor of cake mixes for many years, but after Mom died, I started making it again. It's really not that hard. Here's the recipe if you want to give it a try: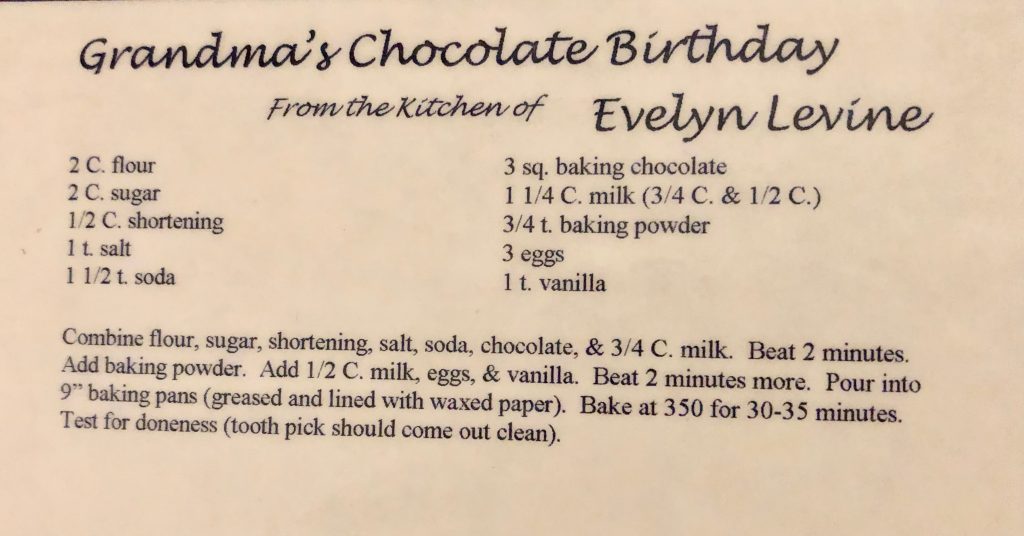 Another favorite of mine and of many of my friends is Aunt Bea's Chocolate Cake (recipe below):
The funny thing about this recipe is that we all thought Bea was Sybil's aunt, but found out later this was untrue. If you know who Aunt Bea really is, please let me know. Also, it's a fussy cake because when it comes out, it's super delicious. Occasionally, my friends and I would lament that it was a fail. We blamed our ovens or carelessness for this, as the recipe cautions you to "check for doneness" and it always takes a bit longer than 50 minutes to bake, just not too much longer.
Finally, there is the best carrot cake ever. My daughter makes it every year for her staff Christmas party and even won a bake-off one year against someone who claimed hers was the best ever. We call it Ralph's Carrot Cake because I'm fairly sure he gave me the recipe many years ago. He denies this and doesn't remember ever making it, so another mysterious origin story.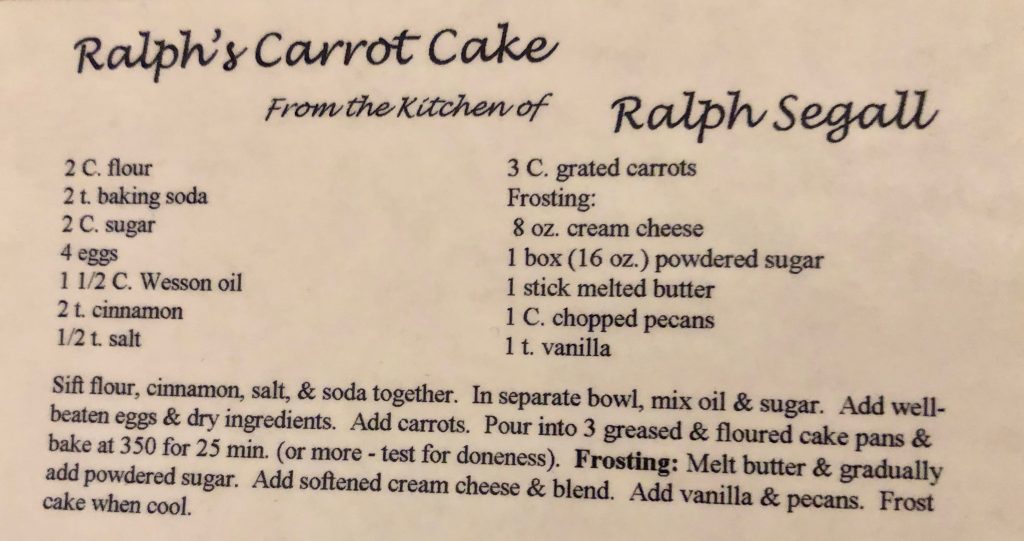 I'm just coming off the trip to Las Vegas, city of gluttony and other excesses. My husband and I met dear friends there to celebrate our mutual 50th anniversaries. Our companions insisted we try a buffet, which was much like being on a cruise ship. Limitless amounts of food. Of course, I was drawn to the dessert bar. I wonder if that theory of my work colleagues about numerous small portions of sweets not adding up to that many calories is true. Probably not. Luckily, Vegas is now off my bucket list, so that experience won't be repeated.
In the interest of maintaining reasonably good health for a woman my age, I try to avoid desserts and home baking for most of the year. But I'm a gal who loves to celebrate, and (to borrow from Pillsbury) "nothing says loving like something from the oven."  Unfortunately, I have to resist the temptation to bake and consume lest I end up looking like the Pillsbury Doughboy.
I invite you to read my book Terribly Strange and Wonderfully Real and join my Facebook community.
Laurie Levy
Boomer. Educator. Advocate. Eclectic topics: grandkids, special needs, values, aging, loss, & whatever. Author: Terribly Strange and Wonderfully Real.
Tags: desserts, baking, temptation
Characterizations: been there