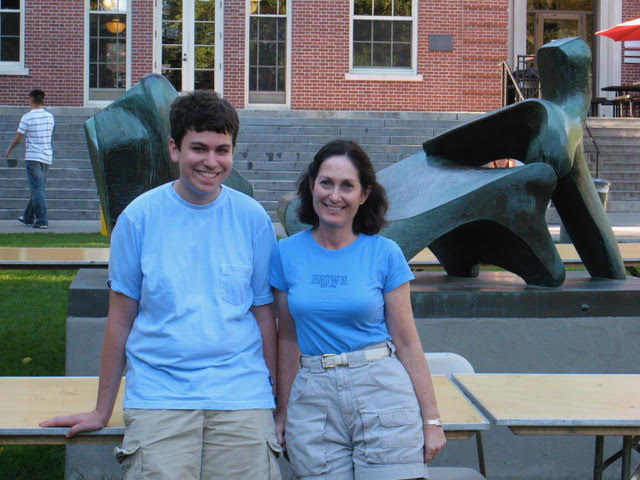 We always knew he was brilliant, but as we gathered around the computer on December 17, 2006 to press the button for early decision acceptance into Brown and read "CONGRATULATIONS", we screamed and I cried a bit, then I called his special ed school, where they all screamed with joy too. Jeffrey was their first Ivy League acceptance ever. His scores were off the charts, but his transcript was unorthodox at best.
We started preparing for Jeffrey to be able to live on his own the summer before his senior year of high school. We sent him off to Stanford to attend three weeks of the "EPGY" program in computer science. This was before we knew his older brother (a Stanford student) would be a tutor in the physics part of the program. When we asked Jeffrey if he'd feel better if we were not 3,000 miles away, he immediately said yes, so we had a marvelous west coast vacation, going to Napa Valley with Patti and John, spending time in Carmel, in San Francisco; but returning to Palo Alto each weekend to take Jeffrey out to a decent dinner. I taught him to do his own laundry (sorting the darks and lights) and asked David to check on him from time to time. Jeffrey had some piece of mind, knowing his brother was near, just a phone call away. And the head of Jeffrey's program was a friend of his brother's…all to the good.
We visited Brown in the spring of '07. We met with the head of Disability Services, armed with reports from testers and psychiatrists confirming Jeffrey's special needs. She was fantastic and very accommodating, so unlike any one we had ever met in our years dealing with the people in public education. She understood why Jeffrey needed a private room as a freshman (couldn't sleep if there was too much noise or light; more sensory integration issues). He could take a reduced course load, even if it meant not graduating in four years. That was OK with us…just get the degree with the least amount of stress and the best grades possible. Get prepared to go out into the world. We asked what cell phone service worked best on campus and got Jeffrey his first mobile phone.
We got a list of psychiatrists who were walking distance from the campus, interviewed them and selected one who really clicked with Jeffrey…for the first time in his life. We hired a coach to supervise his workload and help with his writing assignments. By sophomore year, the coach was gone. Jeffrey became self-sufficient. We set up an account with the local pharmacy. They would bill my credit card for Jeffrey's meds, but deliver them to the school infirmary and call Jeffrey when the meds had arrived. He could also call in refills. We had all these support systems in place BEFORE move-in day.
We were allowed to get Jeffrey into the dorm a day ahead of all the other first-years, so headed down to Providence on a hot, humid day just before Labor Day weekend in August of 2007. One of the many things we loved about Brown was that it was a one hour drive from our home. Our SUV was packed full of clothing, computers and boxes of books and whatever he chose to bring along on this adventure.
We arrived, checked in with housing, got Jeffrey's room key and started unloading. We couldn't park inside the quad. Brown is a very old school (founded in 1764) in the heart of Providence, Rhode Island, so one parks on a city street, then walks inside the gated area to get to any building. Jeffrey's room was a few floors up, so lots of trips unloading everything and climbing stairs on that hot, muggy day. We all worked up quite a sweat. Then Jeffrey got his photo taken for his college ID. He was officially a university student. The thought blew me away. We had all worked so hard for this day to come.
We surveyed the room and decided what else he might need; an area rug, an "under-the-bed box" and stackable cubes to store more clothing. So we headed out to a nearby mall to shop for those items, brought those back, then headed home. Jeffrey didn't stay overnight yet. We introduced him to dorm life gradually. One more night of sleeping in the comfort of his own bed, with his beloved cat.
The next day we made the trip again, brought the last load of clothing, computer items, he set up his computer (now that he had a long enough cable to reach around the room), hung posters, etc. I made his bed and tried to show him how to make hospital corners. I had no way to know that the only time the sheets would get changed would be when he came home for vacations and I'd wash them myself. I'm told that's a "boy thing" and didn't only happen with my special needs child.
We made sure to introduce Jeffrey to his RA, who told him about a dorm party later that day. She was of Asian heritage, but from St. Louis. I made conversation. Jeffrey seemed uninterested. I worried that he wouldn't reach out to make friends. We got information about Orientation, parties…anything that Jeffrey was supposed to attend. There were kids of all makes and stripes. I hoped that my kid could find someone to befriend.
We went to a large convocation where Ruth Simmons, the wonderful president of the university, spoke about welcoming this new crop of students to this august school and the limitless possibilities for all of them. I was overwhelmed that my child was there, among them, having overcome so many difficulties to reach that moment.
We wandered around the campus a bit, taking some photos as we prepared to say our goodbyes. I was incredibly proud that Jeffrey, who just a few years earlier had been curled up in a ball, screaming and refusing to go to school at all, was now enrolled in his first set of classes at one of the most rigorous universities in the world, live on his own, take care of himself, say goodbye to all his old lifelines.
During that first year, we came down to Providence every other Sunday, took him out for a good dinner and checked in. He did just fine and slowly we checked in less often. Parting that day was difficult and joyous. He proved that he had grown in so many ways.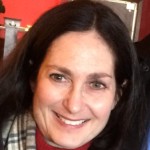 Betsy Pfau
Retired from software sales long ago, two grown children. Theater major in college. Singer still, arts lover, involved in art museums locally (Greater Boston area). Originally from Detroit area.
Tags: Brown University, hot weather, different challenges, single room
Characterizations: moving, well written