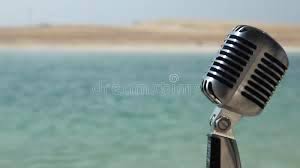 I was sailing into summer, flags flying, in 1964. Things were good. I had just finished school and would be a rising 9th grader in the fall. I had made the cheerleading squad. My first job, at a summer camp, would start in a few weeks. My best friend "J" and I were eager to fit in some fun before my job started.
But what kind of fun? Beach trips, of course, the usual teenage stuff. Then it struck us: we wanted to go into the city to be in the audience of Boston's top radio personality, Jerry Williams.
You could say this was a weird choice. We were sensible girls. But Williams was a pioneer of talk radio. His novel, popular weeknight show skewered Boston politicians and surveyed the local scene. Bombastic and rude, he often hung up on callers and called them "cockamamies." At our age we thought this was hilarious.
Williams' show was for adults, but we knew it well because his show started at 10 p.m., right after DJ Arnie "Woo Woo" Ginsburg's Top 40 Night Train Show. We could stay up past 10 and listen to Williams only on a Friday, the same night he opened his studio to fans.
To our secret relief, neither J nor I was allowed in Boston alone, day or night. We would need a chauffeur and a chaperone. In her one lapse of judgment that I can recall, my mother agreed to do it. My father quietly shook his head in disapproval.
The next Friday night off we went. Mother steered us expertly into the city and ultimately down a creepy alley near Fenway Park. It was dark, dark. As we approached the building we saw an angry mini-mob gathered at a closed door blocked by a Boston policeman. What was going on? My mother was about to pull the plug on this sketchy situation when the officer called out to us: "You three — you come in." 
The crowd parted and in we went. Why us? I wondered. We climbed a steep flight of stairs that opened onto an unexpectedly cavernous, high-ceilinged room. There were just eight metal folding chairs set up, and three were free. We took them and sat down. 
Looking around, I spied three of the biggest men I'd ever seen. Their identities soon became clear when one's sport coat opened to reveal a shoulder holster. They were serious plainclothes police. I sensed my mother had seen the gun too. I think that if she could have fainted to the floor from a sitting position, this would have been the moment. Later she admitted she was imagining newspaper headlines along the lines of Foolish Mother Puts Teen Girls in Peril.
I turned to the front and saw, seated at a table, a very somber, handsome man. He looked familiar. To his left I saw Williams, seated on a dais high above his guest in what reminded me of a lifeguard's chair. Suitable for such a big ego, I thought. Good grief, this was bizarre. And hugely exciting.
The rest of the night is a blur, except for the fact that the guest was Malcolm X and that Williams, at one point, looked up at the room's only window and informed us that there had been a bomb threat.
My summer proceeded in a comparatively mundane manner after that. The camp job was great. Soon after it ended I started school and the cheerleading gig.
Then, in late February, news broke: Malcolm X had been assassinated. I was stunned. Just months before I had been sitting perhaps eight feet away from a national figure who now had been murdered.
There is a chilling Edith Wharton short story that features an American couple giddy at scoring a suspiciously cheap rent on an English country house. Jokingly, the wife asks her friend, Is there a ghost? Yes, the friend answers, but you won't know it until long, long afterward.
I couldn't have known, that fanciful summer, that the scourge of U.S. assassinations was not over. That the nascent war on the other side of the world would metastasize to haunt my college years and involve both my brothers in military service. That societal unrest would rock our country and continue to do so, off and on, to this day.
Reader, please forgive me for ending this story on such a down note. That summer of '64 really was a magical time.
Foolish Mother Puts Teen Girls in Peril
Susan Bennet
I'm so happy to have joined the gracious Retro family. The basics:
I have a background in marketing and museums.
I come alive when the leaves turn red.
I regret every tech mistake I have made or will ever make on this site.
I want a dog.
Characterizations: right on!, well written