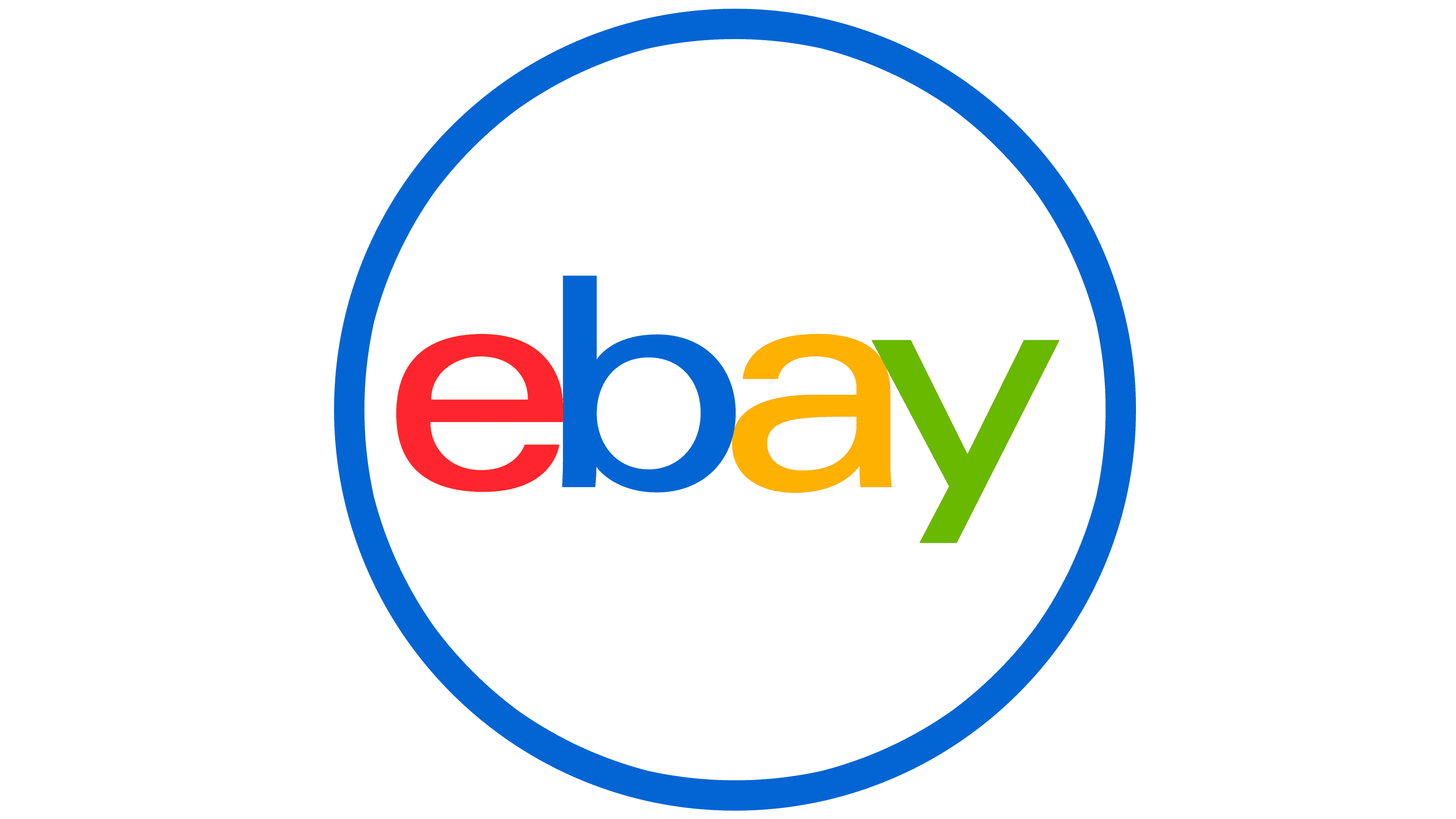 I alluded to some auctioning activities I had participated in in my recent "To DIY For" story, where I spoke of acquiring sets of "players" for the vintage hockey game that I bought at a lighting store in Milwaukee and then fitted on a table I built from old shelving. Here it is: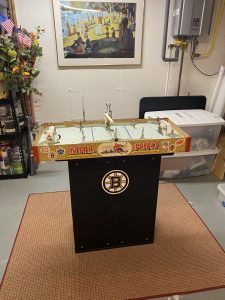 The players are actually just fancified metal paddles to pass and shoot the marble "puck," but, in my incurably nostalgic way, I wanted to acquire players wearing the uniforms of all six of the original National Hockey League ("NHL") teams that played when I was a kid and first owned the game (c.1960); The game I had just bought had only come with the Montreal Canadiens and the Toronto Maple Leafs, the two Canadian NHL teams at that time.
I quickly realized that the best place to get something like a set of these players was on eBay, so off I went on my one and only auctioning adventure on it  — and hence my featured image. Happily, I did find a number of sellers of all of these other four teams' players (though no sets of all four of them), so off I went to bid for them. This was a real learning experience.  At first, I bid early and substantially above the asking or then-bid price and felt confident, as the auction came near to its close, that my high bid would seal the deal.  But I soon realized — the hard way — that the canny bidders waited until the very end of the auction to place a slightly higher bid so that it was impossible in the time remaining to out-bid it.  Having been chastened by losing a few bids this way, and grateful (but nervous) about the remaining sets of these players still out there, I finally won them all with ridiculously high bids at, literally, the last second of the various auctions.  The exhilaration I felt when I finally scored these little uniformed metal objects was disproportionate and, indeed, ridiculous, but probably typical.  I won't say how much I ended up paying all in all, but, like most happily over-paying auction winners, I will just say "It was worth it."
Here is the game as currently set up with, of course, my now-home team Boston Bruins and, equally of course, the Bruins' long-standing archrivals, the New York Rangers: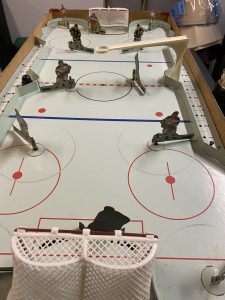 And, for the record, here are most of the players on the other four NHL teams, who are safely stored, not in a locker room, but in the box some of them were sent to me in, now protectively wrapped in a Ziploc: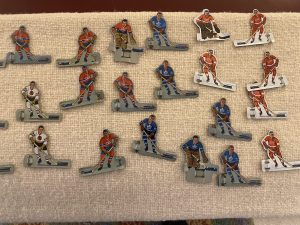 To be honest, I'm not sure when, if ever, any of the other four teams will make it onto the "ice."  However, if Laurie ever drops by to play, I'd bring out the Chicago Black Hawks in her honor, or, if Betsy ever drops by, I'd bring out the Detroit Red Wings in her (childhood) honor.  More likely is that my old KPMG buddy Dennis, who lives in Toronto and, like every Canadian boy of our generation, also had this hockey game, might come to Boston for a KPMG "Mad Dog Crew" reunion (I was "Mad Dog," of course).  In which case, I'd definitely bring out the Maple Leafs in his honor, eh?
*                                    *                                          *
Let me now cause a little Retro whiplash by switching gears completely to my experience on the "sell side" of auctions over the years.
As previously noted, I was very active at the Bank Street College of Education in New York for many years, including serving as the chair of its board. Early on, Bank Street's big fund raiser was, like many non-profits, a charity auction.  We later, and very wisely, switched to an annual dinner at which we bestowed honorary degrees.
The Bank Street auction was an enormous amount of work each year, starting with securing all the fancy items to be bid upon like airline tickets, resort and vacation home stays, and tickets to Mets and Yankee games and Broadway shows. But what made the effort particularly difficult was the mindset of many of the members of the Bank Street community.  As New Yorkers would understand, Upper West Siders (and Bank Street, despite its name, is now located on West 112th Street), while they are incredibly progressive thinkers, are also incredibly frugal.  So, to many of them, an auction — even a charity auction — meant not so much a chance to give generously to a beloved local institution as much as a chance to grab themselves a bargain.  As a result, getting them to really open up their pocketbooks and happily overpay at the auction for these items was an enormous and generally unsuccessful struggle. To put it in finance guys' terms, the ROI ("return on investment") on these auctions, especially given all the time and effort to secure the items, was depressingly low.
Because of my Bank Street background, I was later asked to join the board of PASE (Partnership for After School Education), another wonderful New York institution and equally progressive.  To raise funds, PASE has long had an annual dinner.  At some point a few years ago, almost as an afterthought (and, thinking of Bank Street, not with my particular encouragement), PASE decided to have a brief auction during dessert at the dinner.
For the first few years, PASE's auction very much resembled Bank Street's: luxury items, a lot of effort, and not a whole lot of return.  But, more recently, the PASE auction morphed into something of a hybrid which, besides offering the usual items to bid on, also included a number of more purely donations, albeit dressed up as something tangible; e.g., "For $____, PASE can provides places for three students in its Summer Learning Program."  These "items" went over very well, especially as we started using a computerized, but easy-to-use, bidding process with iPhone-like devices and had hired a professional auctioneer — witty and absolutely overflowing with enthusiasm —  to conduct the auction.  (He is pricey — I review his contract every year for PASE — but worth it.)
At this year's annual dinner, held at the end of March (after having been postponed last year for obvious reasons), the auction metamorphosis was complete. Nothing to bid on at all, not even PASE programs.  Rather, with an updated computer system (just scan the code that was in the program on your own phone and you were all set to bid) and our same hyped-up auctioneer, bidding was purely for direct monetary contributions to PASE.  First, the auctioneer asked for $25,000 contributions. After charmingly squeezing every last one of those out of the crowd, he asked for $5,000 contributions, and so on down to much smaller numbers.  As the pledges came in and the numbers rose, they were projected on big screens all around the enormous room (a converted old bank building) and the auctioneer and the audience got more and more excited. By the end of the auction — probably no more than half an hour later — PASE had raised a record amount of $375,000 and everyone was happily digging into dessert. Some auction, no?
Thinking back the next day, I initially concluded that those parsimonious West Siders must have changed a fair bit over the years.  Plus, PASE has attracted a good number of Upper East Siders recently, stereotypically more likely to flaunt their wealth than their neighbors on the other side of Central Park.  But, as I thought about it even further, the real change was that the "auction" wasn't really an auction at all anymore, at least by its usual definition.  Other than the satisfaction of donating to a worthy cause (and, yes, possibly impressing others with the size of one's donation), the bidders had not actually won anything at all.  Not even some toy hockey players.  And the delightful irony of this was that, by changing the "auction" to simply being a (mis)label for purely charitble giving, it was more successful than ever.
All of this somehow reminded me of the famous closing line from the movie "The Usual Suspects," as voiced by Kevin Spacey's character:  "The greatest trick the devil ever pulled was convincing the world he didn't exist."  But, in this case, I would re-phrase it as follows:  "The greatest trick God ever pulled was convincing the world that they had just won an auction."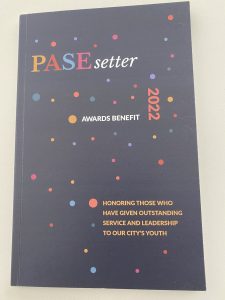 (The program cover from this year's PASE dinner.)
John Shutkin
Characterizations: funny, right on!, well written