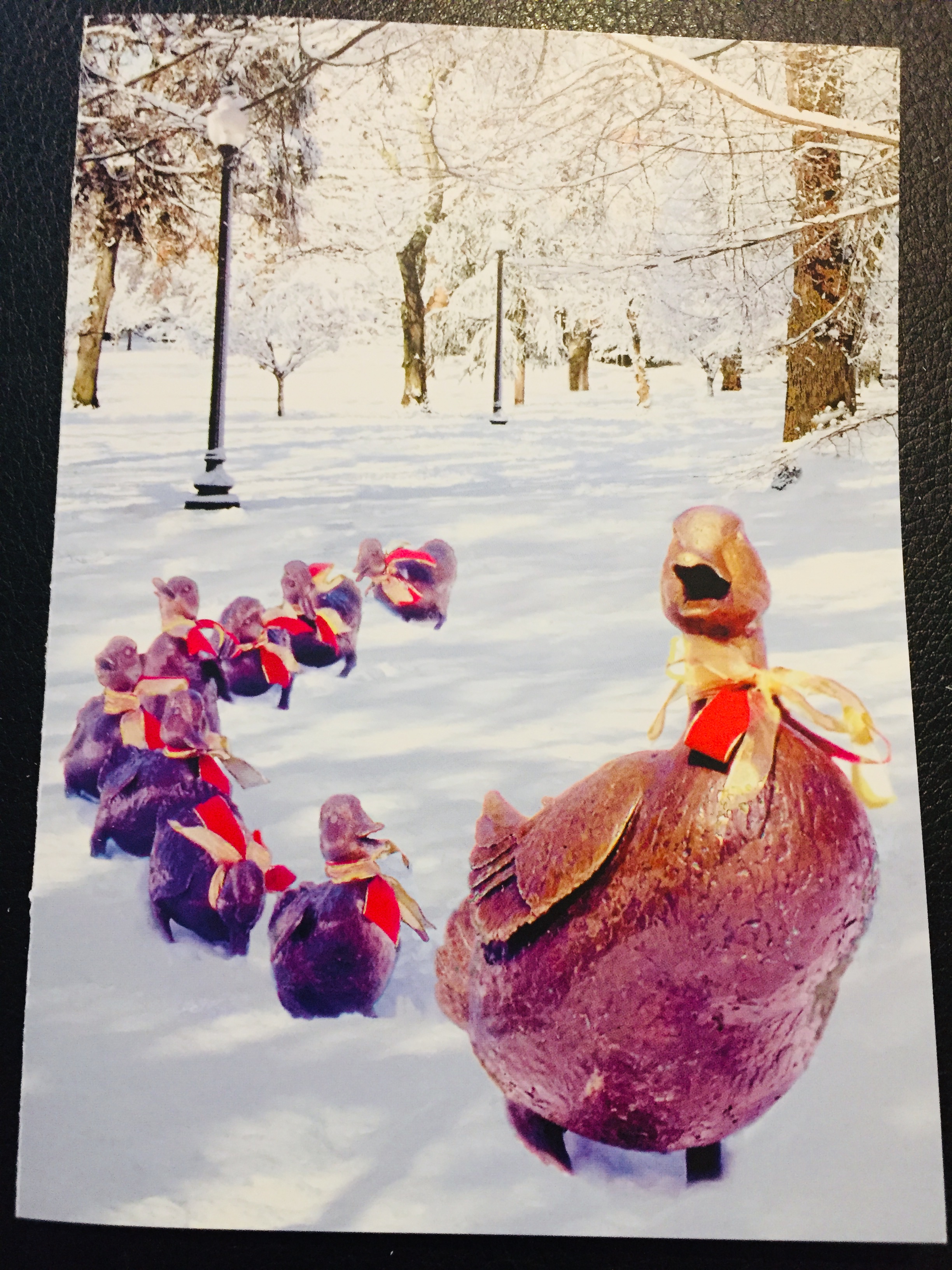 In the true spirit of Ebeneezer Scrooge, I could not come up with much of a story for this week's prompt. You know, the usual Jewish ambivalence towards Christmas and a slight regret that Festivus is not more of a real thing — because, boy, do I have grievances to air.
"My mother always stressed to my brother and me the importance of cards for "connection" -- staying close to other people in one's life, both near and far."
But then our fearless Retro leader (a/k/a Suzy) suggested I could just send a copy of my holiday card, as it was pretty cute.  So that is my featured image. For those who do not know, this is a photo of a sculpture in the Boston Public Gardens inspired by Robert McCloskey's famous Boston-centric children's book "Make Way for Ducklings."  Frankly, as a kid, I much preferred the stories and illustrations in McCloskey's Homer Price books (anyone else remember/love them?), but "Ducklings" was by far his most iconic work.
Here is the inside of the card, continuing the book title's theme and throwing in a bit of Bostonian patois:
And, lest I be accused of being too much of a Scrooge, I should note that all proceeds from the card sales — and I ordered and sent out a couple hundred cards — go to the Dana-Farber Cancer Institute (again, known in Boston parlance simply as the Jimmy Fund).
Actually, as I considered things further, holiday cards are the one tradition of the season that I have always enjoyed — both giving and receiving.  And, as I further considered things, this was yet another something that I really owe to my mother.  (I hope I'm not getting too Oedipal here).
As may be remembered, I posted a couple of holiday cards from my earlier days in response to the baby prompt recently. Here is one of those adorable cards: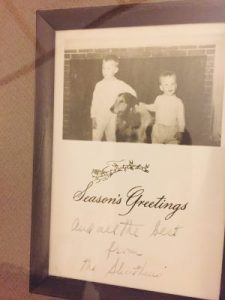 My mother always stressed to my brother and me the importance of cards for "connection" — staying close to other people in one's life, both near and far.  So, besides spending a fair amount of time near year-end writing checks to what she considered to be worthy causes, she also sent out scores of cards. And always – -so far as I can tell — with personal messages on them as well. And she received tons of cards in return — enough to cover the mantelpiece, all the book shelves and virtually all the empty spaces on the piano and tables in our living room.
I adopted this practice, as was my wont, once I graduated from law school and decided I was officially a grownup.  As my former wife held several lofty professional positions, we sent out an enormous number of "institutional"  cards — God forbid a member of the Barnard faculty did not receive a card from the President — but these were always handled by her office and required nothing of me other than signing off on them (i.e., "Yeah; looks fine."). But I always handled virtually all of the personal cards, other than those my wife sent to her immediate family and closest friends.  And, as did my mother, almost always with a personal note written in.
After our divorce, I continued with the practice myself, though trying hard not to presumptuously send a card to anyone whom my former wife might consider to be only "her" friend — typically, other prominent people.  This worked out well as I was trying hard not to burn any bridges, either with her or anyone else. And, as one can imagine, I particularly wanted to keep up connections with my own friends at this time.
My current wife shares my love of sending out cards, but not my anal compulsive tendencies, and frequently finds it tough to get "her" cards out before year end.  So I will do all the cards, including those for her family and friends, that we really want to make sure arrive in timely fashion. That said, she will (almost) always, and without much embarrassment, send out a number of post-New Year's cards to her closest friends, all of whom seem delighted to hear from her and are often on the same relaxed scheduled.
And, as I think of it, may I please offer this story as my collective holiday card — and personal note, of course — to all my Retro friends.
John Shutkin
Characterizations: funny, well written