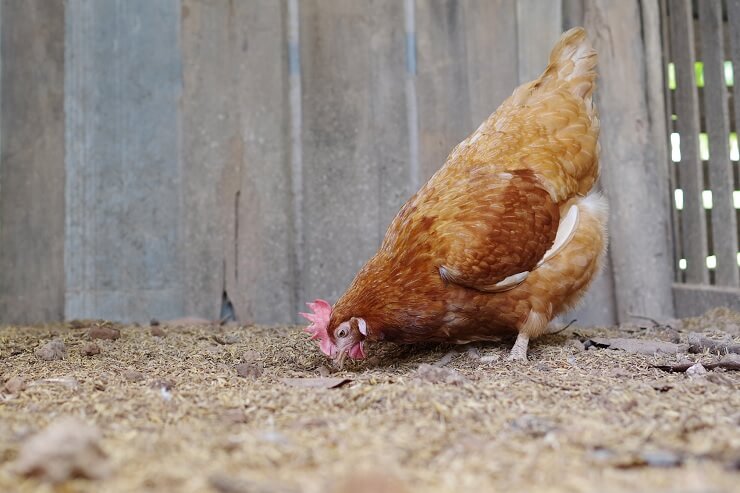 When we were kids, my brother and I had a huge compendium of age-appropriate jokes entitled, originally enough, "Jokes, Jokes, Jokes."  Between us, I think we can still recall one hundred percent of the jokes, jokes, jokes.  This week's prompt particularly brought to mind the following:
Teacher to kid: "Your handwriting is atrocious."
Kid to teacher: "If it were any neater, you'd complain about my spelling."
That was, and always has been, my handwriting. Nearly illegible chicken scratch. (That, of course, is my G-rated title to this story.)  I am a pretty good artist and enjoyed doing creative lettering and calligraphy, but I never seem to have time or patience to write neatly. My mind simply works faster than my crayon, pencil or pen —  or so I like to rationalize.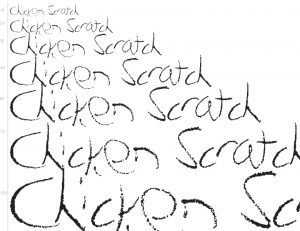 To make matters worse, I have always written in very tiny letters.  Years ago, a woman at a party who claimed to be a handwriting expert looked at a sample of mine and huffily concluded that this meant I was a stingy person.  I have many flaws, but stinginess is not one of them.  Yankee and/or Jewish frugality maybe, but not stinginess.  Still, this makes my handwriting even tougher to read.
The breakthrough for me — or, really, for anyone who was a recipient of my missives — was computers.  I have never bothered to learn to touch type (as discussed in a previous Retro story), but can happily and quickly hunt-and-peck with the best of them.  When my daughters went off to tennis camp in the 90's, they obviously didn't have iPhones with them. But I wanted to write them regularly and I wanted them to be able to actually read my brilliant insights/fatherly drivel (choose one).   So I would type out my letters on my computer, print and sign them by hand (I could at least write "Much love, Dad" legibly)  and mail them out. To this day, I'm not sure if they ever bothered to read any of them, but at least they can't claim that they couldn't read them.
The only person who could consistently read my chicken scratch over the years was my wonderful and long-suffering secretary, Gloria.  She was my first secretary out of the steno pool in 1976 at my original law firm and followed me through various job changes and moves up the ranks until 2009, when I took a job in Wisconsin. Gloria was game to follow me, but I just didn't think that a lifelong resident of Staten Island like Gloria would be particularly comfortable out there. (As I put it, even though "Laverne and Shirley" was about a smart ass New Yawk single woman cracking her chewing gum and finding happiness in Milwaukee, that was a TV show.  And a comedy.)
Anyhow, somehow Gloria could always decipher my chicken scratch, sometimes better than I could.  Life got easier for her when computers came in and I realized how easy it was to edit on-line, but she still had to plough through a lot of my tiny, illegible gibberish in first drafts.  At some point, it dawned on me that if she simply gave up on trying to read my handwriting, that would force me to write neater.  But I never mentioned that to her.  I was a good boss, but maybe not a great boss.
Fortunately, when my current wife and I began seeing one another in 2002, we were well into the age of email, and we carried on a voluminous correspondence — legibly — in that medium.  Good thing, too, since her handwriting is almost as bad as mine.  It is not sloppy per se, but so highly stylized that it is almost impossible to decipher.  (And, indeed, I just checked what she had written in my high school yearbook and it was still virtually unreadable. Even she had a hard time reading it. But at least I could make it that she had signed it "Love.")  In thinking about this prompt, we joked about our mutual bad handwriting and how email had probably saved our relationship.  Or at least avoided any dangerous misunderstandings along the way — i.e., you'd like to do what with my what?
These days, my wife and I are forced to do some things in handwriting, most notably put together a joint grocery list for the weekly shopping excursion one or the other of us will undertake.  Fortunately, self-preservation takes care of this situation; we both write in neat block letters with the understanding that, if what you write is not legible, you're not going to see it in the next week's groceries.
The only other time I actually write things out these days is when I am doing Christmas/holiday cards.  We get ours printed with our names on them but, old habits dying hard, I still like to personalize almost all of mine with a little note below our printed names.  Of course, that small amount of space means that my small handwriting often becomes even smaller.  I really do try to write neatly on these, but I have often had friends or family email or call me after receiving our card and ask something to the effect of "Did you say that you are 'retiring from your firm' or 'rotating your tires'?"
My assumption is that most of my Christmas card recipients can't read what I've written and simply give up and shrug, "Well, it's the thought that counts."  And, in any event, if I wrote any neater, they'd complain about my spelling.
John Shutkin
Characterizations: funny, well written