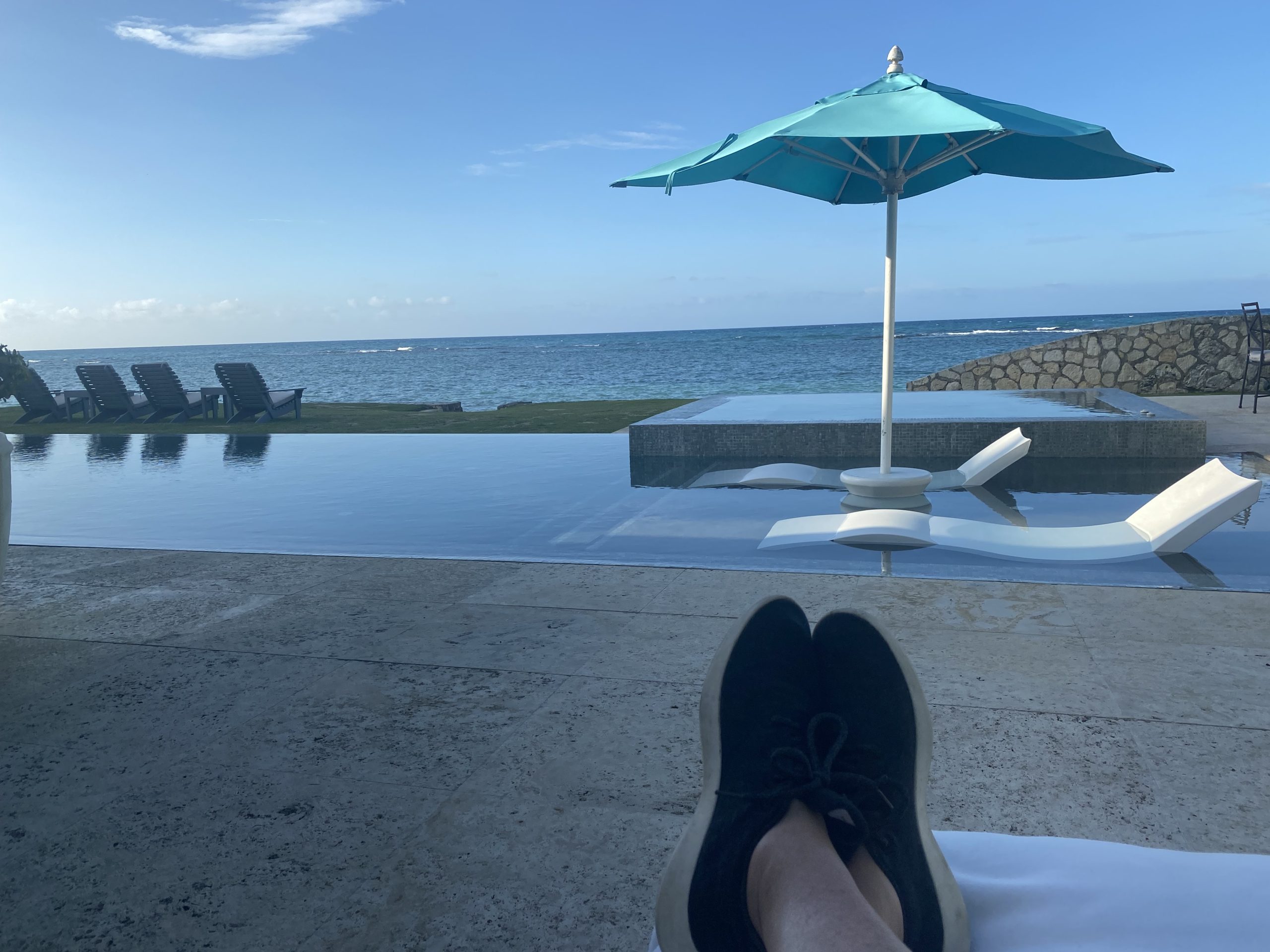 Having, like a good number of us, already written a number of COVID stories over the past two years, such as this one and this one, I saw no need to go over already covered ground this week.  Rather, I thought I'd focus on my recent Jamaica vacation.  And my intention is not to make everyone envious (though my featured image does show my happy feet resting next to the beautiful, and very private, infinity pool and hot tub overlooking ther beachfront on Montego Bay).  OK, let's be honest; maybe that is part of it.  But my main purpose, in retrospect (ahem), is to note that this vacation reflects, in a small, personal way, "coming full circle" on COVID as we begin its year three.
My wife and I were first invited on this trip in 2019 by her daughter and daughter's husband (and their two lovely teenage daughters — no; that is not a typo or an oxymoron) as a combination joint 70th birthday present for us — born one week apart in 1949 — and in celebration of my retirement at the end of 2019.  Ominously, it was scheduled for April 2020.  They had booked us all into a large "villa" at a posh Jamaican resort and we went about coordinating and getting our respective plane reservations.
Then, of course, in February 2020, COVID happened.  First we discussed the pros and cons of going but, as each day went by, it became clearer and clearer that we simply could not take the trip, even if we foolishly wanted to.  The planes weren't flying and, shortly afterwards, the resort said that it was goiing on "hiatus." The silver lining of these events was that none of us felt as if he/she were letting anyone else down.  We found we couldn't cancel the plane tickets and get a refund, but that the airline (JetBlue) would put our purchases into a "credit bank" that was good for up to a year.  The resort said pretty much the same thing.
Fast forward to early 2021. We adults were all scrambling to get vaccinated then, and taking the vacation still seemed an unwise risk, even if not impossible.  Happily, though not surprisingly, JetBlue extended our credit bank for another year, as did the resort.
Fast forward again to early 2022.  Things looking up — everyone fully vaccinated and boostered and the resort had re-opened and planes were flying regularly.  But one new wrinkle: the granddaughters were no longer in the same school, guaranteeing the same vacation schedule. The older one was now a freshman in college and the younger one was in boarding school.  By the greatest of luck, however, they had an overlapping week of spring break and it was within the window of our 2021 extended flight credit bank.  So off we went on March 12 for a delightful week of sun and fun. And I can't tell you the numbert of times while we were in Jamaica that one of us spontaneously and joyously announced, "I can't believe we finally, actually made this trip!"  Yes; we'd come full circle from 2020 — at least in this small, indulgent way.
Two further points I'd like to make, one far more serious than the other.  First, as much as we enjoyed the trip, I think we all realized how incredibly fortunate we were to be able to do so, and how insignificant our two year postponement of this posh vacation was in comparison to the tragedy that COVID has been (and, unfortunately, may continue to be) for millions around the world.  And watching the savage invasion of Ukraine by Russia on CNN each day during the trip was another grim reminder of the true crises that confront the people of the world.  Guilt, humility or sympathy?  I'm not sure the exact proportion of these I felt when considering the above, but they were all constantly with me during the trip (along with the sun tan lotion and a Diet Coke).
Second, and far less seriously, as I've noted before, I am a very organized person.  Not OCD, but certainly way up there on the anal retentive scale.  So, whenever I have a trip planned, I always prepare a comprehensiv tabbed folder of trip documents.  And, in recent years, I've also set up a parallel folder file on my computer/iPhone.  So, of course, I first prepared a manila folder for the Jamaica trip in early 2020. Here it is: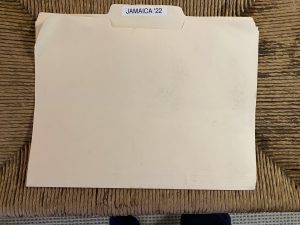 What is probably not visible is that the "22" on the folder has been pasted over a "20" that was originally there. Noticing the paste job when I took the folder from my file cabinet and put it in my suitcase several weeks ago reminded me, yet again, that this trip had been delayed for nearly two years. And, as soon as we got back home and I unpacked, I emptied that folder (and deleted the corresponding file from my computer), since I no longer had to worry about such things as airline credit banks, car service reservations and flight insurance policies anymore.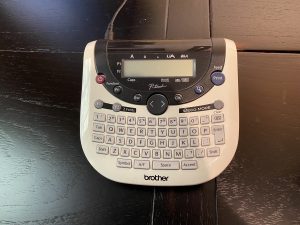 (Incidentally, for those who are similarly anal in their business and/or personal planning, a label printer is an absolute must.  Rather than turn everyone even greener with envy by showing more pictures of Jamaica, here's a picture of my trusty label printer.)
Okay, I just can't resist generating a little more envy, so here's another picture from our villa looking out towards Montego Bay — simply to come "full circle" on my story from the featured image: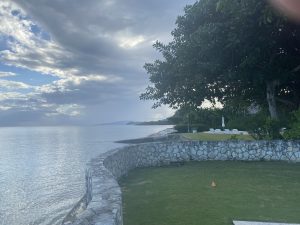 _____
*It was tempting to entitle this story "The Circle Game." But that song title has now been well referenced in other Retro stories.
John Shutkin
Characterizations: funny, moving, right on!, well written