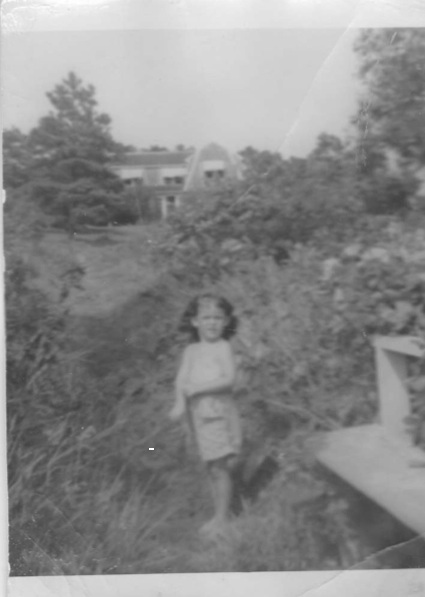 This won't be a long story. Most of the Images from my earliest years are spotty. I do remember standing in my crib in my sunny bedroom. I'm pretty sure I don't remember peeling wallpaper off the wall while standing in said crib — a story related to me later. But I absolutely do remember being held prisoner in a playpen in the kitchen, intently watching the figure of my mother washing dishes. She was wearing a dark grey shirtwaist dress and an apron. Oh, and also the red and gray wallpaper (again with the wallpaper) in the kitchen.
Fateful things can happen to a four-year-old
Then there are the scattered images from the time before I left the house for kindergarten. Miss Frances, of course; a puppy I terrorized and chased under the couch; battles with my brothers over whether we would watch Flash Gordon or Howdy Doody. Small stuff.
The summer when I was four, however, is crazy with memories—probably because I almost drowned. Memories of traumatic events have a way of sticking around.
We were vacationing in Falmouth at a pretty cottage near the beach. My brothers and I spent our days at the ocean under my mother's watchful eye. Sand in my red and white polka dot swimsuit and bedtime stories read by our dad to us in our pajamas in the pine-panelled beach house: I still have the pictures.
Before The Fateful Day, aka the mother of all memories, I had had a dress rehearsal of danger to come. I had climbed up an exterior wood ladder, again in my red and white polka dot swimsuit (my uniform that summer), to the cottage's roof. Once up there I was pretty scared. Dad had to come up and carry me me down.
Some day after this I was dogging my brothers as usual, this time into the ocean. I was wearing a set of water wings to keep me afloat. The boys kept venturing farther out, I kept following them. I distinctly recall the moment I felt my feet not touching the bottom. The next moment I remember being a bit confused and at the same time enchanted, looking down at the most beautiful light rippling in ribbons in the water around me. Time was still.
The water wings had done their job, but they had flipped me over. I am told that my mother was temporarily distracted, chatting with a woman on the beach, and that a man who was scanning the shoreline bolted from his beach towel, ran into the water and pulled me out.
Sometimes I think about that man. He probably was a dad; we never knew his name. He likely is gone by now. Perhaps he was an angel; he certainly was my angel that morning, the hero of my first movie-like memory. Will I meet him someday? Was I saved for a purpose, or because I was a little girl just starting life?  Qui sait? That's the mystery of first memories.
Postscript:
In my thirties I was in Falmouth one day and was walking the beach at Saconesset. I hadn't been back since that long-ago summer, and I didn't know the town at all. Suddenly I stopped. Something compelled me to walk over a dune. There it was, hidden in the brush, the charming white cottage of my memory with its wooden roof ladder still attached.
Susan Bennet
I'm so happy to have joined the gracious Retro family. The basics:
I have a background in marketing and museums.
I come alive when the leaves turn red.
I regret every tech mistake I have made or will ever make on this site.
I want a dog.
Characterizations: moving, well written