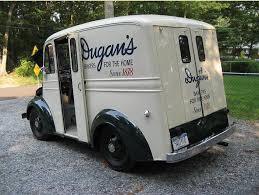 As mentioned, I grew up in a rural town in Connecticut called Bethany.  Bethany was only about five miles (actually five and six-tenths, as I recall the directions my parents would explicitly give out) from the New Haven line, but truly was "the sticks" at that time.  It had only two general stores/gas stations.  So any real shopping required driving.
Compounding this issue, when my parents moved to Bethany just before I was born, they had only one car — not atypical for post-WW II families.  My father was a doctor and professor at Yale Medical School. so he obviously had to get "in town" every day.  As I recall, one or two days a week he carpooled into New Haven with other Yale doctors who lived in Bethany, but otherwise my mother was car-less.  So door-to-door-sales were pretty important to meeting our shopping needs.
There was, of course, the Fuller Brush man, and a knife sharpener and even a fairly decent food truck that came a couple of times a week and had a freezer unit with meats and frozen foods.  None of these interested me much; I vastly preferred to go shopping in stores.  But there were two door-to-door merchants whom I looked forward to.  The first was, of course, the Good Humor man, who came every Sunday and from whose truck we stocked up for the week.  And he always seemed to find a mushed up treat of some sort at the back of his freezer to give to our huge dog Lum, who would devour it in a couple of gulps.
I assume a lot of us remember the Good Humor man.  But does anyone else remember the Dugan's man?
Dugan's was a door-to-door bakery that came by once or twice a week. I believe it operated only in the NY-NJ-CT area.  Unlike the Good Humor man, the Dugan's man got out of his blue and white truck (see featured image) and came inside with his huge basket, always announcing himself in a deep voice: "It's the Dugan's Man!" I recall our Dugan's man was tall — of course, everyone looked tall to me then — with blond curly hair and looked and sounded a lot like Durward Kirby, the announcer on the Garry Moore Show.  In fact, I once got up the nerve to mention this to him and he broke into a big grin and said, "Yeah, a lot of people say that."
In any event, even though there was an excellent bakery "in town," who could complain about a bakery that brought its stuff right to your home?  I mean, this was like the candy store actually coming to you.  And, like most kids, I just craved sweets generally, so I couldn't even tell you if Dugan's products were particularly good. But I can still vividly remember my favorites from Dugan's: french crullers ( a six-pack); yellow cupcakes with thick, rich frosting on top that you could remove easily and save for last (eight to a box: two with vanilla frosting, two with strawberry, and four with chocolate); and apple spice cupcakes with vanilla frosting.  My mother, to her credit, limited our weekly quota of this stuff, but I still remember scarfing it all down joyously with a glass or two of Hawaiian Punch. It's amazing that I didn't just walk around with a constant sugar high. In any event, I now realize that I knew about (and craved) food porn even before I knew about porn porn.
Of course, like moist families, we eventually got two cars and so, even as Bethany stayed pretty rural over the years, it became a whole lot easier to go to the shopping than have it come to you.  And I am sure that that was a pattern that repeated itself throughout middle-class America as we were growing up and contributed to the — metaphorical — death of the door-to-door salesmen (with apologies to Arthur Miller).
In fact, in looking for an image for this story, I came across this obituary from 1964 of the then-president of Dugan's: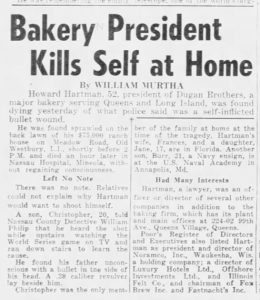 As noted, he died of a self-inflicted gunshot wound at age 52.  Of course, one can never know what might motivate someone to commit suicide, especially a stranger.  But I do wonder if it had anything to do with the demise of his door-to-door business.
RIP, Dugan's Man.
John Shutkin
Characterizations: well written