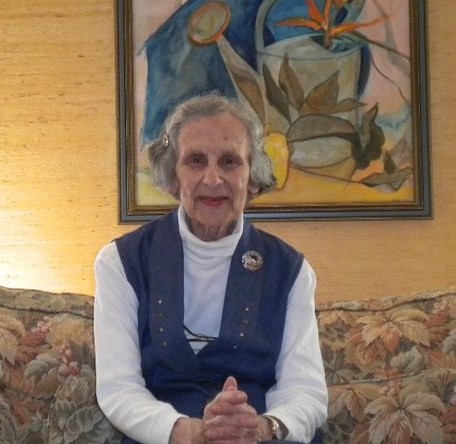 My mother and father each had only one sibling, a sister. My father's sister, Adele, was a pharmacist who never married. We were her only family, so she spent holidays with us, and always gave us presents on our birthdays. But my sisters and I never felt close to her. She talked too loudly and had dyed orange hair and didn't know how to relate to kids. I don't think she was all that interested in us either, although she tried. We always called her "Aunt Adele" whether speaking to her or about her – in fact for many years I though that was all part of her name "Anntadelle."
Daisy was a wonderful singer and taught me many songs, including "Where Have All the Flowers Gone" and "Go Tell Aunt Rhody."
In contrast, my mother's sister, Daisy, was always just Daisy, no honorific required. We felt very close to her. Her husband had left her shortly after he came home from the war, and she was raising her two daughters on her own. These two girls, our only cousins, were about the same ages as my two sisters, so the four of them used to have great times together when Daisy came to our house. Daisy and my mother had a very close relationship, so she visited often. Daisy was a kindergarten teacher, and she always spoke slowly and clearly, and seemed to have an infinite amount of patience. Unlike Adele, she knew how to relate to children, and often would spend time with me when all the older girls were off playing Peter and the Wolf or one of their other games that I was too young for.
When I was seven, I took violin lessons at school. I don't know why I chose violin, we were always a woodwind family, maybe violins were all they had available at the school at the time. I had my school-issued violin at home, and I was showing it to Daisy, and very proudly telling her about how important it was to put "lozenge" on the bow. She didn't laugh, and didn't correct me, just listened attentively and then at some point managed to mention "rosin" in the conversation. I got it, the word was rosin, not lozenge, but she gently spared me the embarrassment I might have had with anybody else.
Daisy was a wonderful singer and taught me many songs. I vividly remember her teaching me all the verses to "Where Have All the Flowers Gone" in the car when I was about 9. It was new then, although I didn't realize it at the time, because I now see that while Pete Seeger wrote the first three verses in 1955, the last three verses, which bring it full circle, were added in 1960, the year I turned 9. She also taught me old standards like "Go Tell Aunt Rhody" and "My Dame has a Lame Tame Crane." These are all songs we continued to sing over the years at family get-togethers.
She was part of the lefty New York schoolteacher world, and knew lots of interesting people. She was good friends with (and possibly dated) Milt Okun, who was an arranger and producer for Peter, Paul & Mary, the Chad Mitchell Trio, Harry Belafonte and others. I have a vague memory of going to a PP&M concert with her and going backstage to meet them. She knew the Meeropols, who adopted the sons of Julius and Ethel Rosenberg when they were executed. She also knew the founders of Lincoln Farm Work Camp, the lefty camp for teenagers in upstate New York that I went to as a teen, as did the Meeropol/Rosenberg boys.
In 1956, Daisy got married again. All the 5 cousins dressed up in little pastel dresses with matching flowered headbands, and if I can find that picture I will add it to this story. Here's the only picture I presently have from the wedding, with Daisy and Ed in the center, and my grandparents to the right of Ed (his left). The other six people are aunts, uncles, and cousins of Daisy's and my mother's whom I never saw again. Oddly, my parents are not in the picture, I don't know why.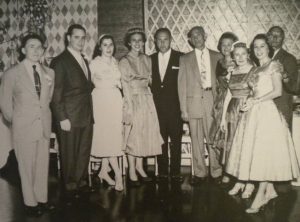 My new uncle, Ed, was a dentist and also a Communist. Ironically, he made a lot of money in the stock market, and then gave it to the Communists. He loved the Soviet Union, and adamantly denied that there was anti-Semitism there. He went to Moscow every year for the May Day festivities. I rarely had much interaction with him, but I do remember one Thanksgiving when I was in college and taking a course on China, we had a debate about which form of Communism was better, the Russian or the Chinese. Neither of us convinced the other, of course, but I was proud of myself for holding my own against him.
After Daisy and my mother both lost their husbands, they did quite a bit of traveling together. They were both in their eighties, but that didn't stop them. They had great times together. Eventually they got too frail and stopped their trips. One of the last times I saw Daisy was at her 95th birthday celebration in 2010, and she was still doing remarkably well, although her mental faculties were starting to deteriorate. Apparently towards the end, she was living completely in the past, talking about her kindergarten students as if she were still teaching them.
Daisy died in January 2018 at the age of 102. I miss her. My sisters and cousins and I like to imagine that she and my mother are frolicking somewhere together, no longer troubled by their physical or mental ailments. It's a very appealing idea.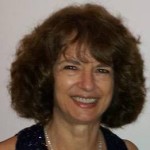 Suzy
Characterizations: moving, right on!, well written