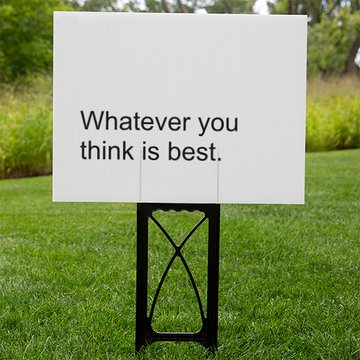 This week's prompt is a toughie for me.  To be sure, five years ago, we moved my wife's mother, then 90, up from Florida to an assisted living facility very near where we live in Massachusetts. Caring for her since then — she is now in the dementia unit, though her physical health remains remarkably strong — has been quite a saga. But it has been primarily my wife's saga, not mine.
As to my own mother, I was her primary caregiver the last months of her life, following some complicated circulatory surgery that (obviously) did not end well.  There is certainly a story there — indeed, several of them — but, frankly, they all remain too painful for me to want to share, even after twenty five years.
So let me, as is my wont, stay on the relatively light-hearted side of things and selfishly talk about my own (prospective) caring. My wife is a very caring person, but she is exactly one week younger than I am, so relying on her as my primary caregiver as I start to totter mentally and/or physically is fairly problematic.  And vice versa.  I am also quite close to her kids, my step-kids, which is lovely, but I don't think it is fair to impose myself on them.  With their own and their own kids' lives (and, indeed, their own parents), they've got enough to deal with for the foreseeable future — though at least they wouldn't have to worry about getting me into a good college.
So that leaves it to my own two darling daughters, both grown and highly capable lawyers.  I think they both love me very much.  Plus, they are very caring people.  And, in the case of my older daughter, I can say that literally.  One of our favorite family stories is about when we took her to her first movie at a movie theater when she was a little over two.  It was "The Care Bears Movie" and, if you were spared that one with your own offspring, I can confirm that it was just as nauseatingly saccharine as one would imagine. Indeed, watching it might cause tooth decay.
In any event, at the climax of the CB movie, when things are at their darkest and it looks as if no one will really care, one of the Care Bears turns to the camera and cries out — rhetorically, I would have thought — "Doesn't anybody care?"  At which point, my daughter stands on her seat and cries back at the top of her lungs, "I care, Care Bears! I care!"  Hilarity, of course, ensues in the audience.  But, for present purposes, the point is simply this: my daughter cares.  And her younger sister (not yet born at the time) is equally caring.
So I feel pretty confident about my daughters being willing to care for moi.  But I really don't want to be too much of a burden.  I have seen enough of the enormous emotional and financial burdens that can be imposed on the next generation in handling such care; indeed, other stories on this prompt also speak eloquently as to those things.  So, in order to minimize these burdens, I have taken two steps.
First, and more seriously, I have for many years gotten long term health care insurance for both my wife and me.  Such policies are ridiculously expensive and getting more and more expensive and difficult to obtain.  But I believe they are worth it.  And I would argue that they are more important for our children than for us, as they protect them from having to shoulder what could be a massive financial burden that we might otherwise impose on them.
Second, and less seriously, I have advised my daughters, if  and when I am not able to take care of myself and they are taxed with that responsibility, to imagine that I am at all times wearing a sign around my neck.  And that sign reads exactly like the one I have created as the featured image to this story.
Based on my own and my friends' experiences, this sign is the best advice I can give my daughters and, hopefully, prospectively relieves them of any guilt or second guessing they might have as to my care.  Of course, being the smart ass daughters of a smart ass, they have already pushed back and suggested that I simply start wearing immediately a "DNR" sign instead.
John Shutkin
Characterizations: funny, right on!, well written