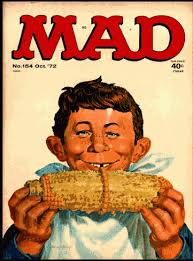 Well, no awards for originality this week.  Not only is Mad Magazine referenced in the prompt, it is the prompt's featured image (that great cover of Alfred E. Neuman carved on Mt. Rushmore).  But that only means that great minds think alike (wink, wink, Retro administrator) because, at least for us Boomers, there was no greater magazine than Mad.
My parents may have gotten my brother and me subscriptions to Humpty Dumpty and Highlights for Children when we were quite young, and I recall dutifully reading them and doing all their stupid puzzles, but Mad was the first magazine that I ever subscribed to myself.  And I am happy to say that I subscribed to Mad with my parents' blessing — to say nothing of their money, of course. Perhaps not to the same extent as I, but they "got it" and I never heard any question from them to the effect of "What are you wasting your time on that junk?"
And what was it in Mad to "get?" To me, first and foremost, it was to see the humor in a situation and try to be humorous about it.  Even when making a serious point, Mad was always funny, or always trying to be funny — with about a 98.5% success rate, at least to a male adolescent mind of the 50's and 60's.  And it was always popping the over-inflated balloons — typically, politicians and Hollywood — but, somehow, never meanly.
Though Mad was not in any sense revolutionary, it made clear that "Authority" was not to ever be entirely trusted, and often not even taken seriously.  Again, perfectly in sync with my own, if not rock throwing, at least casual cynicism. It also, perhaps subliminally, sent the message: never take yourself too seriously either, you pompous ass.
And I loved the fact that, while Mad was written and illustrated by a bunch of seemingly old guys ("The Usual Gang of Idiots," as they mockingly referred to themselves in the table of contents of every issue), they didn't talk down to us kids.  Maybe they were themselves permanent adolescents, but I think they just knew what was funny at any age.
Not to get too ponderous about it, but Mad profoundly influenced my own appreciation of humor and made me try to infuse my own speaking and writing with self-deprecating humor, if at all possible and appropriate.  OK; not so much in my high school and college papers, and certainly not in my many legal briefs over the years — clients and judges aren't necessarily wild about such things — but pretty much everything else I've ever written, and a lot of what I've spoken.*  Anyone perusing my Retro stories would be hard-pressed to find one without at least an effort at a humorous theme and a few quick laughs. And I think the same goes with my emails and other written correspondence — save, perhaps, the occasional condolence note.  Simply put, to this day, when I write, I check out the imaginary copper bracelet on my wrist and ask, "WWMD?"  What Would Mad Do?
Indeed, I so bought into Mad — both its surface humor and its deeper messages — that I was sorely tempted to write my college essay on its profound impact on me.  However, I totally wussed out on that — to my parents' relief — and instead wrote about my work in inner-city poverty programs.  Though that worked out fine, I could just imagine Mad's Usual Gang of Idiots razzing me mercilessly.  I deserved it.
Unfortunately, I let my subscription to Mad lapse after high school.  I think I was a bit worried that it would be viewed by my roomies and college pals as insufficiently sophisticated and/or political for the late 60's.  Stupid moi; I should have remembered that, in its own snarky, funny way, it was as subversive as any underground newspaper. And I read it only sporadically in future years, though still always enjoying it when I did.
Sadly, Mad finally shut its doors for good last year.  Fortunately, however, it had sniffed out the awfulness of Trump early on, as this cover from 2015 illustrates: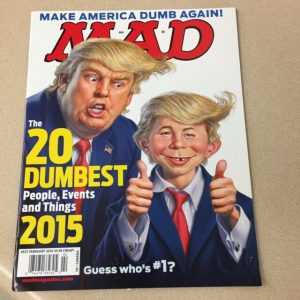 In my perfect imaginary world, Mad would still be around — God knows I have plenty of time to read it these days — and the cover of its January 20, 2021 issue would be a picture of Trump being put in handcuffs, and probably a straight jacket, and carried out of the White House by the Secret Service to an awaiting helicopter. I can dream, can't I?
________
*I knew early on that girls/women were not likely to be attracted by my rugged good looks, charming and roguish smile and/or awesome athletic prowess.  I better be funny.
John Shutkin
Characterizations: been there, funny, well written