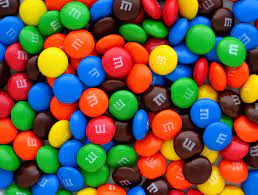 This is a short story.
I was in a secret society once. There were thirteen of us—all high school girls, sophomores, juniors and seniors. What better name for it but The Jinx? No one outside of our group knew anything about it.
Membership was by invitation only. One day you might be passed a note between classes or get a tap on your shoulder or a whisper in your ear and—bam!  An upperclassman had brought you in—to what you didn't know until you arrived at the first meeting.
There was no secret handshake, no ritual, no password or purpose, for that matter. The Jinx met one Saturday night each month in the basement of a senior girl's house. The non-agenda agenda was the same each time: eating M&Ms and Fritos, drinking Coke, playing records and chatting. OK fun.The senior girls were top students and leaders in their class, and we admired them. No one was a mean girl. There was no hurtful gossip. It was like a study group with snacks. (The M&Ms were great; I think they had better chocolate in them then.)
No one knew when or how The Jinx had started, and the youngest of us never knew if or how long it survived beyond our time. I suspect that its fate was like that of a cell connection that just goes…dead. Perhaps its name determined its fate.
Question to ponder: What is the point of an "exclusive" club if nobody knows it exists?
A Seinfeldian Tale About Nothing
Susan Bennet
I'm so happy to have joined the gracious Retro family. The basics:
I have a background in marketing and museums.
I come alive when the leaves turn red.
I regret every tech mistake I have made or will ever make on this site.
I want a dog.