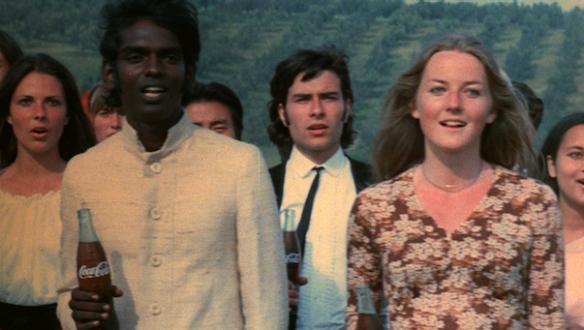 For whatever reason — probably because of my high NQ (nerdiness quotient) — I have always been fascinated with commercial jingles.  Actually, my brother may have been my main influencer on this.  He explained that many songwriters, simply to make a living, had to "debase" themselves into writing these ditties.
For whatever reason -- probably because of my high NQ (nerdiness quotient) -- I have always been fascinated with commercial jingles.  Actually, my brother may have been my main influencer on this. 
But, as I considered it further, I realized that in many ways writing a good commercial jingle is more difficult than writing a good pop song.  First of all, the writer has, at most, sixty seconds to get his/her tune and lyrics out there; even in Top Forty days, virtually all pop songs were at least two minutes long.*  And the message that the jingle writer is trying to deliver is typically a whole lot more prosaic than true love and/or eternal heartbreak — think of yellow teeth or acid indigestion.  Finally, the jingle has to convincingly deliver that message, at least in the minds of the clients' ad execs who decide whether to buy it or not. They have no interest in paying for "B-side tunes" that they feel won't move the product.  Especially since their own jobs are on the line, too.
On the bright side, as I also learned from my brother, are the residuals.  I do not consider myself to be money-obsessed, but the idea of what are sometimes called "toll gate payments"  — payments made simply for every repeated use of something — has always had an appeal to me.**    So forget Top Forty hits that may stay on the charts for at most ten weeks.  A commercial jingle that runs on both network and local stations 24/7 for an ad campaign of a year or two can create a real residual windfall, even if the individual payments are relatively small.
But enough of my obsession with these aspects of commercial jingles. I want to focus on another one: jingles that were so catchy that they later were released as stand-alone pop songs. I figure that the writers of those jingles must have felt as if they had just hit a grand slam home run.
I can think of two examples (and welcome recollections of others).  Most notable was Coca-Cola's famous "I'd Like to Teach the World to Sing," which can be viewed and listened to here.  And the story behind writing that song can be found here.   It is both a catchy tune and a truly feel good message, so its repurposing as a pop song should not be that much of a surprise.
And then there was Alka-Seltzer's "No Matter What Shape" commercial, which can be viewed and listened to here.  As I recall, when it was released as a pop song, it was expanded a bit in length and given fuller orchestration, but remained an instrumental  — a rare exception for Top Forty pop songs. (Think — or hum — "Classical Gas" or "Love Is Blue.")
One variant on this theme is the pop song that later resurfaces as part of a commercial jingle.  Probably the best known example of this is "I Heard It Through the Grapevine," which was originally recorded by the Miracles, Marvin Gaye and Gladys Knights and the Pips, and then commercialized by the animated California Raisins here.  Again, a very catchy tune, but its lyrical connection to an agricultural collective is pretty tenuous, save for the grapevine itself.
But, in my opinion, the best re-use of an existing song was in a Ban Deodorant commercial from the early 60's.  In fact, everything about that commercial was brilliant.  It was a montage of short, gritty black and white verite clips of people crowded together — especially in New York subway stations —  in a style that foreshadowed MTV music videos of the 80's.  And the music was from Bernstein's Jets and Sharks fight (really a dance) from "West Side Story."  At the end of the commercial, the words "Ban takes the worry out of being close" were either spoken or written; no other words were used.  Oddly, I cannot find the commercial itself online: but here is the full, electrifying dance scene from the musical.
OK, class, end of today's lesson in Jingles 101. But I hope I've left you with enough great earworms until next week.
________
*I believe the world's record for shortest Top Forty #1 song is "The Letter" by the Box Tops, quickly delivered from Canada in only one minute and fifty eight seconds.
**Indeed, I remember a number of years ago one of my lawyer colleagues told me that his family had property in the resort area of the Dominican Republic and sold some of it to the government for the building of a new airport. He confided in me that, under the terms of the sale (negotiated by his very shrewd father, also a lawyer), every time a plane took off or landed at that airport, they were due a payment.  He added that he loved practicing law (and is still practicing today), but that he also loved going down to their home in DR and just listening to all the planes coming in and flying out.  Ka-ching!
John Shutkin
Characterizations: funny, well written