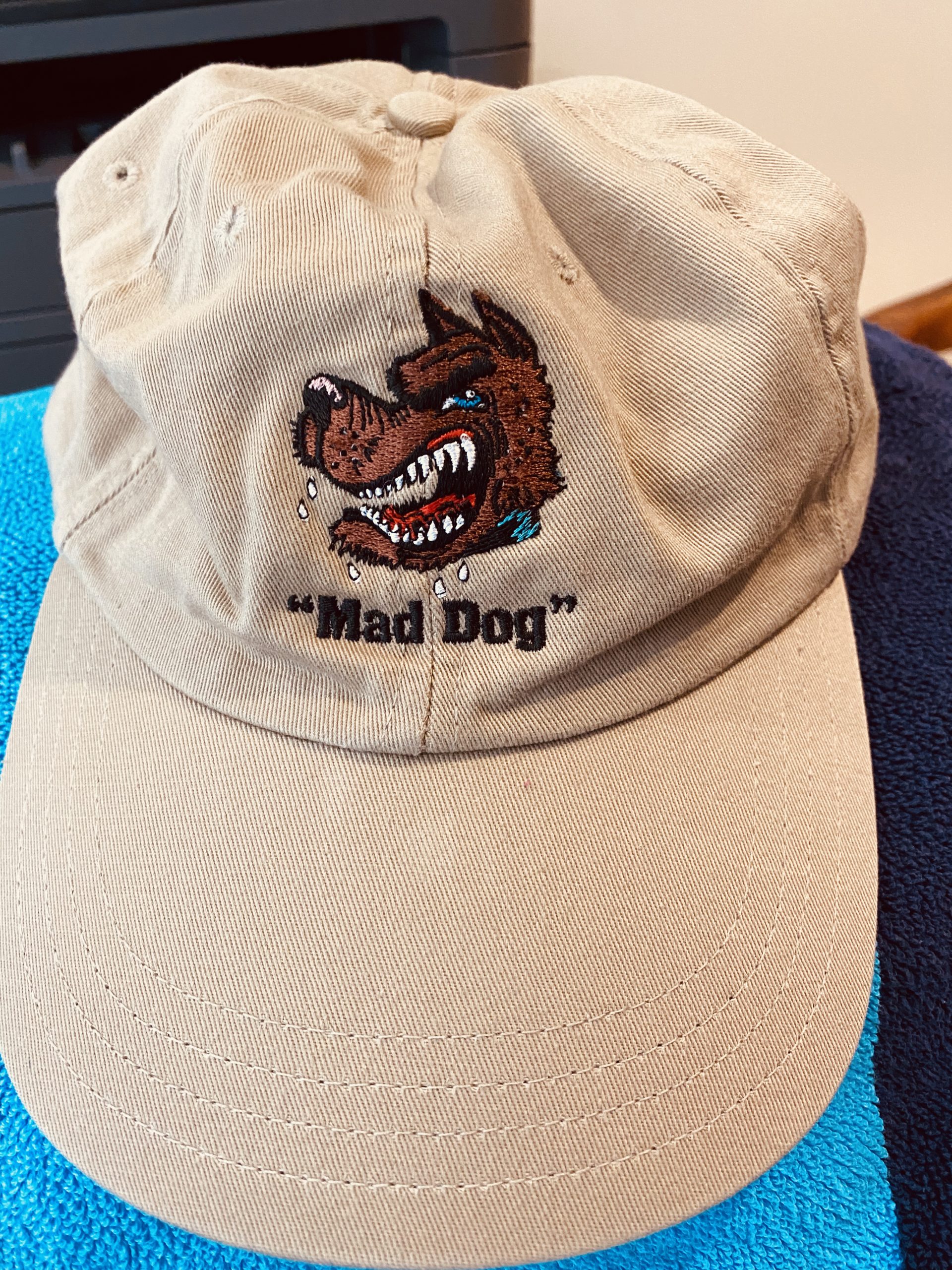 Not surprisingly, I was called "Johnny" as a little kid.  Didn't love it; didn't hate it, but it almost entirely disappeared at some point in elementary school.  Only my family and close family friends continued to call me that from then on, and I always allowed them to.  Indeed, it is sad to think of how few people are still alive (maybe half a dozen) who still call me Johnny.  One of them is my oldest pal, whom I saw at a tailgate before the Yale-Harvard game this past November (he's a Yalie).  And I still call him "Benjie."  To the rest of the world, we're Ben and John.  For better or worse, we're not Ben and Jerry
My real, albeit self-declared, nickname came into being in the mid-90's when I read in the papers that Jeff Beck — no (fortunately), not the legendary guitarist, but  an infamous trader at Drexel who was known as "Mad Dog" — had just died.  Mad Dog Beck was one of those outsized Wall Street Masters of the Universe known as much for his outrageous conduct and lifestyle as for the millions he made and spent.  At some point in his career, it was uncovered that his exploits in the Vietnam War, which he often bragged about, were not simply overblown; he had never even been in the Army.  But, in the perverse world of Wall Street, this seemed to only enhance his larger-than-life persona. ("That Mad Dog; what a character!")   Anyhow, he died at the age of forty eight, married to his fourth wife, ostensibly of a heart attack. But everyone knew that it was, at the very least, coke-induced.
Anyhow, when I read his obituary, I had a sudden blaze of inspiration:  Mad Dog is dead; long live Mad Dog! I decided on the spot that I would be heir to his nickname.  At that time, there was  a TV/radio sports personality in New York named Chris "Mad Dog" Russo.  But I considered Russo to be both a loudmouth jerk and a poseur and not someone to stand in my way when it came to this sobriquet.  (Russo is still out there on the airwaves as Mad Dog, and he's still a loudmouth jerk.)
At the time I had this inspiration, I was a senior attorney at KPMG and had a small group of devoted and talented lawyers and other professionals who reported to me. I told them about my inspiration and, team players and friends that they were, they enthusiastically leapt to embrace it.  In fact, I was then (and still am) a very calm, low-key kind of guy, so they all realized that the nickname was for the most part meant ironically.  But I was still a corporate litigator in high pressure situations and there were a few moments when i might have properly been accused of, well, rabidity.  In any event, they immediately said they wanted to become my "Mad Dog Crew."
Once we had decided this, my wonderful assistant Gloria, who had followed me devotedly from the steno pool of my first law firm through my various later firms and positions, took over.  Gloria is a terrific legal secretary but, in her heart of hearts, she is really a party planner and travel agent. She decided we needed a logo and quickly contacted Land's End and got ones for both Mad Dog and the Mad Dog Crew.  The featured image is a Mad Dog cap and here is a Mad Dog Crew beach towel: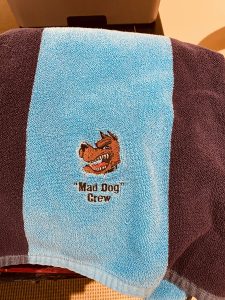 As the responsibilities of Mad Dog and the Crew were international, we had meetings all over the world. For each of the meetings, Gloria would plan a lot of the events and make sure that we had appropriately logo-ed swag — the caps and towels, and also polo shirts, tees, turtlenecks, etc.. And, for the most part, the Crew tended to refer to me as Mad Dog, even in emails — which often required a bit of explanation to others who weren't in on the joke.
And, every now and then, the Mad Dog nickname helped.  As I let my clients in the firm know about the nickname (which they all seemed to like), they would often get back to third parties with whom they were having difficulties and say something to the effect of, "Well, if we can't work this out, I'll have to refer this matter to my attorney, Mad Dog, in New York."  If you didn't know that the nickname was a joke, you might well worry that having to deal with any attorney called Mad Dog might be akin to having root canal and thus was something best avoided.
And, happily, as this is a relatively recent nickname, I actually have some non-stock images to go with my story. Most importantly, besides the swag I have pictured, here is the plaque that the Mad Dog Crew gave me at a party they threw for me when I left KPMG in 2004, complete with all their pictures and their own nicknames (some of which, by their own admission, were made up just for the occasion).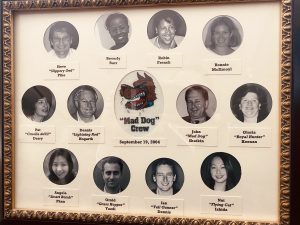 At the firm I just retired from, after 10+ years there, I didn't have the same sort of formalized team as at KPMG.  Still, I let slip to a few of my closer cohorts that I was Mad Dog and they seemed to embrace it with as much amusement and occasional efficacy as my original Mad Dog Crew had. However, at my retirement party in December (I do seem to have a lot of retirement parties), my office decided that I should be referred to simply as the "Legend."  See sign on door to our break room: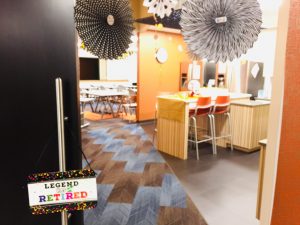 With characteristic humility, I accepted that nickname, too.
Now that I am retired, and especially with the enforced non-activity brought about by COVID-19, the irony of calling me Mad Dog seems almost too extreme to even consider.  However, if my Retro "tribe" would like to start using it (and joining me as the Mad Dog Crew), I'm just fine with that.  I may even get us all some appropriate Mad Dog swag.*
____________
* I have retained the order code and design patterns from Land's End with which to order official Mad Dog and Mad Dog Crew merchandise. Indeed, I still get regular emails from them asking if I want to order more. I'm thinking of ordering some Mad Dog toilet paper soon. Who's in?
John Shutkin
Characterizations: funny, right on!, well written