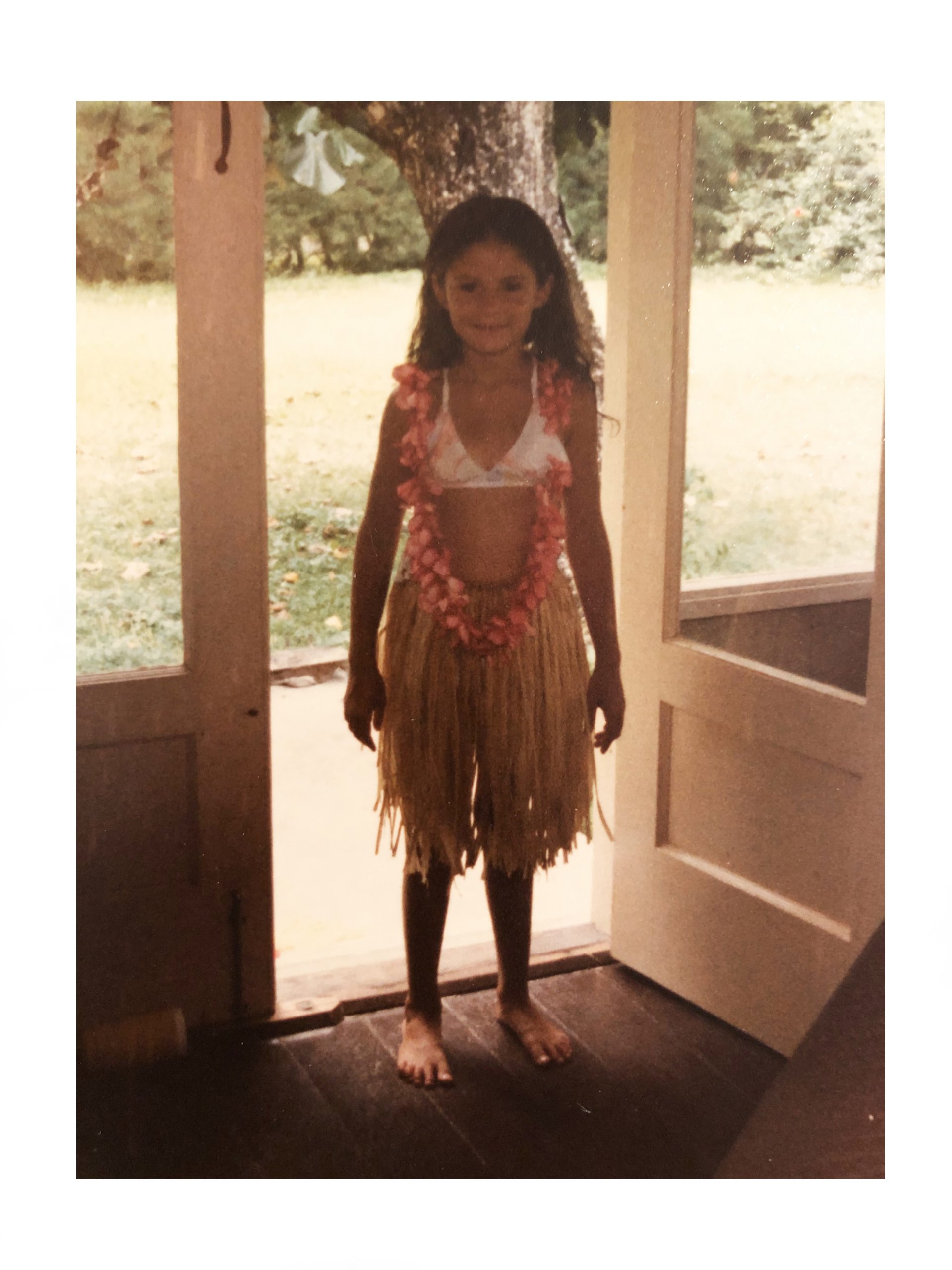 Two weeks into our vacation, I don't want to leave. I've fallen in love…with an island. Kauai.
"So don't leave," Susie says. My best friend is like that. "Stay with us!"
"But how would I make a living? What would I do? I wouldn't want to be a court reporter here, wear stockings and high heels. I mean, what would be the point of moving here for that?"
"So do something else."
"Hmmm," I say.
"I know," she says, "make cheesecakes!" My friend knows that I had enjoyed a short career baking cheesecakes for restaurants. "Why don't you make a sample and I'll get Tommy to take it to work and see if Roger likes it enough to add it to his menu." Tommy, the caretaker on her property, who also builds surfboards, is also a waiter at The Dolphin, the most popular restaurant on the north shore.
Well, Roger, the owner of the Dolphin, doesn't like the cheesecake, he loves the cheesecake, so much so that he wants to add it to the menu for his other three restaurants as well. Bingo! Sure, it's not enough to make a real living, but it's a beginning, a new beginning.
I call my mom. "We're not coming home."
"What?"
"We're staying."
"Are you kidding me? What about all your stuff?"
"I'll come get it at some point, but for now we're just going to make do with what we have. You don't need much here, just flip-flops, shorts, t-shirts, a bikini, and a sweater in case it gets cold.
My mother thinks I've lost my mind.
My daughter is none too happy with me either. We're alone in the wikiup, the screened-in porch we're staying in on the property, deep in the interior of the island, in Waimea Valley. There's no hot water or bathroom — there's an out building nearby — but there's a small fireplace, a neat stack of wood sitting nearby, and I've learned how to build a proper fire. When the rain roars through the valley, as it does every day on the north shore, it pounds so hard on the tin roof that we can't hear our own voices, so we just cuddle up and listen to the beat as it varies in intensity, tone, and tempo.
Now I'm propped up against a pillow reading, and there she stands, defiant, crossing her skinny seven-year-old arms and pouting.
"Mom, I don't want to live in Hawaii," she says.
"How do you know?" I ask, reaching out and pulling her closer to me. She resists, then gives in, crawls up, and settles into my lap, lets me wrap my arms around her. I nuzzle the top of her head.
"Well, for one thing, I don't even like the beach. And because," and now she starts to cry, "I don't want to leave my friends, or Grandma."
"Look at me, sweetie," I say and turn her around to face me. She rarely cries, but when she does I'm almost enchanted by those big wet tears seeping through her lush lashes, then sliding down her smooth checks.
"I don't want to move," she sobs.
"Honey, we'll just give it a try, and if we don't like it we can always move back home."
"Really? Well, okay," she sniffs, "as long as we can move home."
Of course she doesn't want to leave L.A. But I have my reasons — good reasons, I might add — and my mind is made up.
And so it is that Erin enters the 2nd grade at Hanalei Elementary School, where just across the road Puff the Magic Dragon, or at least his likeness, perches in the shape of a low, green mountain and looks out over Hanalei Bay. On day one she is denied the use of a red crayon by a classmate who snatches it from her hand and says simply "Not for haoles." Erin acquiesces but tells me about it later in a defiant voice.
"It's not fair!" she says.
"No, it's not," I agree.
"Anyway, what's a haole?" she asks.
"It just means you weren't born here," I say.
"Well, that's not my fault," she says.
"That's absolutely true. So what did you do?" I ask.
"I just chose another color," she shrugs.
Children are resilient, and by week's end she and that little girl had become fast friends. Each school day Susie and I would pile our kids into her little green Karmann Ghia convertible and, crooning "Zip-a-Dee-Doo-Dah" at the top of our lungs, rattle down the rutted road toward the school. And six months later, once we'd moved into our own place, Erin walked barefoot to the bus stop, the trade winds kissing her skin. At night the stars were so thick I once pulled off the road and into a meadow, stopped the car, opened the door, and tugged her out.
"Look up," I said.
"Mommy, I'm too sleepy."
"Look up, sweetie," I said, "and take a picture with your mind. Click." I just knew I'd done the right thing in moving to Kauai, in choosing to bring her up there.
Years passed, I was now known as the cheesecake lady and eventually opened a restaurant, and my daughter blossomed like the fragrant plumerias in our garden. Once she reached the sixth grade, with the whisperings of spring in the air, she had the remarkable honor of being chosen and crowned "Lei Day Queen," complete with a King and Court. May Day is a BIG deal in Hawaii, a statewide celebration of the aloha spirit, and everyone celebrates. As the song goes:
"May Day is Lei Day in Hawaii
Garlands of flowers everywhere
All of the colors in the rainbow
Maidens with blossoms in their hair."
Privately taught the history and expressive, evocative movements by a kumu hula, Erin, dressed in a custom-made traditional white gown, adorned with a lei of mokihana flowers and ti leaves, performed the hula on stage, in the school auditorium, in front of the entire student body and their families. Standing room only.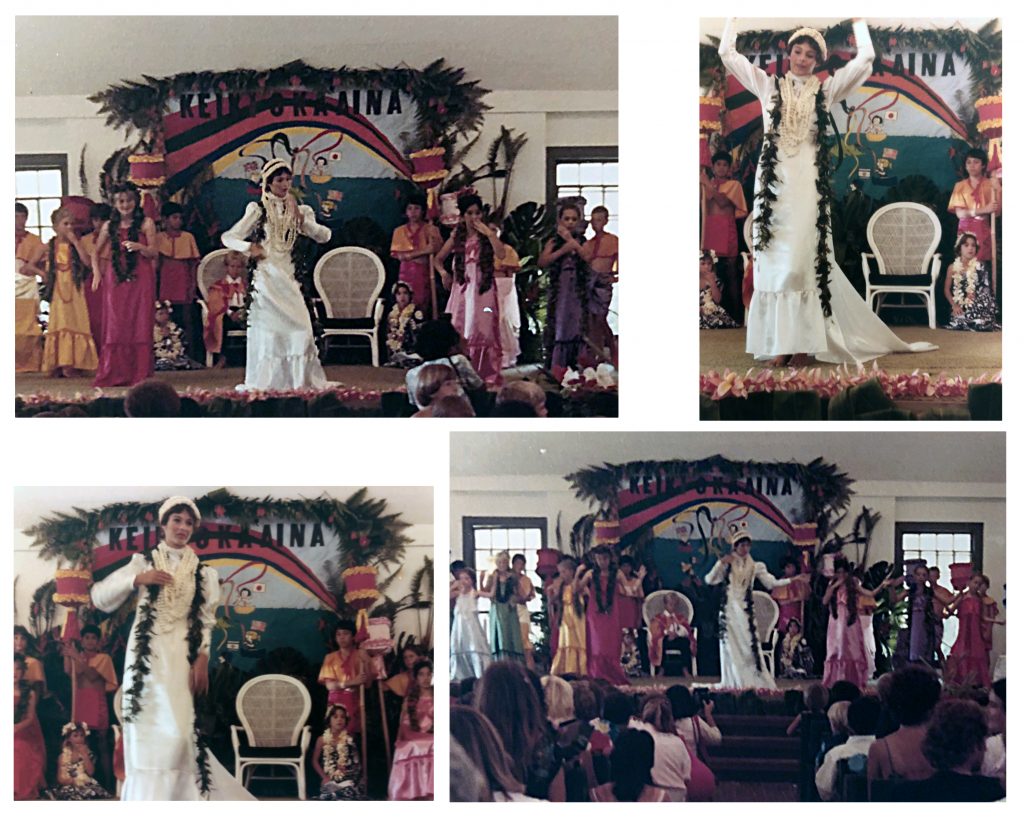 "When you see Hanalei by moonlight 
You will be in Heaven by the sea 
Every breeze, every wave will whisper 
You are mine don't ever go away 
Hanalei, Hanalei moon  
Is lighting beloved Kauaʻi  
Hanalei, Hanalei moon  
Aloha nō wau iā ʻoe."
Years later, Erin would name her first-born daughter Leila, and her second Hana Lei.
[Note re audio clip: Hanalei Moon – Dennis Pavao was one of several Hawaiian musicians who, during the 1970s, led a Hawaiian music renaissance, reviving Hawaiian music, especially "ka leo ki'eki'e," or Hawaiian falsetto singing. Along with his cousins, Ledward and Nedward Kaʻapana, Pavao started the group Hui ʻOhana. Although Hawaiian music, with its ukulele and slack-key guitar style, may be an acquired taste, after having lived on Kauai for a decade, hearing it takes me back in time to some wonderful years.]
Barbara Buckles
Artist, writer, storyteller, spy. Okay, not a spy…I was just going for the rhythm.
I call myself "an inveterate dabbler." (And my husband calls me "an invertebrate babbler.") I just love to create one way or another. My latest passion is telling true stories live, on stage. Because it scares the hell out of me.
As a memoirist, I focus on the undercurrents. Drawing from memory, diaries, notes, letters and photographs, I never ever lie, but I do claim creative license when fleshing out actual events in order to enhance the literary quality, i.e., what I might have been wearing, what might have been on the table, what season it might have been. By virtue of its genre, memoir also adds a patina of introspection and insight that most probably did not exist in real time.
Characterizations: been there, well written