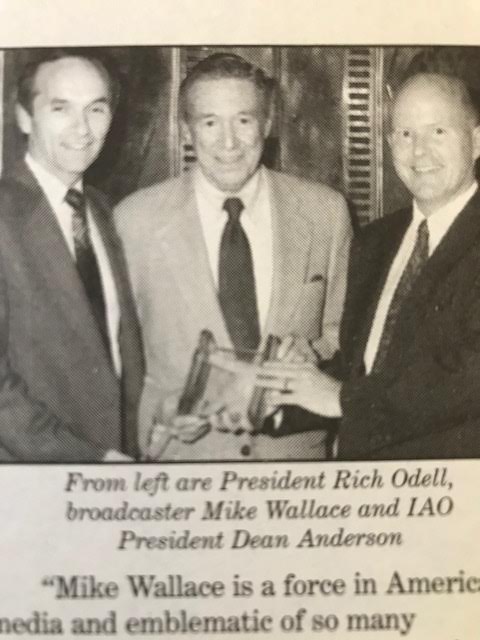 If you think you know this story, read the addendum, added to bring the reader up-to-date two years after this story was written. It will only be public for a week, then will be made private again.
 August, 1996. Committee reports were given before the National Alumni Board meeting at the Interlochen Center for the Arts summer meeting could adjourn. The Awards Committee decided to give the Distinguished Alumni Award to famed broadcaster Mike Wallace that year. His first job out of University of Michigan was working in the broadcast booth at Interlochen for camp founder, Joe Maddy. They knew each other from U. of M. When Mike graduated in 1939, he was desperate for a job. He stayed only the summer, then moved on to a radio job in Grand Rapids, MI, so the connection was tenuous, but valid. The committee head turned to me, as Corresponding Secretary of the Board and said, "Betsy, you contact him and make arrangements."
I was flabbergasted. This had never been done before. The administration always took over from here. I couldn't speak for the organization, nor make any arrangements. Yet, that's how things were left.
I went back to my home in Newton, MA after the meeting and thought about it, did some research and planned an approach. This was before email or much Internet. I went to the library. I knew Mike was proudly from Brookline, MA. So were my in-laws and I live in Chestnut Hill, which is a zip code construct; part in Newton, part in Brookline, part in Boston. When Mike saw my Chestnut hill address, he had no way to know that I didn't live in the Brookline part. I also learned that Mike was the only person to have been interviewed by Playboy twice, once alone, once part of the 60 Minutes team. And Christie Hefner is a camp alumna and close personal friend. Also at the time we were renting and looking to buy on Martha's Vineyard, where he owned a home. So I put all of these things in a letter to him to establish rapport, told him of his award, and that we'd like to present it to him either at camp in Interlochen, MI, or in Detroit. I sent it, in care of CBS. I signed it, as I did all my Interlochen correspondence, "Betsy Sarason Pfau". I didn't think much of it after that.
One early September evening, I returned home after taking my older child to soccer practice. I answered the phone and heard a very familiar voice, "Is this Betsy Sarason Pfau?" I started sweating…HOLY SHIT! I managed to contain myself and not verbalize those thoughts. I affirmed that this was Betsy on the phone.  Of course, I was speaking to Mike Wallace. I could tell that he read my letter as we spoke. He told me he was flattered to receive the award, would not travel to either of the locations suggested, would only receive the award in Boston or New York City (where he lived). I thanked him for responding, got his office phone number and told him I'd get back to him with further arrangements. I was an alumnus volunteer and couldn't speak for the administration of Interlochen (which is why it was folly for me to be the point person in the first place, but never mind). He was quite gracious. The call went well. I told him we were currently looking to buy a home on Martha's Vineyard. He told me to let him know how that proceeded and, of course, what arrangements would be made for his award presentation. I promised to follow up on all. My follow-up is always excellent.
By the end of the year we did buy a home on Martha's Vineyard; in elegant Edgartown. I was excited to share the news with Mike and called to tell him, though we still didn't have news about a date or location for his award ceremony. He lived in Vineyard Haven with an ocean view, and had for years. He was famous for being part of the "Depressed Three", celebrated figures in the community (William Styron and Art Buchwald were the others) who wrote and spoke openly about their struggles with depression, were all great friends and lived close to each other, playing tennis by day, dining by night. It was an erudite scene over in Vineyard Haven. Edgartown, when we bought about 22 years ago, was known as a WASP-y enclave (it has diversified in the ensuing years). Mike tweaked me when I called with my exciting  news. "I didn't know you were so tight-jawed", was his response. I assured him I was part of his tribe!
Early in 1997, I finally got word from the Director of Development at Interlochen that a location and plan had been secured. A wealthy alum, Jeffrey Epstein, owned an entire townhouse on the upper east side of Manhattan, one block north of the Fisk Museum. He would lend it to Interlochen and underwrite a posh dinner party to honor Mike Wallace. Jeffrey probably wouldn't be there, but his girlfriend/major domo, Ghislaine Maxwell, worldly daughter of deceased British billionaire Robert Maxwell, would serve as hostess. Interlochen hoped to attract major donors to such an impressive event. Though there was no fee to attend, they planned a lovely evening of food and entertainment meant to show off their accomplishments. It wasn't clear that low-level people like myself would be included, even though at the time I was and had for years been instrumental in funding a half scholarship to the camp.
I contacted Mike again. This proposal met with his approval and we looked for appropriate dates, finally settling on May 9, his 79th birthday. I asked if he really wanted to spend his birthday with us. He said he did. I asked who he'd like to invite. He said his wife, Mary, would be out of town, as would all his children. He asked only to invite fellow TV journalist Paula Zahn. He asked if I would be there. I told him I wasn't sure if in fact I would receive an invitation. He said he wouldn't attend if I didn't attend, a point I conveyed back to the Development Director at Interlochen. Mike was very kind to me during all of our interactions.
Interlochen had a difficult time finding "the right" kind of people to fill the tables at their exclusive soirée. For whatever reason, they just didn't know enough fancy donors in the metro-NYC area to fill the room, so I invited my dear friend Emily and her husband, reassuring her there was no financial requirement to attend. I just begged her to come to lend me moral support, as I wouldn't know anyone else there, besides the Interlochen administration and Mike. And I couldn't properly claim to know Mike Wallace all that well.
A lovely evening was planned, with alumni performing musical numbers when Mike first arrived during the cocktail hour, then a beautiful, seated dinner, followed by the award ceremony and more alumni entertainment. The townhouse was gorgeous, well-appointed. A formal space to enter, up a gracious, curved staircase to a large hallway where the drinks were served. Mike was doing an interview in one of the outer boroughs and was the last to arrive. I had my photo taken with Emily in the hallway at the top of the stairs, then put my camera down on a little bench in the hallway, waiting for Mike. It had disappeared by the time he arrived. Ghislaine didn't like things to be out of place. I did get it back before I departed, but missed the chance for my photo-op with Mike.
I greeted Mike at the top of the stairs, "Hi, I'm Betsy". He pulled me into a big hug, put his arms around my waist, "You're a little one, aren't you?" He was whisked away to talk with others, but first said, "Call me when you get to the Vineyard", "I will", I promised. Though there were no large donors there, the evening went off as planned. Mike came late and left early. He kept a busy schedule, but seemed truly touched that Interlochen would honor him. He sat one table away from me and I could see him in animated conversation throughout the evening.
I don't think Interlochen got much glory from the evening. I did call Mike when I got to the Vineyard in a few weeks (all numbers were listed in the phone book, no one bothered celebrities in those days). First time I was told he wasn't home. I left a message, but he didn't return my call. I tried once more. The message was clear this time. He didn't really want to see me. He was just being polite. Never mind. He had shown up and played his part. That was all that was required. He was a gentleman and there was no need for him to do more.
After his death, his home was purchased by Senator Mark Warner of Virginia, who is the ranking Democrat on the Senate Intelligence Committee.  We see him bicycling around the Vineyard. He is friends with one of my neighbors and is also quite approachable (though I did flub up once and call him John Warner…he reminded me that John was one of Elizabeth Taylor's husbands; I was very embarrassed).
Jeffrey Epstein wound up in the news some years later. In the early 2000s he got into legal trouble for soliciting (and having) sex with under-age girls. He supposedly procured young girls for Prince Andrew and Alan Dershowitz as well. Both deny these allegations. Epstein served time for the offense. Many lawsuits later, one can only say that large sums of money can silence lots of legal troubles. Donald Trump's name even came up in one case, but went no where. The cult of celebrity and money; a toxic brew.
---
This story happened over the course of nine months, about 24 years ago. No one had heard of Jeffrey Epstein at the time (beyond people at The Limited, who let him into their confidence and made him a very wealthy man, or Bill Barr's father, who gave Epstein his start at The Dalton School in Manhattan). I hadn't even heard of him and I went to camp with him when we were 14 years old. There is his name in the Program Book from the summer of 1967, which lists every program from the previous summer and everyone who attended. I still have mine for each of my six summers at the National Music Camp. We were both in High School Division. He played bassoon and was a Radio major. I was a Drama and Voice major. Our paths never crossed (look under "New York", 6th name down; from Brooklyn). When I attended camp in the '60s, Interlochen would typically have 1,200 campers from about 48 states and 12 foreign countries. It is even larger now (though no one is there this summer, due to the pandemic. I get reports from friends with summer cottages that it is eerily quiet).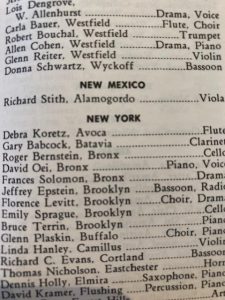 At some point, the Interlochen Development Office discovered him (or he, them…he began to give large sums to various cultural institutions to burnish his reputation), and Epstein gave generously, both hosting events in New York City, and built a Scholarship Lodge, which is a cabin for rent. The proceeds fund scholarships. Tim Ambrose, the Development Officer at the time, arranged for the Wallace Alumni event at Epstein's townhouse in Manhattan which I described in the above essay. As I said, Epstein was not there, Ghislaine was; a no-nonsense cookie, who did not want anything out of place and was not friendly to anyone besides Mike Wallace, who had known her father. The father was something of a scoundrel himself.
As the Epstein story exploded with his arrest last year, I got a call from a reporter at the Daily Beast, Kate Briquelet. She evidently googled "Epstein/Interlochen" and my story, originally written in August, 2018 came up. I did not know these stories were searchable. I spoke with her, telling her that Epstein was not at the Wallace party (she claimed in her article that he was; if so, he was not acknowledged in any way. He certainly was not sitting with Mike Wallace, as I had a clear view of that table and knew everyone there), but told her what I remembered of Maxwell, just as I described above.
When her story was published, the article was a smear job, implying that Epstein and Maxwell used his cabin at Interlochen as a way to get to young girls, and speaks of one camper, whom he met with her mother, but in New York City, NOT in Michigan. The mother was suspicious of him and never let him meet alone with her daughter. The Daily Beast published story is linked to THIS story, without my knowledge or permission; one of many reasons I've had to make my story private.
It is true that Epstein Lodge (which has since been renamed) is located in Penn Colony, between Junior and Intermediate Girl's Divisions. Both those are gated communities and men are NOT allowed in. I was both a Junior and an Intermediate camper in the 1960s Those girls are watched and chaperoned at all times. There is no way a predator could ever get to them. EVER!
And, in 1984, with my best friend, and our respective guys, we stayed in the lodge next to where Epstein Lodge would later be built. These are the nicest lodges on campus, with multiple bedrooms, kitchens, large entertaining spaces, decks overlooking the lake. As you see from the photo (which I took, so am not in), we had our favorite teachers and one's daughter and son-in-law (the daughter was a camper with us, and our friend), over for lunch one day. This was luxury, Interlochen-style. I know exactly where Epstein Lodge is. He could not troll for young girls from his perch. Epstein's place was yet to be built, but it would be situated next door to where we stayed ten years earlier.
I am not a believer in conspiracies, but I find Epstein's suicide just a bit implausible. Evidently Trump does as well, since in his recent interview on Axios/HBO with Jonathan Swan, he commented that perhaps Epstein was murdered. Epstein was on suicide watch and had two guards watching over him, yet both wandered off at the same time. I think too many powerful men have too much to hide and did not want him to be able to talk, ever. Now Ghislaine has been captured by the FBI, just after Barr dismissed the head of the Southern District of New York. This is the court that issued her arrest warrant. What does she know and how long will she stay alive to speak? Trump wished her well during a coronavirus briefing. Really?
I got a call from another reporter, on both my land line and cell phone, this one from LA, last winter. I hung up on him, twice. I finally found privacy settings and made this story private; unsearchable. I stopped posting my stories to Facebook. I will open this story for public viewing for only one week, then make it private again. What Epstein and Maxwell did is despicable and unforgivable. But there are dark forces at work here. I do not wish to be part of the story.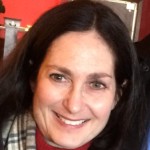 Betsy Pfau
Retired from software sales long ago, two grown children. Theater major in college. Singer still, arts lover, involved in art museums locally (Greater Boston area). Originally from Detroit area.
Tags: Mike Wallace, Interlochen Center for the Arts, Distinguished Alumni
Characterizations: funny, moving, well written