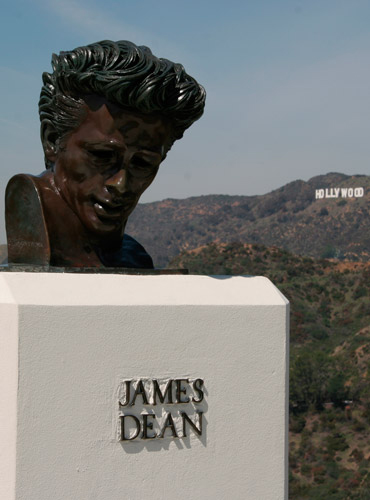 MY SECOND HOMETOWN
The Hollywood Hills in relief against a wide swath of sky made for an ever-changing Technicolor backdrop to the north. From our front yard, if we stood under the magnolia tree just so, we could see the domes of the Griffith Park Observatory, famously featured in Rebel Without a Cause. The Hollywood sign was always in sight, a daily reminder that fame and fortune were within our reach.
[Warning: Thar be name dropping ahead!]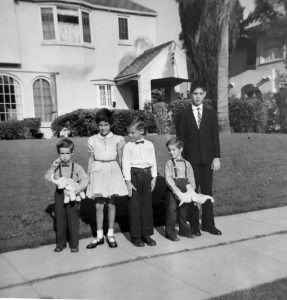 My second hometown was anything but quintessential, but it's where I spent the majority of my childhood, and the majority of my life. As I wrote about in "Just A Small Town Girl," after my mom gave birth to twin boys, I now had four brothers and we'd outgrown our house, and so in the summer of '55 we moved from Baldwin Hills into a carnation pink two-story (we actually called it a mansion!) on Van Ness Avenue situated on the northern edge of an area in L.A. called Hancock Park that's on the southern edge of Hollywood.
The Hollywood Hills in relief against a wide swath of sky made for an ever-changing Technicolor backdrop to the north. From our front yard, if we stood under the magnolia tree just so, we could see the domes of the Griffith Park Observatory, famously featured in Rebel Without a Cause. The Hollywood sign was always in sight, a daily reminder that fame and fortune were within our reach.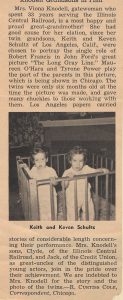 Hollywood is an industry town, and we become part of it. It's impossible not to name drop. Before we had even unpacked, my mom had enrolled my twin brothers in SEG (the Screen Extras Guild) and, at six months, they booked their first role as one baby in The Long Gray Line with Tyrone Power and Maureen O'Hara. From there they joined SAG and worked regularly. Mom befriended a talent agent and eventually became one herself with an office on Hollywood Blvd. representing child stars like Molly Ringwald who I remember when she was just a little kid. Even I had a bit part in an episode of Playhouse 90 starring Charles Laughton, filmed at nearby CBS Studios. Both Paramount and Desilu Studios were right up the street. Schwab's Drug Store was a short drive away where, legend has it incorrectly, Lana Turner was discovered (she was actually discovered at the Top Hat Malt Shop), and who years later, believe it or not, became the step-mother of one of my newest best friends, Judy M. Lana Turner taught me how to cha-cha at Judy M's 15th birthday party in a living room in Malibu, the Pacific Ocean in her own backyard. We even caught a glimpse of Cheryl Crane, Lana Turner's daughter, who had stabbed her mother's boyfriend, Johnny Stompanato, to death.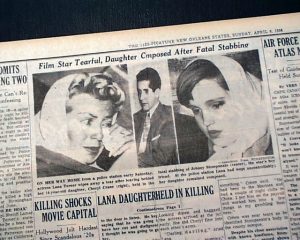 But well before all that, when we first moved in, our backyard was a tangle of weeds and bushes where we played on swings, a not-very-slippery slide, and a tall metal jungle gym where one day I pushed myself up and into the air from the domed parallel bars at the top, locked my arms, proclaimed ta-da!, then unlocked my arms, lost my grip, and tumbled through the bars to the ground, chipping my adult upper front tooth on the way down. This resulted in my first trip to the emergency room, and a self-conscious smile forever more.
Once we grew up and gave up playing in the yard, everything was cleared and replaced with a brick patio, swimming pool, and cement deck. From then on, come summer, the pool was the center of our lives. My mom hosted both water ballet and swimming classes. I floated on a blue rubber raft and daydreamed to "Theme from a Summer Place" and "Jack the Knife" blaring thinly from the transistor radio that sat on a round aluminum table, yellow umbrella in the middle. We kids were water-logged, red-eyed and worn out by the time we went to bed. Summer was hamburgers and chicken sizzling on the grill. We had barbecues and pool parties just about every weekend with my parents' friends and our own.  Calls of "Marco" answered by "Polo" and intentional, misleading splashes echoed in the bright air. In the midst of one party, Mom heard music coming from inside the house, went in to see where it was coming from, and there was a complete stranger sitting there playing the piano in our living room.
"I heard all the fun and the door was wide open so I just came in. Hope you don't mind." She didn't, and brought him through the house to the backyard, handed him a drink, and he joined the party.
As a pre-teen, I sometimes walked barefoot up to Larchmont Village, less than a mile away, where I window shopped at the toy store, listened to 45s in the sound-proof booth at the record, and usually got a chocolate malt at the ice cream shop. But my favorite stop was the stationery store where I would go to just drift through the quiet aisles. I loved the scent, the feel, and the colors of paper, and the seemingly endless variety of writing tools and accessories that I tried out, writing my name on little scraps of paper provided for just that purpose. Other days I walked, barefoot as always, in the opposite direction to Jerry's Market where I'd buy sunflower seeds and "U-No candy bars, cool man cool, you eat 'em at home and you eat 'em at school." At the liquor store across the street I'd pop in to buy my Archie comic books.
The Santa Claus Lane parade on Hollywood Blvd. was a nuisance and just meant all the streets around us were closed. I think I might have gone once, or maybe I'm just imagining it from all the times I watched it on TV.
Our family restaurant was Lucy's El Adobe, across the street from Paramount, with photos of their famous patrons papering the wall. It's where Linda Rondstadt and Governor Jerry Brown met. We knew everyone there by name, and they us, what our "usuals" were (mine was the "Jerry Brown Special — Arroz con Pollo"), and how the grownups liked their margaritas with salt, shaken. That's where we celebrated almost every special occasion.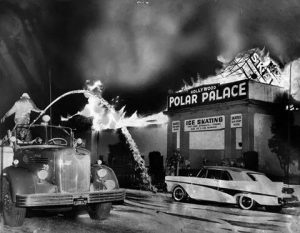 Some Saturdays my friend Yolanda and I would go ice-skating down the street at the Polar Palace. Mostly we sat in the built-in bleachers and watched the experts whizzing by while skating backwards, then jumping and spinning, many of them practicing for the Ice Capades, then we'd clomp across the gouged wooden floor to sip hot cocoa with melting plump marshmallows in the cozy indoor coffee shop. After that we'd climb high into the bleachers and watch the Zamboni clean the ice to the sound of music before closing time. When the Polar Palace caught fire — rumor had it for the insurance money — at 3 a.m. our entire family tromped down the street in our PJs to watch it burn while camped out on the lawn of the apartment building across the street where someone served coffee and donuts.
Hollywood Memorial Park (now known as the Hollywood Forever Cemetery and host to live music and movie screenings!) was and still is four blocks from my junior high school. I remember that the brother of a classmate shot himself while playing with a gun. And my older brother's friend Walter lived up the street with his aunt and uncle and his little brother, who died I don't know how in Yosemite. From then on we'd see Walter's aunt, as we called her, "There goes Walter's aunt," walk past our house every day at 5:00 p.m., her pocketbook clutched close to her chest, then walk back a few minutes later with a brown paper bag clutched in her other hand. As the years passed her gait became less and less steady, but she never missed a walk, at least not as long as I lived there.
The Santa Monica Mountain canyons, connected at the crest by Mullholland Drive, are a major part of life in L.A. — Beachwood Canyon (the one leading to the  Hollywood sign and several favorite makeout spots), Topanga Canyon (my favorite place to trip, the most bohemian canyon, where Frank Zappa lived with his clan, home of the Inn of the Seventh Ray, and the Sandstone Retreat, a nudist colony), Laurel Canyon (the legendary folk-rock hideaway…see my "Close Calls" story), tony Coldwater Canyon, secluded and star-studded Benedict Canyon, and rugged Malibu Canyon among others…snaking well-worn roads leading from the city or the ocean to the valley.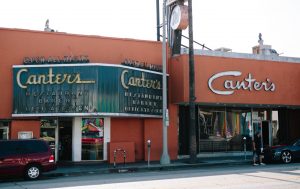 Most of the places I remember are long gone. In junior high, the best dances were not in the school gymnasium but in the basement of the Beverly Christian Church (gone)  — we called it the B.C., and as far as I know none of us went to church there, but it's where I got my first taste of bumping and grinding, a boy's leg wedged firmly between my thighs, to the steady beat of the Shirelle's "Dedicated to the One I Love," and "Will You Still Love Me Tomorrow." After our junior high school graduation, a bunch of us walked up to the Hollywood Legion Lanes (gone), our favorite hangout where the boys bowled and strutted their stuff and the girls mostly sipped sodas and watched. At night we'd go to Tiny Naylor's (gone) where rumor had it the carhops were newly paroled ex-cons. Once I was in high school, I (finally!) got felt up for the first time at the Gilmore Drive-in (gone), smoked my first cigarette and had my first cup of coffee at the drugstore soda fountain (gone) across the street from Fairfax High. But a couple places I love have survived and thrived (at least as of this writing): The Original Farmers Market, where I shopped for school clothes and gifts like the silver ID bracelet I gave my brother Larry; and Canter's Deli, now world famous but then just our hangout, just down the street on Fairfax with its orange Art Deco decor and bizarre "autumn leaves" ceiling panels. Still open 24 hours, with an upstairs lounge called the Kibitz Room, in the '70s it became a haven for all of us who couldn't possibly sleep. (For my 25thyear high school reunion, we ended up at Canters for an after party.) By now Sunset Blvd. was just starting to happen, but that's another story.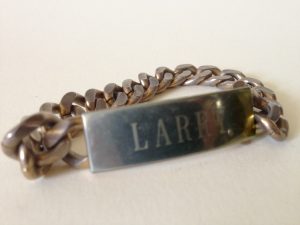 Once I turned 18, I moved to the valley where I attended college, but I probably headed back over the hill at least once a week, ostensibly to do my laundry at my mom's but really just because it felt more like home. And it still does. I still go out of my way to drive down Van Ness Avenue any time I'm in the city. Our pink house has been painted a chic dark gray with white trim and has solar panels on the roof but no longer a palm tree on the front lawn. I say "our house" but we lost it long ago. And yes, that's another story as well.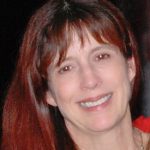 Barbara Buckles
Artist, writer, storyteller, spy. Okay, not a spy…I was just going for the rhythm.
I call myself "an inveterate dabbler." (And my husband calls me "an invertebrate babbler.") I just love to create one way or another. My latest passion is telling true stories live, on stage. Because it scares the hell out of me.
As a memoirist, I focus on the undercurrents. Drawing from memory, diaries, notes, letters and photographs, I never ever lie, but I do claim creative license when fleshing out actual events in order to enhance the literary quality, i.e., what I might have been wearing, what might have been on the table, what season it might have been. By virtue of its genre, memoir also adds a patina of introspection and insight that most probably did not exist in real time.
Characterizations: moving, well written