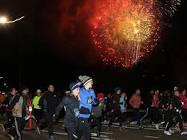 As I have alluded to before, my former wife was and still is a big deal in New York educational and cultural circles — first as a college president and now as a museum president.  As her "First Gentleman," I was able to enjoy a Zelig-like side life of hobnobbing with NY's rich and famous ("R 'n F"). And I truly did enjoy it, being a born extrovert and sufficiently self-confident not to wallow in insecurity despite being typically introduced at such gatherings as simply my wife's husband.  Indeed, I really liked having such a low bar set for me, since a clever quip or mild insight might even leave one of the R 'n F thinking that I was not such a dullard after all.
As "First Gentleman," I was able to enjoy a Zelig-like side life of hobnobbing with NY's rich and famous ("R 'n F").
Among our friends — or my wife's friends, but I do think I also developed a real relationship with him and his then-wife — was someone who was the publisher of a very important NY newspaper.  Let's just call it The Paper of Record and call him Arthur — and, no, none of his real friends ever, ever called him Pinch.  And Arthur, among his virtues, loved organized big, but quirky, events for a large but close circle of people  — mainly his family members and other NY R 'n F.  Among those events were dressy, gala New Year's Eve parties.*
I remember two in particular.  The first one began at the bowling alleys in the Barnard student activities center.  This was when my wife was president of Barnard and we rented the alleys for the night — unlike Trump, my wife and I paid full freight, rather than relying on any quid pro quo nonsense.  Arthur's fancy invitation described the dress for the evening as "formal bowling," and, suitably, I wore my tuxedo jacket over a white tee shirt, paired with black spandex running pants and, of course, (rented) bowling shoes. Quite the fashion statement, but, sadly, I do not have any pictures of it.  Though we began bowling purely in the spirit of fun — and in the spirit of copious champagne — since the assembled group was primarily a bunch of alpha males and females, it actually became very competitive, if not quite cutthroat. Indeed, it immediately triggered in my mind an occasion when I was in college and a bunch of us, in an altered state, decided to go to a nearby bowling alley owned by a former Red Sox catcher ostensibly as a total lark.  But, as sobriety overcame us, the competitive spark that had driven all of us through high school and college took fierce hold.  Happily, in neither instance were any bowling balls thrown in anger or directed at anything or anyone other than the pins.
The other NYE party began at a Brazilian dance studio in Times Square that Arthur had rented so that we could all have tango lessons.  Miraculously, I remembered learning the tango in my junior high school dance class, or at least the basic tempo: slow-slow-quick-quick-slow. That did not, however, prevent me from having, as the phrase goes in Portuguese, dois pes esquerdos ("two left feet"). Indeed, we were all so bad that I suggested we rename our dance the "no tango." But the instructors were delightful and incredibly patient and we all had a terrific time.  The only downside was departing the studio around 10:30 into the madhouse that Times Square already is by that time on NYE.
After these festivities, we would head to Arthur and his wife's gorgeous duplex in the Dakota on Central Park West and 64th (yes, the John Lennon Dakota) for a beautiful catered and served dinner.  And, at midnight, we would go to the picture windows overlooking Central Park and watch the start of the annual Midnight Run around the park's roadway, accompanied by a spectacular fireworks show. Though I never took a photo of it, I found a good one on the google machine that is the featured image. Then drinking, schmoozing and all around good cheer until about 2:00 a.m. And, at times, I also experienced a quiet, personal sense of amazement that a Zelig such as I could be part of such a posh celebration.
Fast forward to now.  I'm in a different life with a different wife in a different town. My wife and I vastly prefer the small, quiet New Year's Eve celebration — at most, two other couples — and rarely see any need to even try to stay awake until midnight. But even former Zeligs can have happy memories.
________
* Arthur also organized what he called "Boys' Night Out," which were, as the name obviously suggested, limited only to us guys and usually revolved around having dinner at one of NY's venerable "manly man" steak houses. By far the best one was one where, after such a dinner, we all went to see "The Vagina Monologues."  Not surprisingly, we were the only male-only group there; the few other guys in the audience looked as if they had been brought there at sufferance by their significant female others. And the show itself was terrific; Marisa Tomei was one of the three actresses in it at the time. Plus, when it was over and we observed the audience streaming out, we "Boys" chatted among ourselves and agreed that, perhaps counter-intuitively, this would have been the perfect show to hang around afterwards to pick up women. I mean, where else are you going to meet women who have just spent the last ninety minutes thinking about their vaginas?
John Shutkin
Characterizations: funny, well written