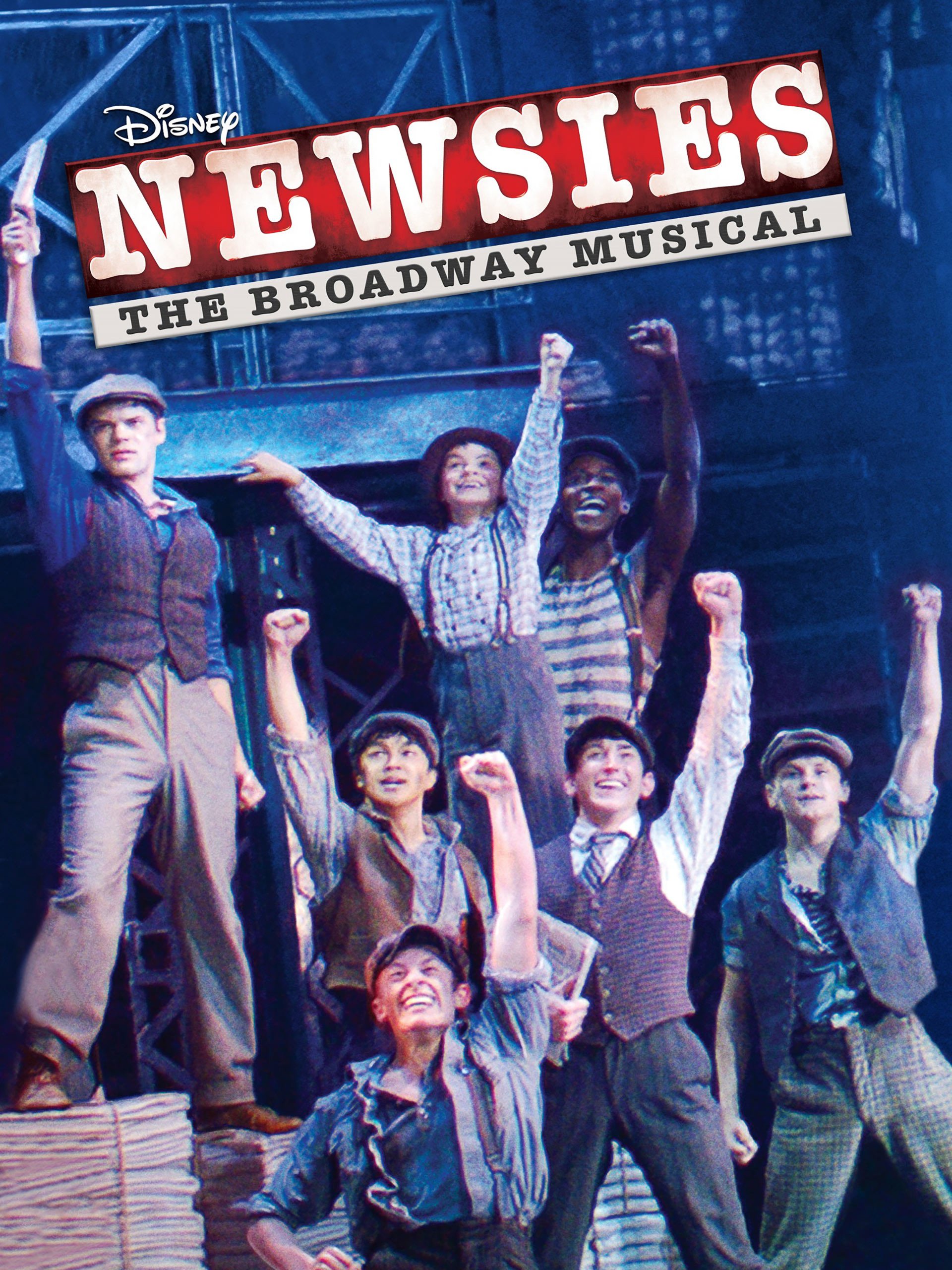 I have always loved newspapers —  both their production and their consumption.  As to the latter, I even read the New York Times religiously as a kid, despite the fact that, in those days, out of town subscriptions were delivered by mail one day late.  I am now about evenly split between digital and print copies of the Times and other newspapers, but they remain, in some format, a daily feast.  And, as to the former, in considering this week's prompt, I realized, in retrospect (ahem), that, while a journalism career was obviously not my Manifest Destiny, it was a likely one for me to follow.  But it never came to pass.  Let me briefly "unfold" this below.
As I described in this story a few years ago, we kids in our neighborhood put out a summer newspaper when I was growing up called the Bethany Blueberry — Bethany being our hometown and, as per the masthead, the Blueberry "[came] out in Bethany in Blueberry Season."  Briilliant, no?  Here's a copy: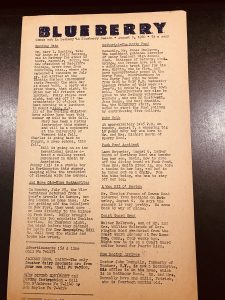 The Blueberry gave me the newspaper bug early on.  Then, in ninth grade, I became the editor of our junior high school newspaper, though I barely remember a thing about it.  The next year, as a sophomore at our high school, I immediately joined the Trident, the school newspaper, so named  because we were a regional school district comprised of three towns. I quickly became totally immersed in the Trident.  So much so that I was named Editor-in-Chief at the beginning of my junior year, an unprecedented appointment which I think I deserved but which mightily p*ssed off a couple of seniors on the staff who thought it was their "turn."
I loved everything about the Trident (except maybe the deadlines), particularly since, it being a high school newspaper and me being the Editor-in-Chief, I got to do a bit of everything for the next two years.  So, with my co-staffers, I thought up articles, assigned articles, edited articles, wrote articles, wrote captions, wrote headlines and, of course, wrote editorials.  And, though we had a couple of photographers on our staff, I also took some of the photos myself, particularly at sporting events —  usually the most interesting photo opportunities available in light of the Trident's limited subject matter scope.  And then there was the layout of every page of every issue, which was a major synthesizing effort of editing, aesthetics and logistics.
Happily, when I graduated from high school, the faculty advisor gave me an inscribed leather-bound volume with every issue of the Trident from my three years on it.  I still have the volume and take it (carefully) to our high school reunions, where it is pored over by my old classmates.   Here is a great cover photo of one of our basketball games from an issue my senior year:
(I wish I could take credit for the photo, but I didn't take it.)
And here is the masthead/editorial page from the same issue:
(Note, in particular, the heroic editorial on the controversial computer dance issue.)
My enthusiam for becoming a "newsie" when I went off to college only increased after a campus visit to Wesleyan during mid-winter break of my senior year in high school. I ended up rooming in a very non-fraternity fraternity house (this was Wesleyan after all, not Dartmouth) with a bunch of very nice guys including the Editor-in-Chief of Wesleyan's newspaper, the Argus. The editor's last name was Drummond and everyone called him "Ace" Drummond, after the hero of a 1930's comic strip and movie serial about an aviator. (I don't think I ever learned Ace's real first name.)  Anyhow, Ace was terrific — particularly to a "sub-frosh" such as myself — and, not surprisingly, very enthusiastic about the Argus and my own school newspaper experience. I thought it would be great working on the Argus with Ace, though I later realized that, as he was a senior, he would have graduated by the time I arrived on campus.  Plus my father had made it fairly clear to me that, as he gently put it, "If you get into Harvard, you go to f*cking Harvard."
Anyhow, I did get into f*cking Harvard, and originally had every intention of joining (or, actually, trying out for) the Crimson, Harvard's student newspaper. But the summer before I started, a good friend of mine, who had gone to my high school a couple of years ahead of me and was then a sophomore at Harvard, explained how things would work: "You can either go to Harvard or be on the Crimson, but you can't do both."  In other words, the Crimson was a more than full-time commitment, and you had to be chosen to be on it, much like playing football at a Division I powerhouse school, and the students on the Crimson simply were unable to participate in other college activities — including, often, their academic studies.  The Crimson was, in effect, your major, your minor and everything in between.
It was very good advice and, after discussing it with my parents, I decided I was not so committed to a career in journalism that I was willing to foresake the broader college experience.  So, to keep the football metaphor going, I punted on the Crimson.  And, once I got to Harvard, I found that the advice was exactly right, at least for me.  By way of example, the journalist/author/critic/producer Frank Rich was a classmate who ostensibly lived in my residential house. He churned out some amazing pieces for the Crimson during that time (mainly movie and theater reviews), but if I saw Frank in our house dining room for meals more than a handful of times during our three years there, I would be shocked.  He basically lived in the Crimson's offices a few blocks away.
Though I chose not to write for the Crimson, as a loyal son of Cambridge, I can't help but share its most famous headline: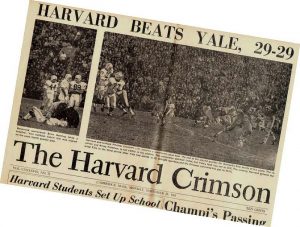 After college, I pretty much burned all bridges for becoming a "newsie" by going to law school. However, even then, the main reason that I chose to join the law firm that I did right after graduation in 1974 was because it represented the New York Times and had just won the Pentagon Papers case for the Times in the Supreme Court.  I had fond dreams of myself becoming a famous First Amendment lawyer.  But the group that did that work at my firm — a really small number of really brilliant lawyers — did not need any more warm legal bodies to join them, and I was soon doing accountants' liability and other more standard corporate litigation work.   No regrets — as mentioned in previous stories, I made a very nice career out of this practice — but not exactly the same frisson as representing crusading journalists.
In short, I never became a "newsie," at least in terms of ever working for a newspaper.  (Or, for that matter, even delivering one as a kid, which is what the musical "Newsies" is actually about.)  Though I must say the weekly "deadline" for writing Retro stories does seem to resemble what I imagine having a weekly newspaper column would be like. Though it doesn't pay quite as well. On the other hand, the comments are kinder.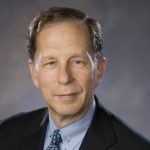 John Shutkin
Characterizations: funny, right on!, well written