My long-standing default mode, for better or worse, is smart ass ("SA").  Thus, I was tempted to only write in response to this week's prompt something to the effect of, "Look, as I write this, I've been retired for a grand total of five weeks, half of which was spent on an incredible cruise in and around New Zealand.  So I really don't have a clue about retirement yet.  Run this prompt again in a year or so, and then I'll give you my brilliant thoughts."
But I knew that such a terse SA posting might earn me a metaphorical rap on the knuckles from the Retro administrator. That is something always to be feared but, even more so, I realized I could at least offer up my tentative thoughts at this point.
In brief, though I put my retirement from my firm in place two years ago, as a result of some careful succession planning with The Powers That Be, I have been very worried about it. In particular, to the extent that one's way of dealing with retirement is hereditary, both of my parents give me significant concerns.
My father was an orthopedic surgeon in practice for many years. His various efforts at retirement can best be viewed as one step forward and two steps back.  First, in his 70's, he decided to step back from the rigors of surgery but continue his general practice in New Haven.  That lasted a few months and then he realized how much he woefully missed doing surgery. So he resumed it for a few years, but then finally re-dropped it.  A few years later, he decided it was time to retire completely, and he and my step-mother moved out to Marin County to help seal the deal. My father loved it out there, but hated the retirement.  Somehow, he re-opened his practice in New Haven and "commuted" between both coasts for a few years. Ultimately, he developed Parkinson's and had no choice but to finally, finally retire in Marin (albeit with some consulting work for Kaiser Permanente) until his death at age 90.  Simply put, he just so defined himself as a doctor that he could not happily not be one.
My mother was a life-long retail businesswoman and volunteer — though she generally hated doing the latter, as she felt volunteers were never taken seriously.  She was in charge of the gift shop at Yale's Peabody Museum until she turned 75, when she was forced to mandatorily retire (as could be done in the 80's).  She immediately opened up her own museum-style gift shop down the street.  The featured image is part of an article from the New Haven Register in 1989 about her and her shop.  (Unfortunately, I couldn't figure out a way to either print the whole article or find a link to the Register's archives for it.)  As my mother noted in the article, "I live alone.  I like people….I wanted to do something I wanted to do and this is it." My mother is pictured in the lower right.  The Daimura (Japanese god of strength) mask at the left I bought myself and I always kept hanging in my office, both because neither of my wives particularly liked it and because I thought it was a clever way to intimidate opposing lawyers who dropped in on me.  Since retirement, it has been hanging up in my basement, primarily as an incentive for me to push harder on my elliptical machine. In any event, my mother died fairly suddenly at the age of 80 while still running her shop, six years after she started it. She was never going to retire.
So there's the genealogical background for my retirement. I'd like to think that I do not define myself as a lawyer to the extent my father defined himself as a doctor.  And my wife, also a lawyer, has said she has seen too many lawyers "die at their desks" and was adamant that her husband not be one of those.  I do have a good number of non-profit boards that I am involved in and intend to become further involved in with my extra time. Plus, it looks as if I will be doing some law school teaching soon.
That said, having finally readjusted from New Zealand time (18 hours ahead of EST, for the record) and taken care of a bunch of transitional projects I wanted to get to, I am already starting to wonder what the hell I am going to do every day and, more fundamentally, am I doing anything that is "worthwhile?"
The bottom line is the obvious point I made above: it is just too soon to tell.  And the one bit of pre-retirement advice I heard from a lot of retirement "veterans" and am trying to follow is to not over-commit too soon for fear of having nothing to do. So, with the exception of starting to play pickle ball a few weeks ago — and I can already see it becoming a "thing" — I am trying to be patient and see how this all plays it.  And if the administrator/goddess, in her infinite wisdom, runs this prompt again in a year or so, I'll let everyone know how it's going. In the meantime, all advice is welcome.
p.s.  And I can't help but include one photo I took in beautiful New Zealand.  I am sure that THIS is what retirement should be like: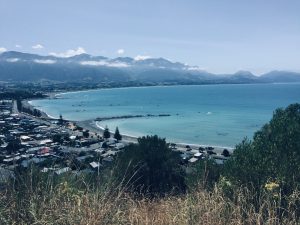 John Shutkin
Characterizations: moving, right on!, well written