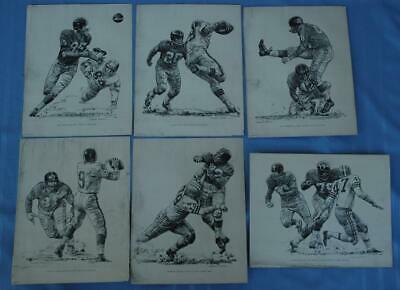 Having been an anthropology major (in the bowels of the Peabody Museum in Cambridge) and then  — formerly — married to the President of the American Museum of Natural History, I've got a lot more I could say about natural history museums than art museums.  That said,  I have also spent a fair amounf of time in the latter, including the near-obligatory art history survey course my freshman year in college with the equally near-obligatory Janson's History of Art as our primary text book:
Having been an anthropology major (in the bowels of the Peabody Museum in Cambridge) and then  -- formerly -- married to the President of the American Museum of Natural History, I've got a lot more I could say about natural history museums than art museums.
(I trust this looks familiar to almost everyone.)
But I choose to go in another direction and instead briefly tell about my own pathetic little history as an "artist."
When I was in grade school, I had two main interests: sports and drawing.  Neither turned out to be my destiny.  As to the former, you can read my recent interview-prompt story to know about that, at least with regard to baseball.  As to the latter, I had a fairly decent eye and could draw pretty well for a kid, but nothing prodigal about it.  In fact, I think one of the things that I most enjoyed about it was simply because I was ambidextrous.  My parents, both lefties, quickly encouraged me to write right-handed, as they knew it would be so much easier going left to right on a page without worrying about smearing the ink and being able to see what I was writing.  But, of course, there was no reason that I couldn't draw from right to left, so I often drew left-handed simply for the "freedom" it gave me.
Stylistically, I had no style.  Like most kids, I just wanted to draw something so that it looked like "real life."  So forget Impressionism or any other "ism" for me.  And, as to subject matter, at the time, sports were far more interesting to me than, say nude women.  (Yeah, forget "Plus la change….": Some things do change over time.)
To the extent I had a muse, he was an illustrator named Robert Riger whose work appeared frequently in "Sports Illustrated." Riger drew very realistic pictures of sporting events, and particularly pro football. Not surprisingly, he was also a professional sports photographer.  The featured image is a collection of football sketches he did for Shell Oil around 1960; I recall asking my father to gas up his car at Shell one time rather than his usual Mobil just so I could get the set.
Like Riger, I loved drawing pictures of the major team sports — football, basketball, baseball and hockey — and tried to do them as realistically as possible.  Was I any good?  Well, my parents thought so, but they were my parents.  They even got me some sort of an album in which I could carefully mount all of my drawings.  Actually, I eventually needed two albums. Again, was I any good?  We will never know.
Though I remember keeping the albums at least through high school ("Oh, that's cute," my high school girlfriend, who was much better than I ever was, once nicely remarked when I jokingly showed her my "etchings"), at some point they went the way of my baseball cards and model trains and mysteriously disappeared from my closet when I was away at school. But we can be sure that  their loss is hardly to be mourned by any art museum.  Hence my deservedly humble title.
Interestingly (at least to me), I still remember certain vignettes about my drawings.  I can think of three off hand.
First is the fact that I was almost more concerned with the players' uniforms than in what they were doing, and I always tried to make their logos particularly interesting. Indeed, I invented a team, the "Arrows," mainly because the name created some obvious graphic opportunities.  In particular, the cross part of the "A" could be made into an arrow extended rightward.  Additionally, the bottom of the "s" could extend leftward to underline the whole name  I illustrate crudely: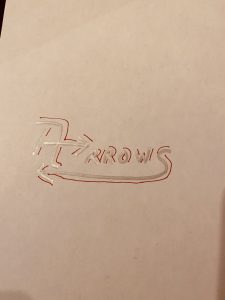 Brilliant, huh?
Second, I remember one particular problem I had drawing hockey players.  Specifically, I found it difficuly to have them with both hands on their hockey sticks, with one hand substantially below the other (as hockey sticks are typically held), without the latter arm looking ridiculously longer than the former.  At some point, I realized that bended elbows and a hunched over posture took care of this issue, but it took me a while to work that one out. Did da Vinci have the same problem?
Third, I remember that my self-styled "piece de resistance" was a football drawing in which I had somehow managed to get all twenty two players included, albeit some were pretty much hidden behind other ones.  I was pretty damn proud of the piece.  But then my 14-year old cousin, a smart ass who was visiting us over the summer, saw it and pointed out that the players were spread out all over the field without any regard to where they might be in any sane football play.  I remember being really ticked off by his dismissive remark.  I mean, critics, right? However, after he left, and particularly as I learned more about football and football formations, I realized that he had been exactly right and my picture made no sense from that standpoint.  In fact, at his father's funeral some thirty five years later, I apologized to him about this.  Amazingly, he remembered it too and it was a nice, amusing moment for us to share.  (His father, a huge football fan and also a smart ass, would have appreciated it as well.)
In any event, I am confident that my career choices did not lead to there being one fewer great artists.  As to there being one more great lawyer, well, I'm not so sure of that either. Or even that such a need exists.
John Shutkin
Characterizations: funny, right on!, well written