I don't recall my parents sending or receiving holiday letters. If they ever did receive any, they certainly didn't display them anywhere. And since everyone they knew was nearby, and a regular part of their daily lives, even if someone sent a holiday card, there would have been no need to include a letter giving updates on family happenings, because they were already known.
Hope you enjoy our second holiday letter, with a montage of photos including our beloved 14-year-old cats, Hillary and Tipper.
So where did I get the idea as an adult? I suppose it was because everyone else was doing it.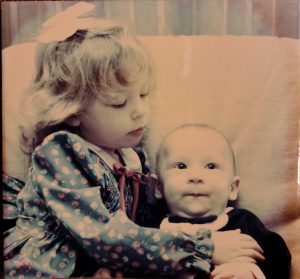 I only sent out a holiday card once with my first husband. It was in 1988, and it had a picture of our two little children on it, Sabrina almost 4 and Ben just 5 months old. It was inspired by one of those special offers from a photo developing place, we will turn your picture into a holiday card. I think it said JOY on it, and maybe the J was a candy cane. This was the picture. Someone had given us a onesie for Ben that looked like a tuxedo. We shot almost an entire roll of film, using a tripod and timer, trying to get all four of us looking at the camera. Impossible. We finally gave up and got this great one of the two kids on the 36th (and last) picture in the roll. We handwrote a holiday letter to everyone on the back, but it was necessarily pretty short, since there wasn't that much space, and our handwriting got messier as we went along. (Of course no computers then.) Our chief news was that we had produced these two adorable children. I mainly remember the fun of signing the cards S, B, S, & B (for Suzy, Barry, Sabrina, and Benjamin).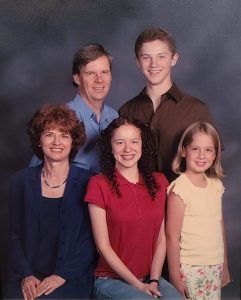 The next time I sent out a holiday card and letter was 17 years later, in 2005, with my second husband, and again it was the result of an offer from a photo company. Our synagogue had decided that the annual directory should have pictures of each family, so they arranged for a photographer to come and do portraits. The sitting and the picture for the directory were free, and then you could order others if you wanted them. I think the company was offering free holiday cards as well, so we couldn't pass that up! Here was the picture. I haven't found a copy of the actual card. We  produced a newsletter, by then on a computer, to go in the envelope with the card, but I don't seem to have that any more either. Plenty of news to share, with our older daughter in college, our son in high school, and our younger daughter in elementary school. Ironically, not enough families in the congregation chose to have their pictures taken, so the temple never did do the photo directory.
The following year, 2006, we sent out our final (although we didn't know it at the time) holiday card and letter, which is the featured image. It starts out, "We had such a good response to our first holiday card and letter last year that we decided to do it again. Rather than a posed family portrait this time, we are presenting you with a montage of photos of different family members, including our beloved 14-year-old cats, Hillary and Tipper."
People thought we had done the whole thing on the computer, but we weren't that tech savvy. We had five actual photographs that we cut to size and pasted on the paper after we had printed out the letter. The trickiest part was getting the left-hand edge of the writing to match the contours of the photos, which we did by increasing or decreasing the beginning of each line by one space at a time. We were thrilled with the way it turned out!
I'm amused that one of the things we said about me was that I was "finally learning to read Hebrew." That was wishful thinking, because I never actually did.
I'm not sure why we never did another letter. Maybe we felt like that one was so perfect we could never top it. Or maybe when we read the holiday letters we received from friends and acquaintances, talking (bragging?) about all their accomplishments, we decided we didn't want to engage in that competition any more.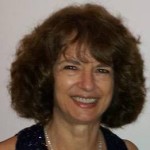 Suzy
Characterizations: been there, funny, moving, right on!, well written