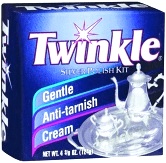 I was the only niece of an only aunt who, I was given to understand, intended to gift me her gorgeous charm bracelet one day. I loved charm bracelets, and—I'm ashamed to admit— the thought of this one left me breathless.
Sadly, several decades later my dear aunt passed away, her bracelet's fate unknown. I had no "thing" to remember her by.
I had forgotten the bracelet incident until today. Today, as the aunt of an "only" niece myself, I am standing at the kitchen sink warily polishing her grandmother's sterling flatware and regurgitating the charm bracelet incident to see if it has any wisdom to offer me.
"Caroline" had asked me if I would be willing to give her the silver. Of course I had said yes, I'd be happy to. Happy because she's a sweetheart and happy because she, like her mother and me and our female forebears, enjoys the domestic arts and their accoutrements. She would use it and treasure it into the future.
Now I am wavering. Was I too eager to say yes? Would I regret it later?
I will confess to occasional pangs, most particularly when going to family parties and holiday dinners and finding "my stuff" around relatives' necks, on their dining tables and affixed to their walls.
How did this happen? Surprisingly quickly. House moves, memorials, birthdays, Christmases, graduations—each has occasioned the sentimental transfer of this object and that.
I am reminded of my favorite John Cheever story, "The Lowboy," which I recommend for its veritas and its wit:
It is traditional in our family to display our greatest emotional powers over heirlooms—to appropriate sets of dishes before the will can be probated, to have tugs of war with carpets, and to rupture blood relationships over the subject of a rickety chair.
Thank goodness that's not us! But still the question nags: are our memories secured by these mementos, or can we be certain they'll survive, safe and snug, in our hearts?
Excuse me, but here is my aunt up in my face, jingle-jangling that bracelet. Okay, okay, I get the message.
I have no doubt that eating off of the stainless going forward will prove just as satisfying as eating off of the sterling. Maybe more so: I won't have to polish it.
Susan Bennet
I'm so happy to have joined the gracious Retro family. The basics:
I have a background in marketing and museums.
I come alive when the leaves turn red.
I regret every tech mistake I have made or will ever make on this site.
I want a dog.
Characterizations: funny, moving, well written