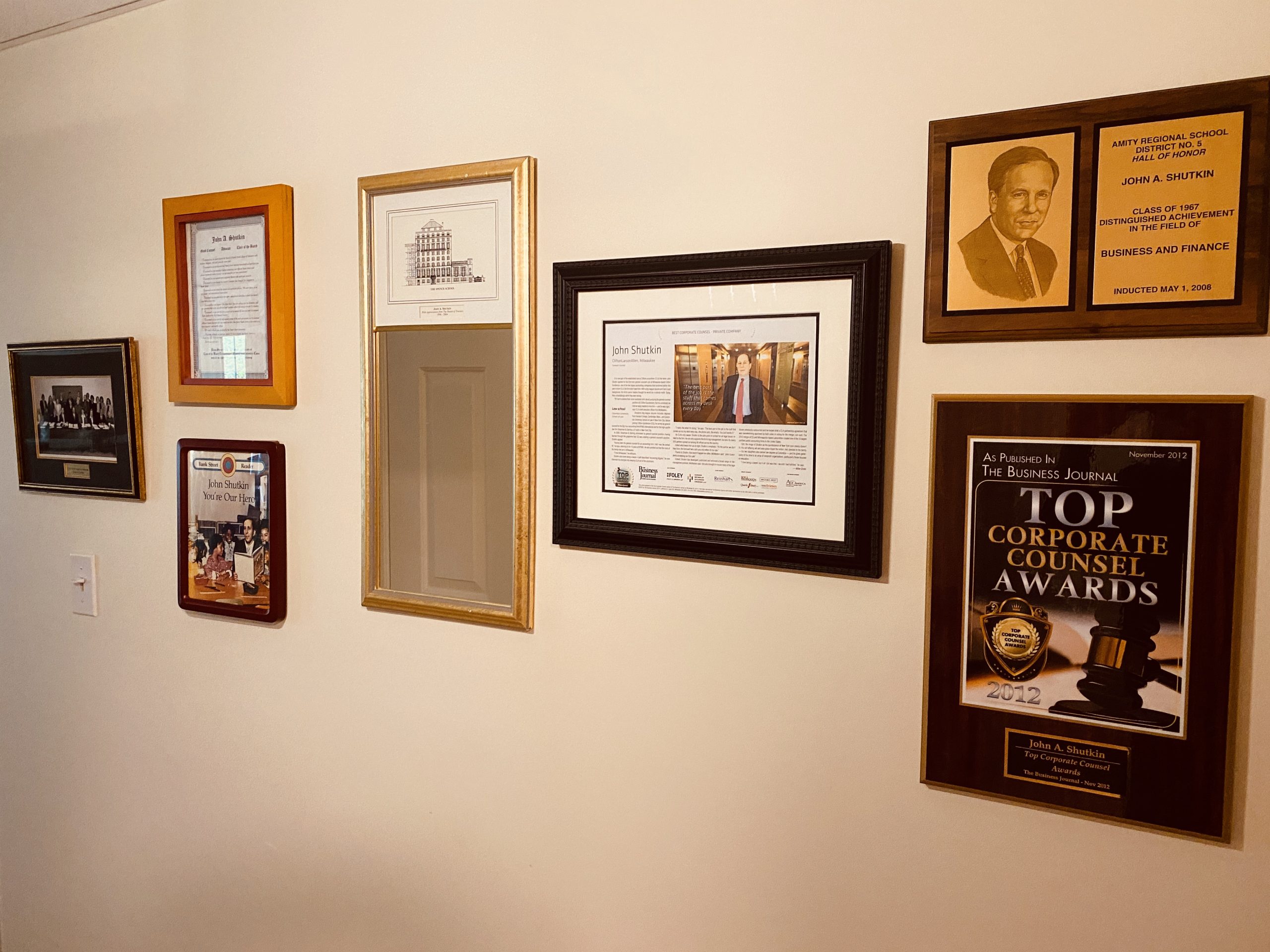 It is not as though I have not saved a fair amount of my stuff, dating back at least from high school.  And I have not (consciously) thrown any of it out over the years.  Indeed, when I retired at the end of last year, I had to set up additional file space at home in order to incorporate all of the "professional" memorabilia that I had typically kept in my office files.  However, I have never systematically retained any of my memorabilia; I have usually just stuffed it in a Redweld folder with some kind of generic label (e.g., "Personal Archives IV").
With all due modesty aside, among the memorabilia are a fair number of awards and the like that I have received over the years.  However, I have been reticent to display them publicly. And I have done that for a very good reason.  My former wife, as I have mentioned before, is very prominent in New York educational and cultural circles.  And she has, deservedly, won a huge number of highly prestigious awards, honorary degrees and such.  Though she is a fairly modest person, nonetheless, a good number of these did find their way onto a wall or two (or more) of our homes.  In response, our daughters, with all the parental respect that one would expect from two smart-ass New York kids, always labelled these displays as "Mom's 'Wall of Ego'" (hereinafter "WOE").  I simply did not want to suffer the double ignominy of my much more modest award collection garnering a similar title.
As such, the only literally egocentric memorabilia I had on the walls of my office were three framed items.  One was an award from about ten years ago for being named "Top Corporate Counsel" given by the Milwaukee Business Journal when I was based in that city (yeah, I know; big fish/small pond).  It's pretty cheesy, but —  no kidding — the managing partner of my firm insisted that I put it up since he thought it reflected well on the firm.  What could I say?
The other two were letters. One was the letter which I received from the "Voice of the Yankees," Mel Allen, when I was ten years old and had written to him about becoming a sportscaster.  I wrote about that in another Retro story: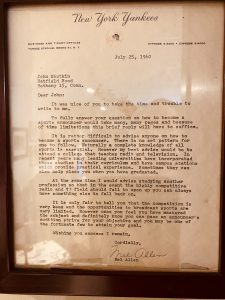 The other letter was one I received from the Dean of Admissions at Wesleyan when I informed him that I had decided to go to Harvard instead of Wesleyan and he —  (presumably) inadvertently —  ended the otherwise very nice letter by saying "Our loss is Yale's gain."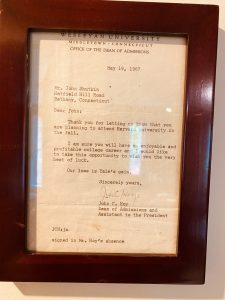 So maybe there is more than a dollop of humblebrag in displaying that second letter, but cut me a little ego-massaging slack, OK?
When I retired, as mentioned, I brought home all of my office memorabilia, including all of the award stuff I had never bothered to hang up.  Though still conscious of the WOE stigma, having a blank wall or two that needed filling in my den and no daughters living at home to give me any crap about it, I decided to go over to the Dark Side and finally build my own WOE.  The main part of it (yeah; there's some around a couple of corners) is the featured image to this story.
Happily, my (current) wife is fine with my WOE — it's not like it's in the living room or on the ceiling above our bed.  Plus, with the COVID19 social isolation, no one is visiting us anyway to see it.  As such, its existence is analogous to the line about not having to worry about anyone seeing your true hair color these days.
In any event, let me end this story by making the obvious point: WOE is me.
John Shutkin
Characterizations: funny, right on!, well written