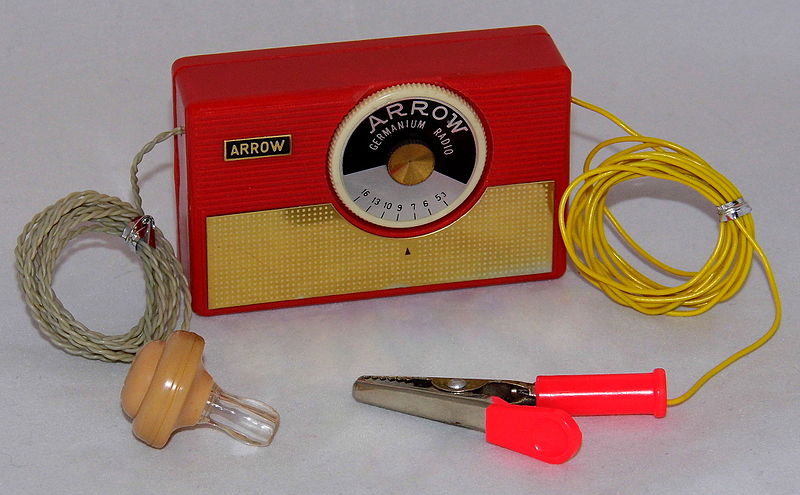 Once I figured out that this prompt was really more about radios themselves than radio programs, I had a vivid recollection of my very first radio.  Happily, I found an exact image of it on-line, right down to its bright yellow and red plastic exterior, and it is the featured image.
I had a vivid recollection of my first radio, and found an image on-line, right down to its bright yellow and red plastic exterior.
Technically, it was a "radio kit," because it required some minimal assembly — like snapping the front of the case onto the back after fixing the wire and the earphone connections in place. My sense now, as a lawyer, is that it was (non-) assembled and marketed this way to avoid being labelled as a "radio" and subject to certain regulations, but I can't be sure. In any event, I was ecstatic that I could put it together myself. (I was about ten at the time.)
This was not even a transistor radio.  It was called a "crystal radio" and did not require either batteries or plugging into an electrical outlet.  It provided its very own — albeit very weak — power.  Here is more than you ever wanted to know about crystal radios.
There were two unique features to my crystal radio.  The first was the yellow wire with the clip on it on the right of the image. This served as its antenna.  However, to really enhance the radio's reception, the wire had to be stretched and then attached to a metal object.  Particularly suggested were bedsprings, radiators or the finger stop on rotary dials on telephones (remember?).  Like most kids in 1959, I didn't have a phone in my room and my bedsprings were covered, so I attached it to the radiator next to my bed.  And, yes, it made an enormous difference in reception.  Indeed, without the radiator connection, the radio basically didn't work — as I learned anytime the clip slipped off of it. (I eventually wrapped a bare wire around the clip on one end and around a radiator part of the other end to make the connection more secure.)
The second unique feature was the earphone on the left.  This was not simply a listening option, it was the only way that one could listen to a crystal radio with its very weak signal and no internal source of amplification.  But it had the added advantage, at least to a kid listening to the radio in bed late at night (as I almost always did), of not only not bothering my brother in the upper bunk, but not letting my parents know I was listening.  That said, I'm pretty sure my parents knew anyway and decided it was not worth calling me on — especially when I would find the radio turned off and neatly placed on my bed table the next morning when I had obviously fallen asleep listening to it.
And what did I listen to so surreptitiously?  Sports; just sports.  Even though I grew up outside of New Haven and knew I would go to another high school myself, New Haven's two high schools both had great basketball teams and I loved listening to their games on the New Haven station that carried them (WELI), especially after one or the other typically won the area championship and played in the New England tournament.  Indeed, to this day, anytime someone mentions Hope High School in Providence, my first thought is that that was the team that Hillhouse beat to become New England champions one season.
I also listened to West Coast baseball.  Huh?  My favorite team in those pre-Mets days was the Dodgers, but they had moved out to Los Angeles the same year the Giants moved to San Francisco. Obviously, I could not pull in West Coast stations on my little crystal radio.  But, on clear nights, I could get the strong signals from New York stations.  And one of them — WMGM, I believe — carried "recreated" Giants games for a while.  The station received real time ticker tape updates on every pitch in Giants games and then the announcer in its New York studio (a guy named Les Keiter) would turn the updates into a play-by-play broadcast.  To enhance the experience, a 30-second loop of crowd noises would play over and over again in the background — with no regard to whatever was supposedly happening on the field at that time.   Plus, Kieter or someone else in the studio would hit a  fixed wooden stand next to a microphone with another piece of hard wood to recreate the sound on a baseball hitting a bat.  (Again, the sound bore no resemblance to what was really happening on the field; a bunt sounded exactly like a home run.)  In any event, while I didn't care about the Giants, they played the Dodgers a lot each season — there were many fewer teams then — and I always tried to listen to Giants-Dodgers games.  The main problem, of course, was the time difference; those 8:00 night games in Los Angeles and San Francisco began at 11:00 on the East Coast. I doubt if I ever stayed up until the end of a game.
*    *   *
Fast forward, radio fans, exactly ten years later.  It is now 1969, I'm at Harvard and Harvard is on strike over the Vietnam War and assorted other issues. By now, I am listening to radio on a very nice wood paneled Zenith clock radio my parents gave me when I was in high school.  This is exactly what it looked like: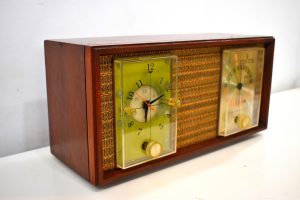 Though I still listened to some sports on radio, I was, age appropriately, now much more into FM classic rock stations.  First, New York's fabled WNEW -FM when in high school and, once in college, Boston's almost equally fabled WBCN.
But at this moment, during the 1969 strike, my radio attention shifted as it was announced that, for the very first time, a Harvard faculty meeting to discuss the strike would be broadcast live by WHRB, the Harvard radio station.  WHRB is and was primarily an FM station.  However, unbeknownst to most of us, it also broadcasted on a "closed circuit" AM frequency as well.  And how did that broadcast signal get transmitted? You guesed it (maybe) — via the radiators in Harvard buildings. At first I thought that this was just urban myth — like alligators in the New York sewer system — but some of my more techie pals assured me that this was actually the case.
The Harvard  faculty decided, though it would allow broadcast of its meeting, that it would only go out on WHRB's AM station.  Since that station had a very weak signal, it could only be heard if one were actually in a Harvard building — i.e., adjacent to the radiator "transmitters."  So this would effectively ensure that only the Harvard community could have access to this oh-so-important but oh-so-private meeting.
The good news is that the technology worked exactly as planned.  With my roomies, I tuned in my radio to this obscure AM frequency and voila!  —   there was WHRB broadcasting from inside the faculty meeting.   But the bad news is also that the technology worked exactly as planned.
We probably all know Mark Twain's famous quotation: "It's better to keep your mouth shut and appear stupid than open it and remove all doubt."  The Harvard faculty should have followed that good advice.  Instead, as I recall, the broadcast presented hour after hour of jabbering that ranged the spectrum from pompous bloviating to trivial carping with very little of merit in between. I forget the outcome, if any, of that meeting (probably none), but the overwhelming consensus among my roomies and me was that the faculty would be wise, for its own sake, not to overshare its views with us all again.
There was maybe one more faculty meeting broadcast over our radiators, but that was it.  Then radio silence.
Literally.
John Shutkin
Characterizations: well written