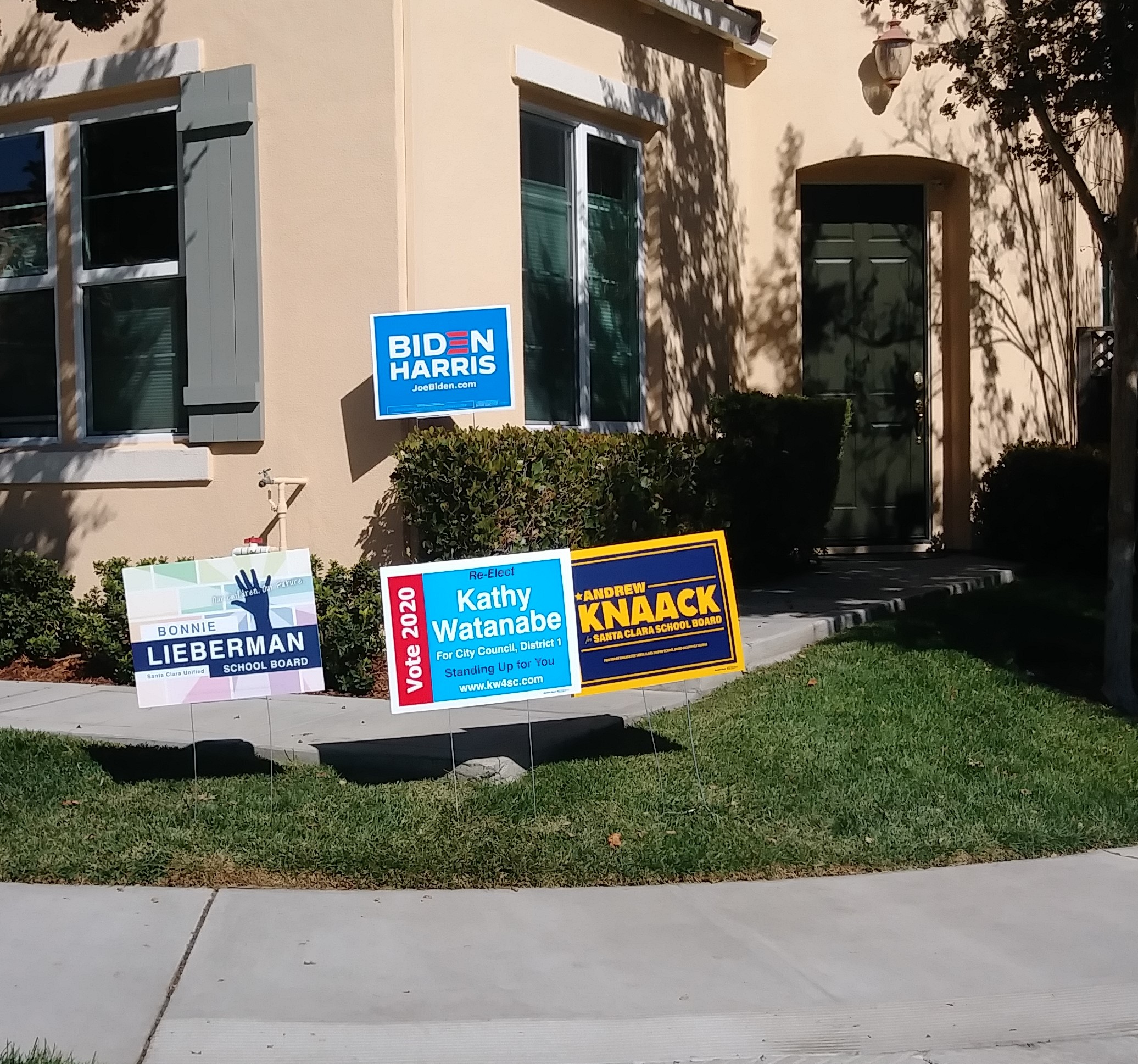 I don't have any political buttons in my possession, so at first I thought I wouldn't write a story this week. However, the pandemic has afforded an opportunity to walk frequently in my neighborhood in Santa Clara, California. For the past month I have watched campaign signs sprout. The signs practically butt up against the homes; it's the Bay Area, so the yards are postage-stamp size. And the neighborhood is completely blue. Trump signs are thankfully MIA, and Biden signs are relatively rare, since this preference is assumed.
Trump signs are thankfully MIA, and Biden signs are relatively rare, since this preference is assumed.
Most signs, like the politics, are local: city council and school board candidates. Based on the number of signs, the neighborhood is engaged, which is great. I confess that I normally don't vote in the school races, leaving that choice to the area's well informed parents. This year, the city council elections mean a lot, and alas, are fraught with issues of diversity, money, and a monster offspring of an 800-pound gorilla and the elephant in the room: Levi's Stadium and the San Francisco 49ers football team.
In this place where there is no majority ethnicity (we are about 1/3 white, 1/3 East Asian, and 1/3 South Asian), the council has been all white for almost a generation. After many legal battles, last year the court agreed that the city, which had elected council members at-large, was not being represented fairly. It ordered that district elections be put in place. For the first time, we are voting in six districts, and now several well qualified "minority" candidate challengers have a real chance of winning. So far, so good.
Alas, the current city council has been in a pitched battle with the 49ers, the issues too intricate to describe here, and the 49er owners are backing the challengers–with a lot of cash. About a week ago the campaigns turned negative, hit mail started arriving, and TV ads (really, for the city council?) became ubiquitous. Despite the 49er owners' backing, I voted for the challenger in my district because she is well qualified and she is willing work with the team, but not cave into their demands, to straighten out some of the issues.
This morning I received a robocall from a local PAC that stated that $3 million has been spent on city races. Oh, what that $3 million could do to help people who are at the local food bank! I wish we could just read the yard signs and candidate statements, but the era of simplicity is gone and big money has arrived. Who will win I can't predict. But these elections, national and local, money aside, really matter in 2020.
Marian
I have recently retired from a marketing and technical writing and editing career and am thoroughly enjoying writing for myself and others.
Characterizations: right on!, well written