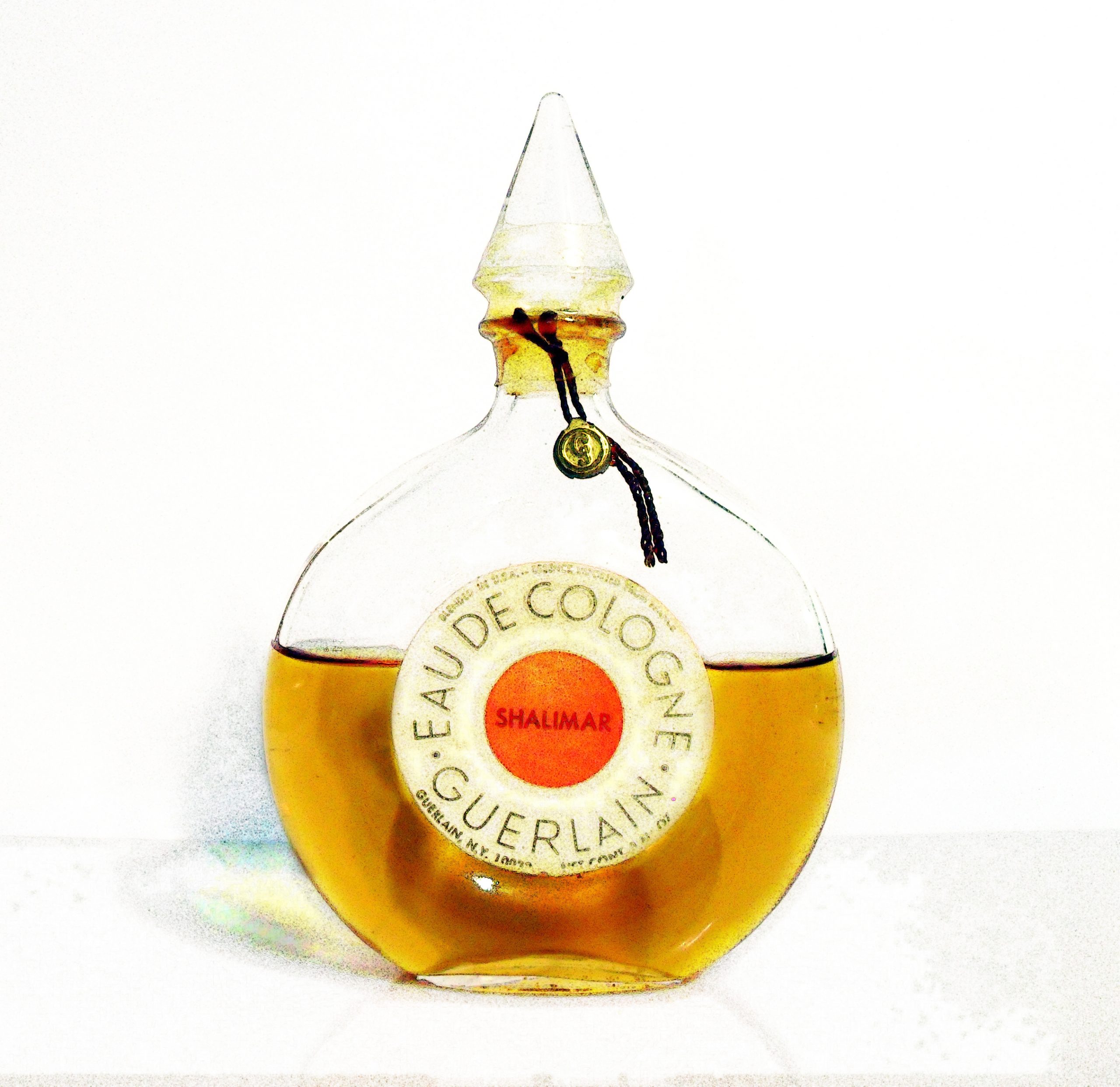 Extra Scentsory Perception (1947-1984)
For the final touch she dabs perfume — Shalimar, always Shalimar — behind her ears, on the inside of her wrists — her pulse points, as she calls them — and giving me a wink, a dab between her breasts.
(Preverbal) Aunt Blanche is heavyset and florid, her face an intricate pattern of red spider veins. She wears a patterned head scarf and a short-sleeved housedress made of a silky flowered fabric. I quietly play with the skin under her arm, wiggling my fingers to make it waggle back and forth. I love her sweet scent of roses and beer.
///
In my parents' bedroom, it smells like Shalimar, and in their bathroom it smells like Old Spice. At night everybody but Larry sprawls out on the big bed and watches TV. My mom and I adore Father Knows Best, and how I wish I had a big sister like Betty! Daddy and the boys prefer Leave it to Beaver, and I wonder if anyone notices that Larry sometimes acts just like jerky Eddie Haskell. There's a small refrigerator bar next to my dad's side of the bed, dark bottles lined up on top, the inside filled with cans and bottles, and sometimes Daddy pulls out sodas for us. A plaque on the wall over the bureau proclaims, "Once a King Always a King, but Once a Knight is Enough." I don't understand what it means. Another one says, "Before You Ask, the Answer is No!" That one I do understand.
///
We bury each other in the sand, and one time Larry goes off and buries himself so well we can't find him and everyone is frantically searching the water for him until he crawls out of his hole behind us and acts like he's been standing there all along. As the days go by we burn and peel, burn and peel again. My mom asks our new friends in the neighboring cabin to keep an ear out for us, knowing no harm is likely to come to us here. And then, once we're tucked in for the night, our sheets sweet with the summery scent of Coppertone, she and Daddy head to the casino at Stateline to give the slots a go. And no harm does come to us, not that summer, not there. Vacation ends too soon, and we pile back into the station wagon and head home with vivid tan lines that fade too fast.
///
I love the holiday season, and every single Thanksgiving and every single Christmas we have a celebratory feast, lots of family, food, drinking, and fun. The night before, my mom makes a cheesecake, that's her specialty and we all love it. The morning of, I wake up to the squeak of the big white turkey roaster as it's being rolled down the hall from Gaga's closet into the kitchen, and to the smell of onions and celery sautéing in butter. After I've washed my hands, I'm allowed to help by breaking up day-old bread, a mix of Weber's white and wheat, then stirring it into the sauteed mixture with a long wooden slotted spoon. My mom adds the herbs and spices—sage, thyme, salt and pepper. Then she holds the turkey upright while my grandmother spoons in the stuffing, don't forget the neck cavity, and together they lift it into the roaster. Later I help set the dining room table with our best china and silverware. As time to eat draws near, Daddy and I sneak pieces of the crisp turkey skin before "the bird," as he calls it, is lifted out of the roaster and onto a platter.
///
On a Friday afternoon, Daddy takes Mommy shopping at her favorite store, Jepperson's, and buys her a low-cut fitted green satin dress with a slit over one leg. That night, I try to help zip it up in back but it's way too tight and Daddy has to finish. Boy, does she ever look sexy! For the final touch she dabs perfume — Shalimar, always Shalimar — behind her ears, on the inside of her wrists — her pulse points, as she calls them — and, giving me a wink, a dab between her breasts.
///
On Father's Day we give Daddy a pipe rack with a decal of flying geese on the humidor box, a pipe, and some Dunhill tobacco. I love the smell of pipe tobacco, and I love sitting and watching the ritual….the tamping, it's called, and then the soft clunk as my dad clasps the stem between his teeth while he lights a wooden match, then holds the bowl with one hand and waves the match in a circular motion over the tobacco to ignite it; then a soft suck-pop, suck-pop, suck-pop coming from his lips, puffs of smoke rising from the bowl as he gets it going; and finally shaking out the match, then leaning back in his chair and slowly drawing and puffing with focused pleasure. I wonder why women don't smoke pipes, and I think maybe I just might when I grow up.
///
Now that I'm in junior high school, I splash myself with citrusy Jean Naté after showering, and I straighten my hair using an iron and ironing board, the sweet humid scent of steamed hair filling the air around me. I wear tight pencil skirts but look more like a toothpick, or I wear full skirts with a white petticoat that always ends up showing as it slips down over my non-existent hips no matter how many times I roll it up at the waist.
///
Bob brings me a dozen red roses, and my mom takes a couple Polaroids of me holding them, my first flowers and all that. Every morning we sit with a group of our friends on stools at the drug store counter across from school. I now begin my days with coffee and a cigarette, end them making out with Bob on my front porch, the scent of night blooming jasmine perfuming the charged air.
"You're driving me nuts, Barbara," he says, breaking our embrace. He takes a step back, holds me at arm's length, just looks at me.
"Sorry," I say. I don't know what else to say. I wish he would just keep kissing me, keep touching me.
"Don't worry, I like it," he says and pulls my body hard against his, kissing me even more deeply.
///
I'm at home sitting motionless in the rocking chair, relaxed, almost drowsy, barefoot and wearing just a slip. Erin is three days old. She's fallen asleep in my arms. Nursing my daughter, from the very first time she latches on, I go somewhere else beyond my conscious being. I am not only primordial mother; I am motherhood. The scent of my baby's sweet mother's-milky breath mixed with her warm efforts to suckle waft up from her downy scalp and stir the hormones they were designed to stir. Oxytocin intoxication: already, I would give my life for her without a moment's hesitation.
///
I walk into town, flip-flops slapping softly, and grab a seat on the patio at the local watering hole, the Tahiti Nui, where sits Shelley, my new drinking buddy. Up walks a guy she knows, Mike, who has a cute friend I've not seen before. He's tall and slender with long dark hair and warm brown eyes. The four of us sit at a table and by closing time Mr. Cute is playing footsie with me under the table, leaning in close to talk to me in a low, slow voice. His sweet smoky scent, that mixture of booze and cigarettes, is, as always, an aphrodisiac. He asks me to come home with him but, as much as I want to, I really want to, I've turned over a new leaf. Instead, I tell him where he can find me the next day—my usual weekend hangout, near the lifeguard shack at Pavilion Beach Park.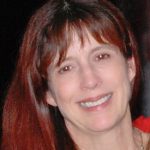 Barbara Buckles
Artist, writer, storyteller, spy. Okay, not a spy…I was just going for the rhythm.
I call myself "an inveterate dabbler." (And my husband calls me "an invertebrate babbler.") I just love to create one way or another. My latest passion is telling true stories live, on stage. Because it scares the hell out of me.
As a memoirist, I focus on the undercurrents. Drawing from memory, diaries, notes, letters and photographs, I never ever lie, but I do claim creative license when fleshing out actual events in order to enhance the literary quality, i.e., what I might have been wearing, what might have been on the table, what season it might have been. By virtue of its genre, memoir also adds a patina of introspection and insight that most probably did not exist in real time.
Characterizations: funny, moving, right on!, well written