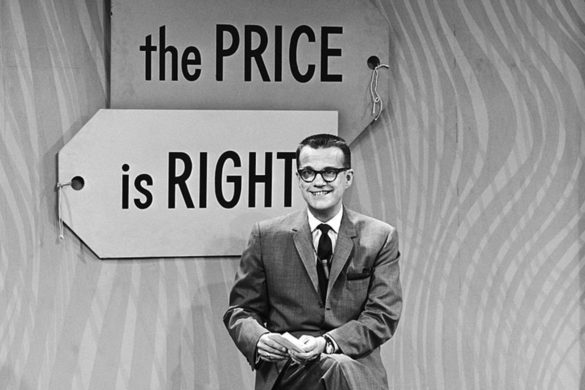 I watched a lot of TV game shows as a kid.  I won't bother listing all that I remember, as I'm sure many will be cited and discussed in other Retro stories.  And, for whatever reason, I have absolutely no interest in watching game shows now — even "Jeopardy," which I have always considered quite thought provoking.  Indeed, one of my friends ended up being a contestant and won a few games — albeit not in the Ken Jennings category —  and would tell fascinating stories about the whole elaborate process of training and auditioning to be a contestant.
Instead, my brief story will be about "The Price Is Right," one of my favorite quiz shows of the time.  No, not the later version as hosted by Bob Barker; he's still just the "Truth or Consequences" host to me.  I'm talking about the original version, with the scholarly looking Bill Cullen as the host.  (See featured image.)
I took particular interest in The Price Is Right because my parents' accountant, Stanley Jacobs, was a contestant on it. (I can't remember if his firm was actually named Jacobs, Jacobs, Jacobs & Jacobs or if that is just the set-up for an old joke told about accountants and lawyers alike, but I do remember that he was Stanley Jacobs.)  And, in fact, Stanley was a big winner on the show.
My father announced one day that Stanley had mentioned to him that he was going to be a contestant and so we made sure to watch when it was televised (live, of course).  On TV, Stanley was the same low-key, button-downed stereotypical accountant whom I had met in real life a few times but, then again, the same could have been said about Bill Cullen.  And, for that matter, most of the contestants on The Price Is Right; this was never a very flashy game show (think "The Gong Show" or "The Dating Game"), at least back then: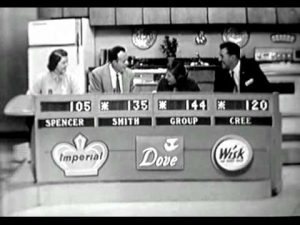 For those who may not recall the main rule of the game then, it was simply for the contestants to bid over several rounds on a featured prize — often a kitchen appliance or piece of furniture — and the highest bid without going over the actual list price won the prize.  The italicized portion of the rule was crucial.  If a contestant thought that the other contestants had all overbid on a prize, he/she would typically bid just $1 to win it.  Even if the prize was worth many hundreds of dollars more than that, and some other contestant was only over the list price by $1, the $1 dollar bidder would win it.  I thought that little quirk in the rule was both unfair and exquisitely clever.
Anyhow, back to Stanley.  In his careful, knowledgeable way, he had the winning bid on a number of prizes the day he was on and, as a result, then got to bid on the grand prize, which was, appropriately enough, a Steinway grand piano.  He won that too: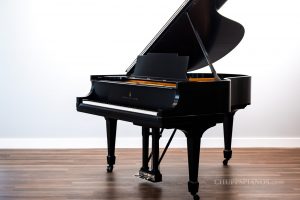 By pleasant coincidence, Stanley came over to our house a few weeks later to do my parents' taxes.  (Accountants, like doctors, made house calls in those days.)  Of course, my father's first question to him was, "So, Stanley, how's the new piano?"  Stanley, known more for his business acumen than his sense of humor, seriously replied, "Oh no, we didn't take the piano; you NEVER take the prize itself."   He then explained that any game show prizes that were won were treated by the IRS as "ordinary income," which you then had to pay taxes on.  So taking the piano would have actually cost him money — particularly since his family already owned a piano.  As a result, though the game shows were very quiet about this, they always had to offer the winner the cash equivalent of the prize (presumably the "price") and pay that out to the winner instead if he/she so chose.  And, per Stanley, once that tax rule was explained, almost always the contestants took the cash instead of the prize.  This also had the benefit to the manufacturers of the prizes, who actually had to give away very few of their products on the show, but still got the benefit of free national TV exposure for the products when they were presented and plugged.  The only "loser," as it was, was the network, which had to pay out the cash prize, which it presumably had budgeting for in the first place.
I found this explanation fascinating and, nerd that I was, regaled my friends with this bit of quiz show "inside baseball," which most of them didn't find as interesting as I did. And, as I look back on my long career as a lawyer, I realize that I spent most of it representing accountants and accounting firms.  Coincidence — or do I thank Stanley Jacobs for this?
John Shutkin
Characterizations: funny, well written