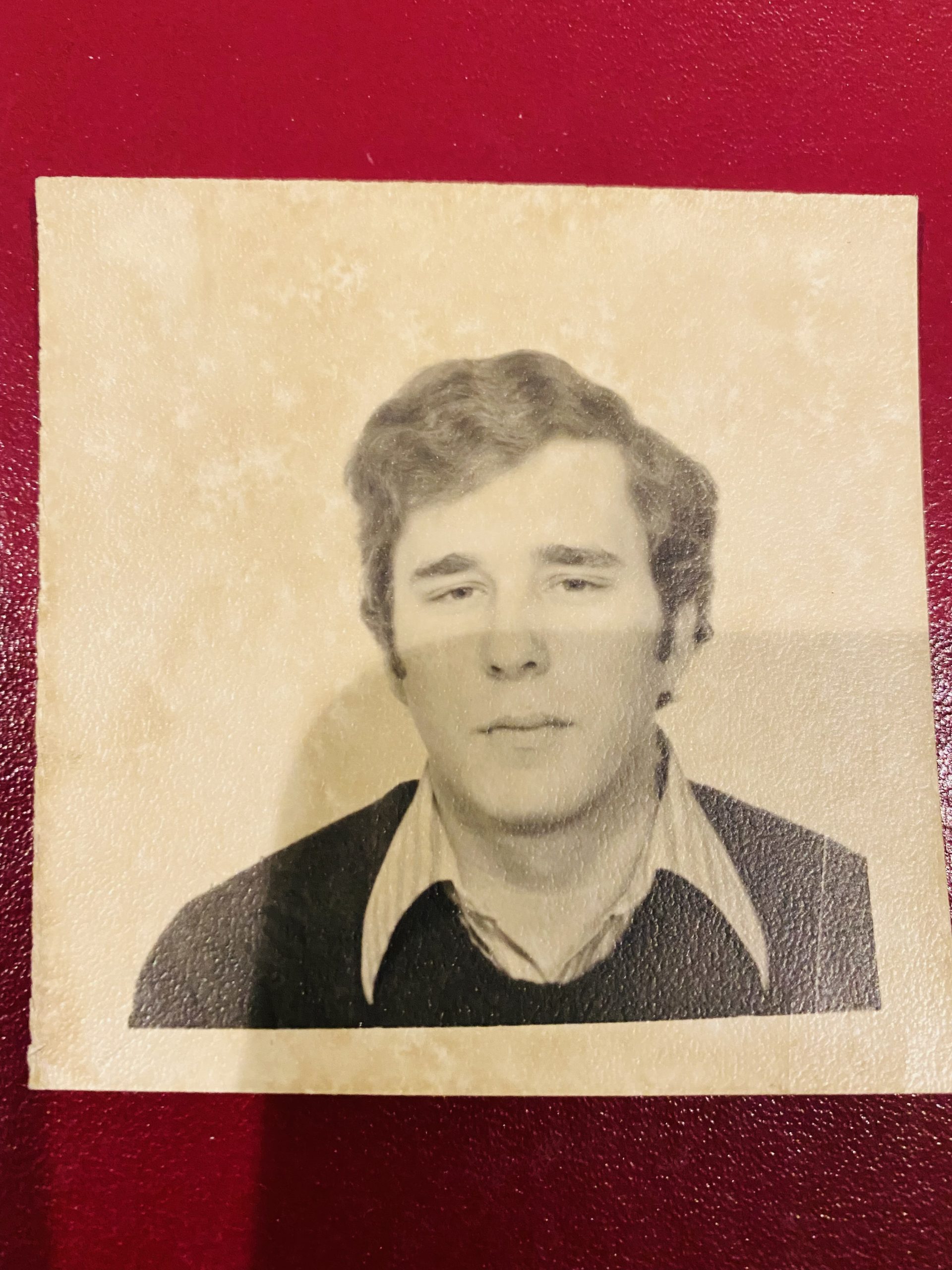 Responding to this week's prompt was almost automatic for me. Why, of course, that would be the summer of '71, between my college graduation and starting law school.  Talk about clearly delineated transitional periods!  Here are some of the details. (Without many pictures, I'm afraid; I can't even find my damn college yearbook.*)
A couple of days before graduation in June, I drove from Cambridge to New York City with two items on my agenda: a possible reconciliation with my girlfriend, who had broken up with me in February and had just moved to New York herself, and finally checking out Columbia Law School and its environs and, hopefully, getting an apartment.
As to the former item, we actually had a very nice time together, but, had I been more observant, I would have realized this was more about her letting me down easily.  Two days after I left New York, she wrote me  — literally —  a "Dear John" letter saying she had met someone else and, yeah, hoping we could still be friends.  Sigh….
As to the latter item, as mentioned in an earlier story, much as I had loved the happy chaos of six roomies and our assorted girlfriends and one hanger-on named Carl in our enormous senior year suite, I felt it was time to move on from student housing and get an apartment of my own and by myself.  With the marginal help of the Columbia Housing Office, I quickly located a tiny studio apartment in a building full of graduate students about eight blocks from the Columbia campus.  It was at 2790 Broadway (108th Street), next to Cannon's Bar & Grill, whose exterior was often used on "Law and Order" to quickly suggest a grubby New York street corner bar.  But, as I noted in another earlier story, the apartment at least had the advantage that it was so small that you almost didn't have to get out of bed to go to the bathroom in the middle of the night.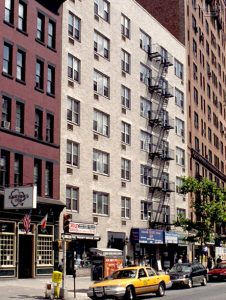 2790 Broadway (white building) and Cannon's
I also learned for the first time one of the most important elements of New York real estate: act immediately.  To secure the apartment, I had to dash down to my grandmother Tootsie's apartment on lower Fifth Avenue and "borrow" a check from her to pay the deposit — it was one month's rent of $150 — or I would lose the apartment.  I took care of that, but failed to also secure a telephone installation for the apartment at that time.  Again, as noted in another earlier story of mine, New York Telephone went on strike later that summer and, as a result, I would be without telephone service until the following February.
For those keeping score at home, I had gone from a spacious college suite teeming with my closest friends and three telephones to a miniscule studio apartment with no phone.  Plus, on the girlfriend front, not only had I clearly lost my most recent one but, a couple of days after receiving her Dear John, I received a letter from my freshman girlfriend telling me that she and her post-me boyfriend were getting married at her parents' home outside Philadelphia over Thanksgiving weekend and she hoped that I could make it.  You know, just friends….
So that was how my summer started.  For jobs, I had gotten a position with the ACLU branch in Connecticut — I'd be living at home with my mother over the summer, even with my new apartment in New York. I was very excited about the job, even though it was unpaid, since I had imagined a noble career with the ACLU after law school.
Well, the people at the ACLU were terrific and there were some interesting, substantive parts to my responsibilities. I got to monitor a police brutality trial and also work on a couple of policy documents.  But an awful lot of the summer my services were put to fundraising activities: drafting letters to prospectives donees, cleaning up mailing lists and, perhaps most importantly, helping to organize an end-of-summer gala.  It turns out that being on our freshman weekend committee was better training for my job than my Anthropology and the Law course senior year.  But, in retrospect (to coin a phrase), the job presaged what I would learn and absorb over fifty years of volunteer service for any number of non-profit organizations: you simply gotta raise the bucks.
A particular memory I have was driving one morning from New Haven up to the ACLU's headquarters in Hartford, about forty five miles away.  I stopped to pick up an attractive hitchhiker on the way.  (Recall that this was routinely done back then.)  As she got in my car, she informed me that she was a very experienced and savvy hitchhiker and I was not going to rape her (which, I quickly assured her, had never been my intent) and that she was en route to Vermont.  I replied that I was only going up to Hartford, but could take her that far anyhow.  She then said to me, "That's the problem with people from Connecticut; they never seem to go very far."  And I remember thinking to myself at the time, while pondering my own future, "Jeez, I hope that's not true in the metaphorical sense."
But the summer of '71 also had a lot of fun for me, too, mainly just being with a lot of old friends in Connecticut. Three good (platonic) female friends of mine, being relatively responsible, had been asked to house sit over the summer at the home of William Sloane Coffin, Yale's Chaplain and a famous peace activist. It was a big, beautiful old house in New Haven and, not surprisingly, was adorned with dozens of photos of Coffin with MLK, the Kennedys and the like. So we spent a lot of time just hanging around there.  I particularly remember the 4th of July.  After catching the fireworks from the beachhouse of one of the girl's families, we all went back to Coffin's house.  As it was unseasonably chilly that night, we lit a fire in one of the huge fireplaces and sat around singing Christmas carols and enjoying the meteorological irony of singing them on the 4th.  And, yes, drugs were probably involved.
Late in the summer, when our jobs were over, my best friend from high school, Mike, and I decided to take the proverbial "road trip" to find him a place to live when he began medical school at the University of Virginia and then to check out my new digs in New York.  First, we drove down to Charlottesville in leisurely fashion.  As others probably know, the UVA campus is one of the most beautiful in the world.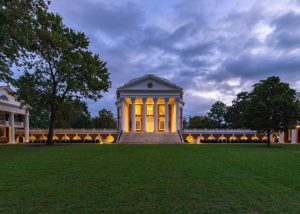 UVA Rotunda and Lawn
After being suitably awestruck by it for a while, we headed towards the medical school area and Mike was quickly able to secure an apartment in a complex for medical students conveniently near the UVA hospital.  It was a light and airy two-bedroom apartment and the compex had its own swimming pool and tennis courts.  Then, as if to punish me for my own choices, we headed up to New York to gaze upon my shabby little studio apartment whose only light came from a narrow airshaft in the back; I liiterally could not know what the weather was without checking the radio.  And, by this point, the telephone strike was on, so there was no way to get a phone hook-up.
This got me also to ponder my law school choice.  I already knew the old adage about law school that "the first year they scare you to death; the second year they work you to death; and the third year they bore you to death," so I was girded for all that.  But Columbia had a particular — and, I learned, deserved — reputation for being the "Legal Marines;" a grim and highly competitive place to spend the next three years.  But I was committed to it by now in mind, apartment lease and tuition payment.
Or was I?  Overriding all of this transitional unease during the summer of '71 was the specter of the draft and Vietnam.  As I've written about earlier, I had had the very bad luck of having gotten number 45 in the draft lottery the previous December and, upon college graduation, had been reclassified to 1-S — which meant Selective Service knew I was going to continue as a fulll-time student, but no longer eligible for an undergraduate deferment.  In short, I could be drafted and pulled out of law school at any time.  Fortunately, and for whatever reason, it never happened, but, between the possibility of hearing from Selective Service and having already gotten depressing letters from two former girlfriends that summer, I can never remember a time when I more dreaded receiving the mail.
Also during that summer, with my mother's great help, I bought furniture — mainly just a convertible sofa and a bureau and a desk — and kitchen and dining ware for my new apartment.  I can't remember the details of getting it all from Connecticut to my apartment,  but I am sure that it involved all the complicated and difficult logisitcs that I would first learn then were indigenous to any New York moving experience.
In any event, at some point in early September, I was settled in my little apartment with my clothes and furnishings, such as they were.  No roomies, no dining hall, no girlfriend, no ambient light, no telephone, nervous about law school and the whole dingy neighborhood, even more nervous about the draft, but settled.  And I remember reflecting to myself on all this the morning of my first day of classes, pretty much as follows: "Well, Shutkin, since you never had a bar mitzvah, this moment will have to do.  Now you are — sort of — a man.  Mazel tov!"
________
* Best I could do was to locate a mug shot that I had had taken that summer for my Columbia Law 1L directory that is my featured image.  Please note the period-appropriate oversized shirt collar and sideburns.
.
John Shutkin