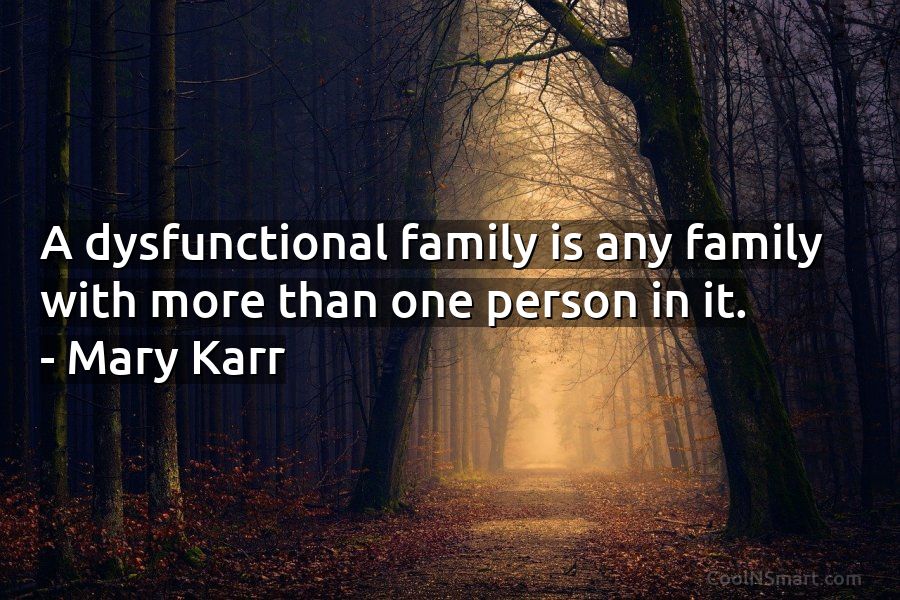 There are many quotations that say, in effect, that there are no truly "functional" families; rather, each family is dysfunctional in its own unique way.  The featured image is one of my favorite renditions of that idea.  And, in keeping with it, I do not pretend that my family has been immune from family feuds.* That said, I come from a very private family and, notwithstanding my love of Retro, I wish to keep our feuds within our family.  Sort of like the "What happens in Las Vegas…" line.
However, I have already addressed in an earlier Retro story the event that always springs to mind when I think of family arguments, if not feuds: the absoutely cliche that is Thanksgiving dinners with the crazy and and/or politically incompatible relative, and so I link it here.
But no real need to read or re-read the whole story, which is generally about the joy of family dinners in the dining room, with Thankgiving being the notable exception.  In keeping with this week's prompt, let me just repeat here the "moneyshot" paragraphs that focus on the horror that was too frequently our Thanksgivings:
"Second, dinner of the whole family in the dining room was not always a felicitous affair.  I speak in particular of several Thansgiving dinners where my mother's brothers (my uncles) would join us.  They were, of course, much more mature than they had been in the nursery growing up, but somehow — and, as I consider it, possibly due in some part to their disinterest in the adult conversations in the dining room even after they were allowed to eat there — their politics had not evolved very much.  I'm not sure if they would be Trumpians today, but they were pretty conservative, especially for educated Jews, and they would get into some fairly loud and ugly arguments with my mother and mock her for being the archtypical "limousine liberal" that, for better or worse, wasn't too far from the truth.
Political arguments with crazy uncles at Thanksgiving dinners is almost a cliche. But, worse than their choices in politics were my uncles' choices in wives.  Both seemed to be attracted to increasingly more unhinged women over the years.  Almost all of these women, it ultimately became clear, were very serious alcoholics.  As a result, by the time dinner rolled around, they had frequently been drinking for hours and were quite out of control.  In retrospect, their episodes of screaming at the dinner table, and sometimes having to be physically restrained (if they didn't simply pass out), was a pretty good object lesson for both my brother and me as to the dangers of excessive drinking, and one which we both have remembered well and taken to heart.
These sad, temporary aunts certainly did little to enhance my memories of family dinners in our dining room.  Nonetheless, take it from this otherwise unreconstructed liberal: such dinners are still a wonderful thing to experience and impose upon one's kids."
Let me just add two further points to my earlier story.  First, due to a series of family events, including kids and grandkids off to Iceland and the fact that we all just had a surprisingly felicitous family reunion a week ago at my mother-in-law's memorial service, my wife and I will be celebrating Thanksgiving all by ourselves in a nearby inn that we love.  Since we get along quite well 99% of the time, and certainly agree that much politically (call it the "99% Rule"), this should be a very pleasant and non-contentious dinner  Then, the day after Thanksgiving — no "Black Friday" madness for us — we are going off to an inn near Hyde Park in New York with my brother and his wife.  And with them, too, happily, the 99% Rule applies. And none of us drinks very much.  So re-runs of those previous crazy Thanksgivings is virtually impossible.
Second, though I am usually reluctant to recommend prospective spouses, restaurants, or movies to others, since tastes can be so varied, I will break my rule as to the third of these categories now.  The single best movie ever made about a dysfunctional family Thanksgiving is "Home for the Holidays," with an all-star ensemble cast and directed by Jodie Foster.  I'm sure it is streaming somewhere.  And, as an added bonus,I am also sure that somewhere on YouTube there is a video of how they filmed the famous "turkey carving" scene.  Here is a shot of it from the movie, but no spoilers: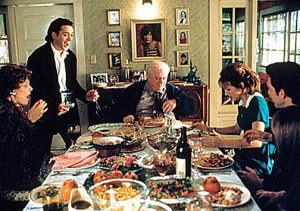 Hopefully, not only will you also enjoy the movie, but it will put your own family feuds in happy perspective.
_______
*  I should note that I grew up on Hatfield Road.  However, since it is in Connecticut, I'm pretty sure it has nothing to do with the Hatfield-McCoy feud of West Virginia and Kentucky.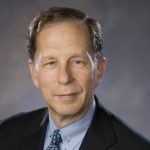 John Shutkin
Characterizations: funny, right on!, well written