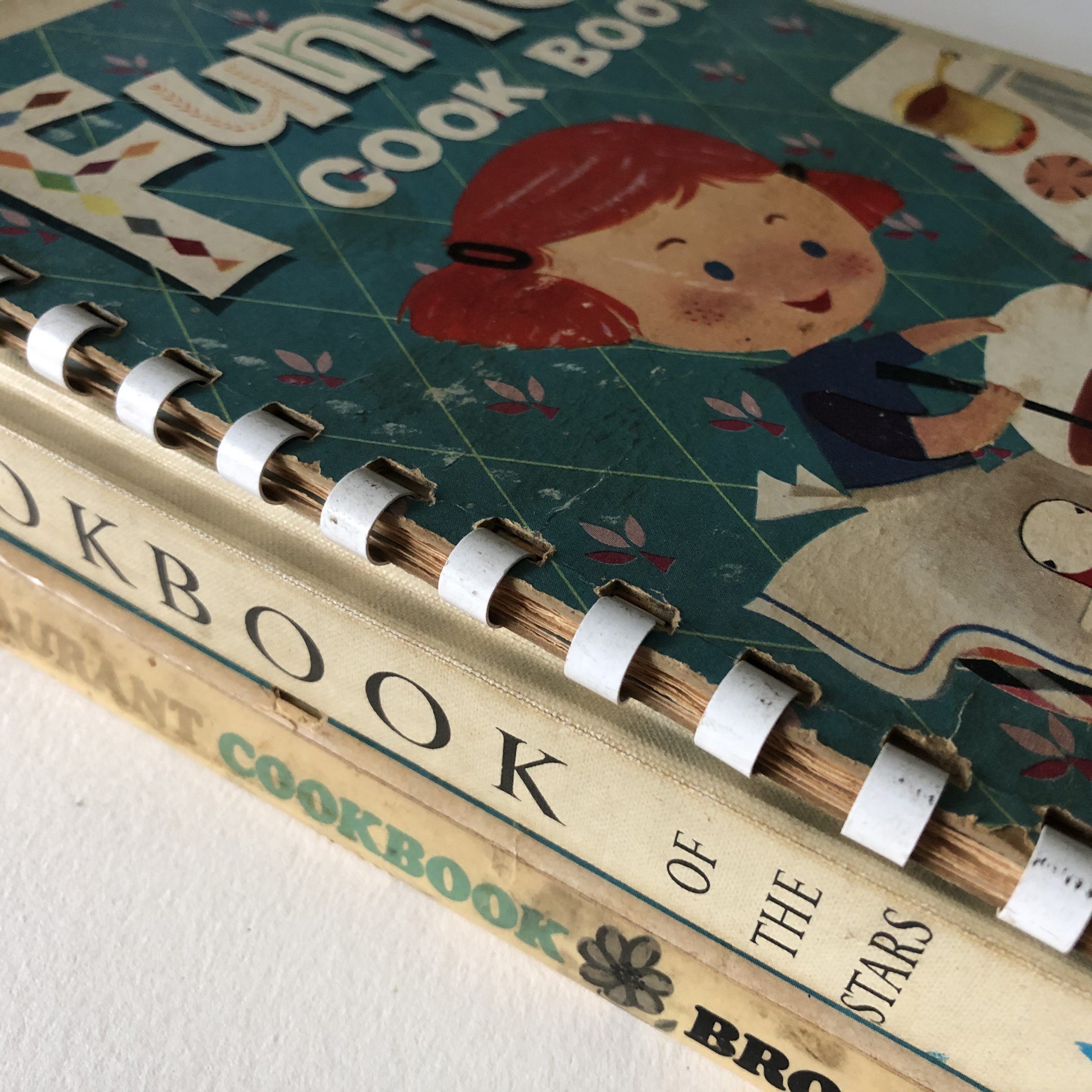 (Note: I've touched on some of this in previous stories, but it's fun contextualizing it all here.)
Some kid named Steven Spielberg was a friend of my boss and, before he landed his first gig, basically squatted in the tiny empty office across from mine.
I still have my very first cookbook, the "Fun to Cook Book," which was actually a promotional piece. Almost every recipe contains Carnation Evaporated Milk — cocoa, soup, scrambled eggs, mac and cheese, and desserts like orange pie with a graham cracker crumb crust…a hint of things to come. My grandmother lived with us during my entire childhood, and she and my mom shared cooking responsibilities for our sprawling family. Frozen and canned vegetables were staples, as were meat loaf and fish sticks. On rare occasions, my grandmother baked a plain cake with a broiled brown sugar and coconut frosting that was out of this world. On other occasions, my mother made what she called a cheese pie that we devoured with gusto.
///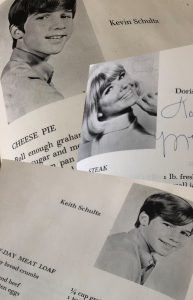 Living in Hollywood, our lives pretty much revolved around "the industry." My twin brothers became actors, my mother became a talent agent, and I eventually went to work for Universal Studios, first in the steno pool, then as a secretary. Even my grandmother hopped onboard, joining Motion Picture Mothers, Inc., a charitable organization, and hobnobbing with the likes of Lucille Ball's mother, "Dee Dee." As a fundraiser, they published the "Cookbook of the Stars" (which became the second cookbook in my collection), and both of my actor brothers were featured. Keith shared my mom's Everyday Meat Loaf recipe, and Kevin shared her Cheese Pie recipe.
///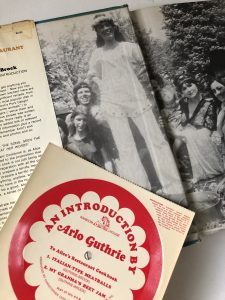 In 1968 I moved into my own place situated atop a hill on five acres of what had once been an elegant estate but was now a run-down eyesore. I had a new family of freaky friends and saw possibilities in the cobbled-together rabbit warren of rooms that must at one time have been servants' quarters, and in the tangled gardens, stable, fountain, bird bath, dried up pond, and empty, cracked swimming pool with a panoramic view of the valley. A steady stream of unshaven young men and women came and went…some stayed for a night, others for a few months, some for years. Although I wasn't much of a cook — all I really knew how to make was my mom's meat loaf and what had now become my ever popular cheesecake — I soon learned how to cook for a crowd, hearty but inexpensive one-dish meals like split pea soup, lentil stew, ratatouille, chili, spaghetti, and talarini. My third cookbook, Alice May Brock's "The Alice's Restaurant Cookbook," included a recording of Arlo Guthrie singing "You can get anything you want, at Alice's restaurant (excepting Alice)." In the opening pages Alice recommended you have a nice comfy easy chair in your kitchen and plenty of wine…for cooking and for drinking, and I took her advice on all counts. I also took lots of drugs, most but not all of them psychedelic, and hosted weekly poker games that usually ended when the sun came up or we ran out of blow, whichever came first. But still I held down a job, and drove an old Porsche 356 SC.
///
Working at Universal Studios, I met and even got to know a fair number of celebrities. Elvis Presley, who was shooting the movie "Change of Habit" with Mary Tyler Moore, shook my hand and murmured, rather sensuously I thought, "Pleased to meet you, ma'am." (I was 22 to his, what, 34?) George Hamilton spotted me in the commissary and invited me to take a spin around the lot in his pearl gray Maserati. Our production team moved up the ladder and then down and out into one of the coveted bungalows on the back lot where the guys could forego the suits and ties and wear their hair long. I dyed my own hair red, wore a hooded cape, and brought my dog Bosco to work. I brought in pot brownies and cheesecakes — my signature Pumpkin Spice around the holidays. Some kid named Steven Spielberg was a friend of my boss and, before he landed his first gig, basically squatted in the tiny empty office across from mine. A huge fan of my cheesecake — he even ordered a few to take home — he also kept asking me to make Xerox copies of stuff he was writing until I finally asked my boss, "Jerry, could you please tell Steven I'm not his secretary?" Eventually, increasingly surly for no good reason, I decided to quit my job. I would make cheesecakes for a living, and for a while I did just that until, less than a year later, a guy showed up at a poker game who would ten months later become the father of my child. And so it goes.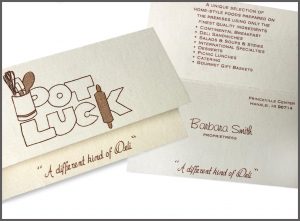 ///
After I moved to Hawaii with my seven-year-old daughter, cheesecakes played another role in my life when I began baking them for restaurants there. One thing led to another and, based on the strength of that one dessert, and various permutations of it — my newly coined Very Berry and Nutty Hazel — I opened up a little restaurant. I called it Pot Luck, "A Different Kind of Deli." After just a few years I sold it, for a variety of colorful reasons, but primarily because it was pretty much impossible to get, and keep, good help. Most young people aren't in Hawaii to work, they're there to party.
///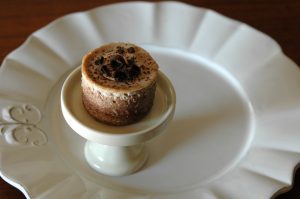 Fast forward a few decades and I began making a variety of mini "liqueur" cheesecakes  — I dubbed them Kahlua, Amaretto, Sambuca, and Grand Marnier, although they contained not liquor but flavored extracts — coffee, almond, anise, and orange respectively. I even entertained the idea of launching a new business, but after making just a few batches, despite the fact that everyone, my husband especially, urged me to move forward with the plan, I thought, "Nope, been there, done that." But they are a big hit at parties.
///
So finally, here it is, THE basic cheesecake recipe, written in my grandmother's own hand. That said, my mother once told me that SHE had found the recipe on the Philadelphia Cream Cheese package (!), so maybe my grandmother copied it into her cookbook. We'll never know, but now you know "my" famous cheesecake recipe.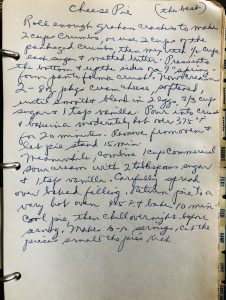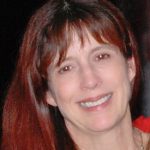 Barbara Buckles
Artist, writer, storyteller, spy. Okay, not a spy…I was just going for the rhythm.
I call myself "an inveterate dabbler." (And my husband calls me "an invertebrate babbler.") I just love to create one way or another. My latest passion is telling true stories live, on stage. Because it scares the hell out of me.
As a memoirist, I focus on the undercurrents. Drawing from memory, diaries, notes, letters and photographs, I never ever lie, but I do claim creative license when fleshing out actual events in order to enhance the literary quality, i.e., what I might have been wearing, what might have been on the table, what season it might have been. By virtue of its genre, memoir also adds a patina of introspection and insight that most probably did not exist in real time.
Tags: cheesecake
Characterizations: funny, right on!, well written