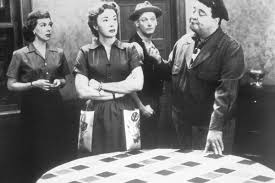 Having one's myths about celebrities shattered is pretty devastating, but also pretty common — indeed, a cliche.  But it applies to my favorite variety show as I was growing up: the Jackie Gleason Show. And, most particularly, to the classic "Honeymooners" episodes in it.  That said, I see no need to describe the Honeymooners beyond the featured image.  If you don't know it inside and out, IMHO, you're simply not a Baby Boomer.
But here's the backstory to my story.  My parents had a good mutual friend when they were all students at the University of Wisconsin.  His first name was Howard.  (Google-able last name not necessary here.)  Howard had a terrific sense of humor but, unlike a lot of funny guys, he was generally very quiet and introverted.  As my father once described him: "The essence of Howard was that everybody assumed that, funny guy that he was, he would want to be called Howie.  And yet, as he would patiently explain, he much preferred being called Howard."
After college, Howard headed to New York and became a television comedy writer —  a very successful one.  Two of his biggest jobs were writing for "You Bet Your Life," the Groucho Marx vehicle disguised as a quiz show, and, yes, the Jackie Gleason Show.  So I was thrilled when I was in high school and my parents told me that Howard was in Connecticut and would be having dinner with us.
As advertised by my parents, Howard was a polite, almost painfully shy, gentleman, though it was easy to see the wicked sense of humor that lay beneath that quiet exterior. And then he began busting my celebrity myths.
First, though acknowledging that Groucho was an incredibly gifted comedian, Howard said that he could be a real SOB at times.  But, even more shockingly, Howard revealed that those brilliant "ad libs" that Groucho delivered to the contestants were all scripted down to the last word and then carefully rehearsed.
Those Howard disclosures about Groucho and his show were a bit distressing, but Howard saved his heavy ammunition for Jackie Gleason.  He said that Gleason was an incredibly lazy, mean drunk who was nearly impossible to work with.  All he wanted to do was booze it up, chase women and play golf.  But Howard also acknowledged that Gleason was so brilliant that, though he never bothered to show up for rehearsals until Friday — spending the earlier part of the week drinking and golfing — he somehow came into the studio, memorized everything he had to in one day, and then performed flawlessly when the show was aired — live! — on Saturday night.
Even there, though, Gleason's conduct was deplorable.  Not only did he yell at everyone in sight, but he also had a special fondness for the June Taylor Dancers, a Rockettes-like dancing ensemble that was featured in the opening of each show and then usually appeared later on in a production number.  I particularly remember that there always was one "aerial" view (taken by a fixed camera on the ceiling of the studio) of their opening number while they performed some kaleidoscopic moves.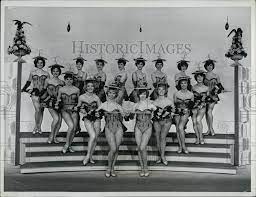 The June Taylor Dancers
When Gleason was on the set, and when he was not screaming at everyone, he had a habit of wandering into the dancers' dressing room — often with a randy guest star in tow.  Apparently, Donald Trump's Miss Universe contest was not the first time that this sort of sleazy male behavior took place.
And Howard had even more dirt on the show.  Gleason's co-star in the Honeymooners, Art Carney ("Norton"), was also an alcoholic, and a nasty one at that.  He and Gleason hated each other's guts and didn't hide that fact when they were (ostensibly) working together.  Apparently, the two actresses who played their wives, Audrey Meadows and Joyce Randolph, somehow held everything together.  Per Howard, but for the patience and professionalism of those two actresses, there would have been no Honeymooners episodes and probably no Jackie Gleason Show at all.
The straw that finally broke Howard's back — he admitted the pay was great and he enjoyed his fellow writers — was when Gleason demanded that the show be moved from the CBS studios in New York to Miami Beach, where he had a home and where he could play golf year-round.  And anyone who wanted to keep working on the show had to move down there or was out of a job.  CBS ultimately caved in to this demand because the Gleason Show was such a huge money maker for it.  Since CBS had no studios in Miami Beach, on top of all the other extra costs and major headaches caused by the move, it had to rent the Miami Beach Auditorium just for this one show.
The Miami Beach Auditorium
That was it for Howard.  He was not moving to Miami Beach, so he quit the show and moved out to Los Angeles, where there were increasingly more opportunities for comedy writers than in New York anyhow.
As for me, once I heard all these dirty details, the Gleason myth was shattered.  I could never comfortably watch another Honeymooners' episode.  Coincidentally, about fifteen years ago, I met Howard's step-daughter, Ann, through mutual friends and  Ann and her husband have since become good pals. Once I felt I knew Ann well enough, I asked her about Howard's stories about Gleason and his show and she confirmed them all — or, at least, confirmed that Howard had told her the exact same things.
However, I do admit to having kept one residual nice memory of the Gleason Show.  One of Gleason's other regular characters on the show was called Joe the Bartender,  In monologues or dialogues, Joe spoke to bar patrons and he offered them good advice, a shoulder to lean or cry on and, of course, a drink or three.  As a kid, I found these segments so moving — though, in retrospect, they were probably just maudlin — that at one point I decided that I, too, wanted to be a bartender when I grew up.
My parents were pretty amused by my temporary decision to become a bartender, and never took it seriously.  And I ultimately became a lawyer, despite having taken an excellent bartending course offered by the student catering agency my freshman year in college.  But, as I consider it, lawyers also dispense (or should dispense) good advice and a shoulder to lean or cry on to their clients — just no drinks.  So maybe not so different after all.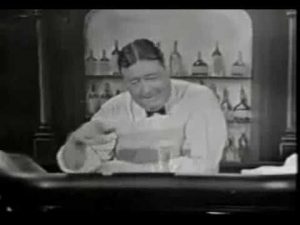 Joe the Bartender
And away we go……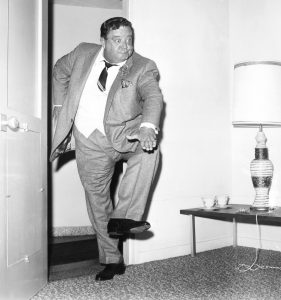 John Shutkin
Characterizations: funny, moving, well written