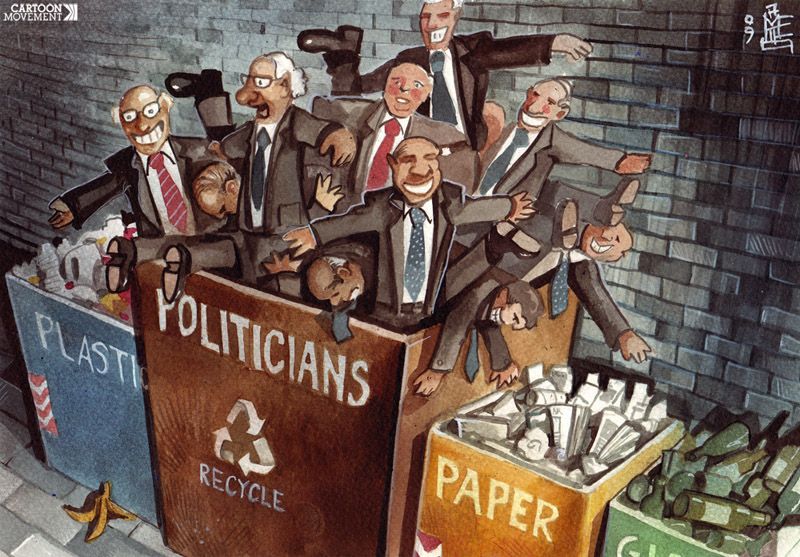 One of my favorite adages is: "To a hammer, everything looks like a nail."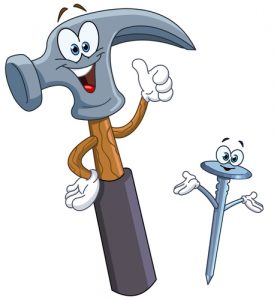 This adage really applies to so many situations.  And, as a political junkie, I would amend it to read: "To a political junkie, everything looks like a political act."  I certainly feel this applies to COVID-related issues such as wearing a mask (or not) and getting vaccinated (or not).  And, at least based on my own geographic history, it certainly applies to recycling. Let me set this out.
In 2001, I moved from Manhattan to the Connecticut suburbs.  In particular, one of the tony little towns in Fairfield County where, traditionally, genteel, patrician, non-crazy Republicans like the Bushes lived.  (Remember when they even existed?)   Although there were recycling rules in place where we lived — Connecticut is, after all, "The Land of Steady Habits" —  they were pretty basic and casually enforced, if at all.  The sense was, "Well, it would probably be nice if you separated your trash and recycled, but really, sport, it's all up to you, isn't it?  Don't trouble yourself too much."  Laissez-faire capitalism at its best — or worst.  So my wife and I dutifully recycled, but I have no idea what happened after the trash was taken away from the curb.  And, as we lived in a very small townhouse complex, I know that we were the exception and not the rule there; none of the other three owners ever bothered to separate their trash per the rules. And I also know that two of the three others were Republicans.  (The third was a divorced guy and all I really knew about him was that he was a total slob.)
We moved to a beautiful house in a beautiful little town called River Hills — technically, a "village" — just north of Milwaukee in 2010 when I took a new job out there.  Here it is (one's real estate dollars go a lot further in Wisconsin than Connecticut):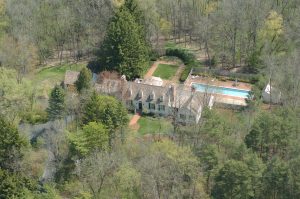 Beautiful as it was, had we known the politics in River Hills, we likely would not have moved there.  We learned that we were virtually the only Democrats in the whole village, and I one of the only Jews.  (The only Blacks who lived there played for the Milwaukee Bucks and had huge, gated estates.) River Hills voted overwhelmingly Republican, and I do not mean "Republican" in the cozy Connecticut sense of moderate fiscal conservatives/social liberals.  We are talking about Scott Walker and Ron Johnson and other fire-breathing crazy Republicans.
Because River Hills was in Milwaukee County, there were recycling rules —  but in theory only.  All the trash bins we were given were identical and, when visiting neighbors for dinner (and avoiding political discussions, if at all possible), I could not help but notice that not only did they not separate their trash, but they seemed to feel that doing so would have been an act of political treason.  Moreover, when I saw the garbage trucks come for pick-up each week, I saw that, regardless of the bins used, everything was thrown into the same compartment in one truck.
I asked a friend of mine who was a columnist for a local newspaper if he was aware of this open disdain for the recycling rules and, if so, shouldn't he write a story about it?  He laughed and said that such a story would be "about as newsworthy as a story about Al Capone not paying his taxes."  I pointed out that Capone was eventually nailed for tax evasion, but he quickly rejoined, "Yeah; but Eliot Ness doesn't live in River Hills."  Touche!
In 2015, we were able to relocate to Bedford, a small town outside of Boston, so I could work in my firm's nearby Lexington office.  The move was primarily motivated by our desire to be closer to family and friends (and, of course, Dunkin' and the Red Sox), but living in a political environment far more in tune with our own views was also a significant consideration. One of the things we love about Bedford is that its politics are deep blue, as one would expect of a small New England town. (Biden beat Trump by the sort of huge margin that the Republicans would win by in River Hills.)  Indeed, we still have annual town meetings to decide important issues and do not have a mayor but, rather, five "selectmen" — though, unsurprisingly, at our town meeting last year, we overwhelmingly voted to change the term "selectmen" in the town charter to the gender-neutral "select board."
As one would also expect, Bedford has recycling rules and takes them very seriously.  We now have separately colored bins and a very clear list — which is constantly being refined —  as to what is and is not a "recyclable":
Bins and (some of) the rules.  The blue bin is for the recyclables.
And when the bins are picked up every week, they go into entirely separate trucks that arrive at different times.  And, as of last year, we even have composting bins and weekly pick-ups.  Beyond that, we have special rules and special days for the disposition of such non-conforming items as appliances, computers and "hazardous waste." Most importantly, as far as I can tell, virtually everybody believes in and plays by the recycling rules.
In short, this is a very environmentally-conscious town and this is exactly what one would expect given its politics. Eliot Ness could happily live here.
John Shutkin
Characterizations: funny, well written