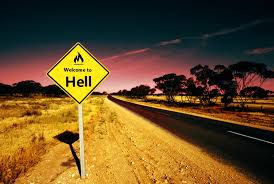 My former wife's father was a lovely guy; a true mensch.  Even his nickname within the family said as much: "Gentle."  Though, on those occasions when he did something boneheaded, we did refer to him as "Gentle the Mental." This story about a game he invented is one such example.
We concluded that it was a really dangerous game to play - a "Road to Hell is Paved With Good Intentions" game...
We frequently went on family vacations — my wife and I and our two young daughters, her parents (Mental and Mrs. Mental), her older brother and younger sister (sometimes with respective significant other(s)), and occasionally my mother would join in.  Really fun, albeit with the usual frictions; no one felt this was driven by dutiful familial obligations.
On one of these vacations, at a dinner near the end, Gentle was in a particularly expansive and sentimental mood.  Out of nowhere, he proposed a game for the table.  The gist of it was that we would all tell another person at the table what we felt was that person's best characteristic. I was a bit skeptical, albeit for the wrong reasons.  To me, a fairly competitive sort, this wasn't much of a real game. How did you judge who was a winner or loser; how did you even try to win?  I viewed it as a nice gesture of family love, which was fine in and of itself, but not a game.  But I kept my mouth shut.  I didn't want to rain on Gentle's parade.
I forget whether we put names in a hat or just went around the table to decide who would speak in praise of whom. But very early on, it was Gentle's turn to speak about his younger daughter — who, for purposes of semi-anonymity and presaging, I will call Snowflake.  I should also mention that Snowflake was ten years younger than we were — so probably in her mid-20's at the time — and at the time very sensitive about her weight and physical appearance generally (though she was really very pretty). So, Gentle, with the best of intentions, thinks for a while and then proclaims that the thing he most loves about Snowflake is her sense of humor.  Well, Snowflake does have a great sense of humor, but this was absolutely the wrong answer.  She paused for a moment, then burst into hysterical tears, wailed at her father "Don't you think I'm pretty?!" and stormed out of the dining room.
That obviously ended Gentle's game right there and we all finished the meal in uncomfortable small talk. Obviously, fences were mended — but I don't think until the next day.   In dissecting the game that night, my wife and I concluded that its biggest flaw was the rule that you had to think of the person's "best" characteristic.  That really put the pressure on.  But, on further reflection, we realized that that rule would be fairly implicit anyway.  I mean, even if you could list any good characteristic, it's doubtful that you would first mention, say, being very good at crossword puzzles or parallel parking.  So we ultimately concluded that it was just a really, really dangerous game to play  — a "Road to Hell is Paved With Good Intentions" game — and that one and only time we did play it went down in family lore, especially when we fondly recounted Gentle the Mental Moments.
Amusingly, I sometimes think of the "Road to Hell" game when I am reading and commenting on Retro stories.  As we all know, the Comments section begins, "Say one positive thing about this story."  I realize that it does not ask us to say the most positive thing, but I still worry a little.  What if I comment that I thought a story created terrific dynamic tension in reaching its climax and the writer feels that I have totally missed the great personal struggle and self-sacrifice that he/she experienced?
So far, so good, but I trust that, if I ever commit such a faux pas, the writer will (gently, of course) set me straight.
John Shutkin