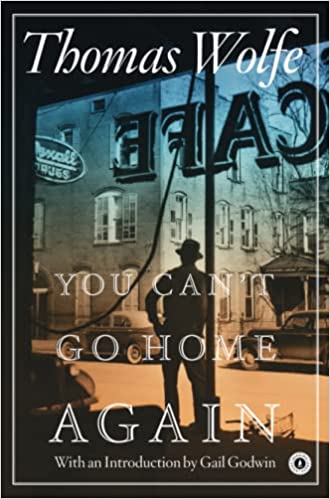 I've written a fair bit about my wise mother and the advice she gave me over the years in my earlier Retro stories — certainly too often for me to try to link to here.  Though, as I think about it further, her advice was rarely imparted verbally (i.e., "Son, sit down and let me tell you….."); it was more often done by example.  Most notable in this way was how I learned from her that, for those of us fortunate enough to be able to do so, giving substantial time, effort and money to charitable causes one cares about should be a significant part of one's life.   She did it, I saw it, I also did it.
That said, I do well remember one actual — and very important — bit of verbal advice my mother gave me, one which I've probably referenced in prior stories.  But here it is again, because it does still resonate strongly with me, albeit with my apologies for the likely repetition.  And, to be fair to me, as Ernest Hemingway claimed about a vastly different phenemenon, I only have a finite number of stories  to tell.  And at least I can repeat them, and in quick succession.
By way of background, in the spring of my senior year of high school, I was, not surprisingly, focusing considerable attention on where to go to college. At that point, my brother was a sophomore at the University of Chicago and my parents were divorced.  My father had re-married, but my mother, with whom my brother and I lived, had not.  We lived outside of New Haven (my father taught at Yale Medical School) and my two top choices for college were Yale and Harvard, having been admitted to both.
At first, I had been totally dismissive of going to Yale, as had been virtually all of the guys I knew the years ahead of me in my high school who had also gotten into both schools.  Their standard mantra was, "After eighteen years in New Haven, it's time to get the hell out of here."  But, as I pondered it more, I realized that, if I were to leave town for college, my mother would be living completely alone; the proverbial nest would be empty.  Never mind that she clearly had a very full social and professional life; semi-dutiful son that I was, this thought weighed on me.  And going to Yale instead of Harvard would hardly be a sacrifice on my part. Plus, I would still be living on campus, that much I knew for sure, even if it was only ten miles from my home.
I don't believe I ever directly brought up the idea of going to Yale with my mother, but she somehow — as mothers can do — knew that I was seriously considering it.  So, one day before the spring deadline for acceptants to inform colleges of their decisions, she took me aside.  And, yes, gave me some advice.
My mother's advice went very much as follows, though this is obviously a paraphrase (I didn't make a transcript):
"Look, I know you're thinking about Yale because you're worried that you will be leaving your poor, decrepit mother alone in that great big old house.  Just stop it. Stop it right there.  First, as you know, I've got my own very full life and am hardly a case for pity.  So just don't worry about me. Second, and more importantly, you should go away from home.  It's really  important for your personal growth.  See another school, learn another city, figure stuff out more by yourself than if you just hung around good old familiar New Haven. And, finally [and this was the real clincher], you'll still get home plenty.  You're only two hours away — especially the way you drive —  and I am hoping and fully expecting that you'll bring your roommates, your girlfriends, and your buddies down here on lots of weekends for some nice home cooked meals and TLC from me.  And, of course, for the Yale-Harvard game [as she called it].  Believe me, we'll see plenty of each other. So, as the ________ brothers [older guys from my high school who had gone to Harvard over Yale] told you, get the hell out of here.  And then come home."
Wow, Mom.  And that was the end of it.  I quickly chose Harvard and with about as little, if any, guilt as a nice Jewish boy can have about "leaving" his mother.  And, as I have also written about before, not only did I have a terrific experience at Harvard (with the usual bumps along the way), but, just as she predicted, I often came home with my college pals happily in tow and we all had a great time — including not least my mother. Yet, also to her credit, she never explicitly said to me, "I told you so."  She just beamed when I was home and saw that I was beaming, too. We both knew what it meant.
In short, Thomas Wolfe was wrong and Mom was right: You can go home again.
        *                                   *                                 *
In honor of Mothers Day, here are a few photos I have of me with my mom over the years:
In Geneva in 1962, along with her mom ("Tootsie")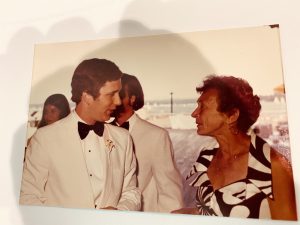 At my (first) wedding in 1974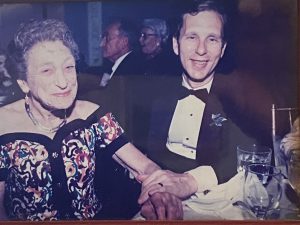 At a family wedding in 1991 (not mine)
John Shutkin
Characterizations: been there, funny, moving, right on!, well written