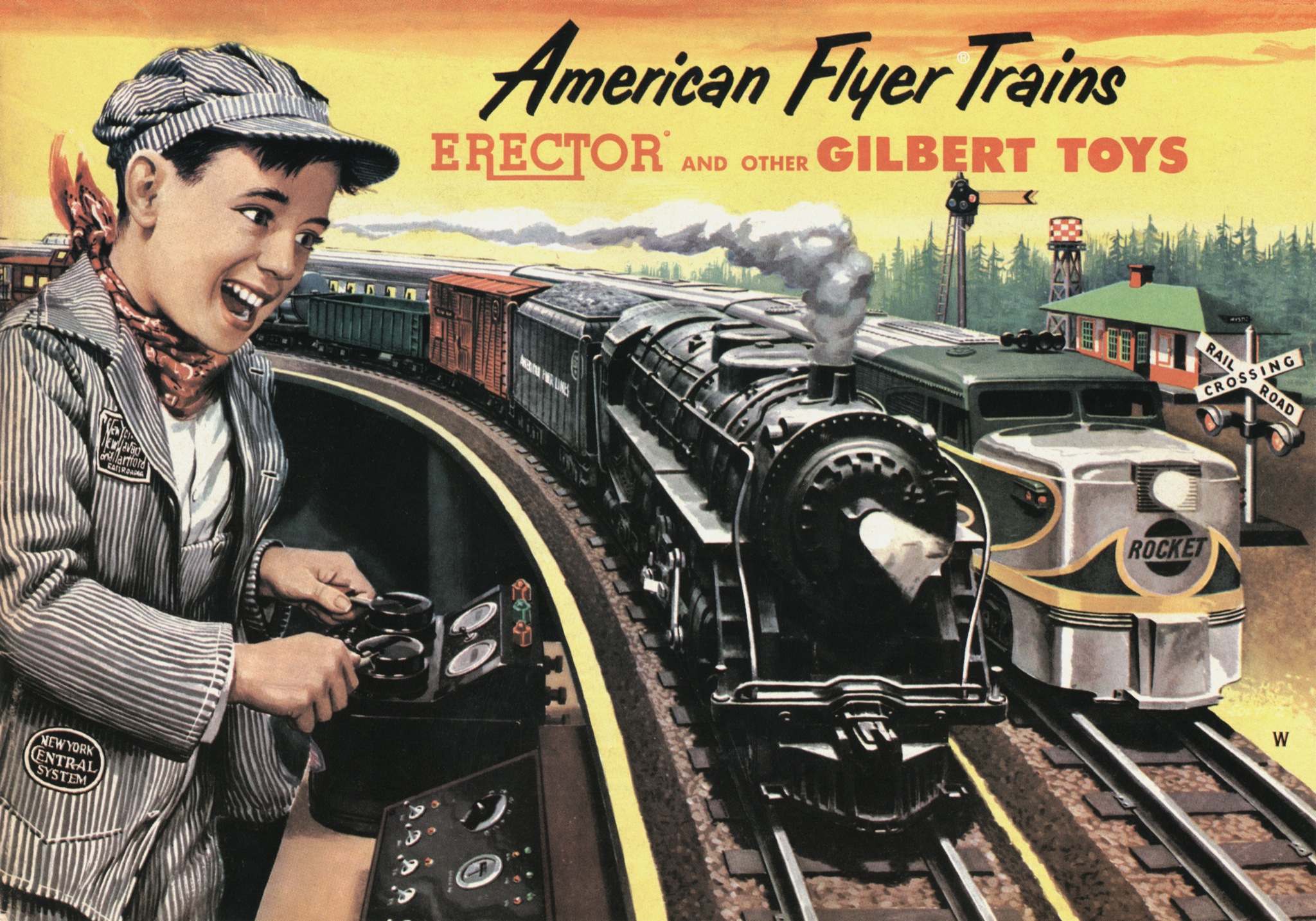 I have always loved model (never call them "toy") trains.  I doubt if there is anything particularly Freudian about that — though I have built any number of tunnels for my sets over the years — but I do sometimes wonder what it says about me.  My best guess is that it reflects a broader desire to create and control my own environment as much as possible.  In any event, I briefly set forth below the three "chapters" of my model train life — so far.
Chapter 1 began when I was quite young and my father decided that my older brother and I needed to have a model  train set.  He, with the help of a good friend of his who was a skilled carpenter, bought a huge old dining room table and sawed a large square out of the middle of it as well as added an extention table to one side.  The square was designed for the "engineer" to stand in (having crawled under the table to get there) and work the transformer and switches while having a panoramic view of the whole layout.  I think they got this great idea from a model train magazine..
The trains themselves were American Flyer; see the featured image.  If, as we did, you lived in the New Haven area, you would always get American Flyer, not Lionel, since American Flyer trains were manufactured by the A.C. Gilbert Company of New Haven, which also made the famous Erector Sets, as well as (hopefully non-lethal) chemistry sets for kids. Indeed, as a result of this, I have had a life-long prejudice against Lionel trains.  Not only were they not made in New Haven, they were too big and heavy, lacked sufficient detail, and, worst of all, their tracks had a middle third rail to carry the power — talk about unrealistic!  By contrast, American Flyer trains and equipment were scrupulously detailed and, of course, ran on two-rail tracks: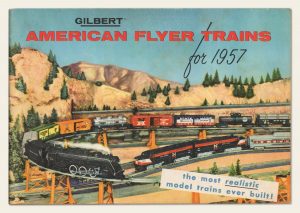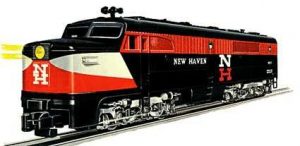 Although my brother first took control of the train set, he quickly grew disinterested in it and, from early on, it was clearly "mine" to love, cherish and build upon. And build I did for about ten years, not only adding buildings like a gas station and a saw mill that actually appeared to "saw" planks from logs placed on it from a flat bed car, but also by making roads and, yes, a  life-like paper mache tunnel.   I also made a billboard for Wrigley's Spearmint Gum in shop class in junior high school, printing the advertising text on the little printing press they had there and then gluing a real stick of the gum (in its wrapper) on the billboard for verisimilitude: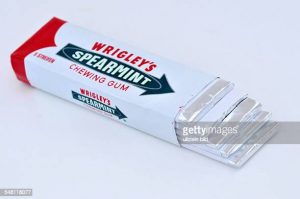 I tended to lose interest in the set as I went through high school and pursued other interests (academics, sports and girls, in various orders), but still kept it well maintained and operational.  Plus, on occasion I would show it to girls I was trying to impress – sort of the geeky kid equivalent of showing my "etchings."  (Actually, it was more just a ploy to get them to come up to our attic.)
When I was off at college, my mother called me one day and asked how I felt about giving the set to a family who were close friends of ours.  Their son had all sorts of developmental difficulties and they thought that this might be both fun and constructive for him.  I felt I could hardly say no, though I admit I did have a bit of selfish reluctance to do so, so off it all went.  The next time I was home, my mother had already started to convert the space into a spillover guest bedroom.  No regrets on my part, especially with my ever-dwindling interest in the set, but I did miss it.
Chapter 2 takes place in the 1990's when, after many years of having no place to put a model train set, my former wife and I bought a very spacious home on the North Shore of Long Island for weekends and summers.  There was one corner of the fully finished basement that, to me, just screamed for such a set; indeed, it already had in place a large, low wooden platform that suggested that the prior owners had had a set right there themselves.   So, in my spare time over the next few years, off I went to assemble a set.  No more American Flyer by then (or other model trains in its scale) and, as mentioned, I wouldn't touch Lionel.  So I was more than happy to embark on the still-thriving HO scale environment, particularly since there were a good number of HO model train shops nearby (this pre-dated Amazon and most online e-tail).  And, as before, while I got some satisfaction just running the trains around the tracks and switches, my greater enjoyment was in putting together the buildings and natural environments to surround the trains.  I even found some amazing interconnected murals — panoramic photos of Swiss countryside and mountains — that I could put up on the far walls of the set to create a diorama-like backdrop for my three-dimensional layout.
When I first started this project, my daughters were quite young and could not really be trusted to run the trains, let alone help construct the layout. As they got older, they grew more interested and did enjoy running the trains, but that was the extent of their involvement.  We all knew this was "Dad's toy," though they did love to show it to their friends — which, of course, I proudly loved, too.
When my former wife and I divorced, we quickly and amicably decided that she (and the girls) should keep the house and all its furnishings.  This included the train layout and all the trains, but it would have been a logistical nightmare to try to remove the layout at that point; it was really a "fixture."  Plus I didn't want to deprive my daughters should they be interested in it as they grew older.  In writing this story, I asked my daughters what had become of the layout and they told me that, sadly, it had been a casualty of a flood in the basement a number of years ago.  The famous phrase "Apres moi, le deluge" comes to mind.
On to Chapter 3 in 2010, when my current wife and I move into an equally spacious home outside of Milwaukee.  Here, too, there was a perfect, albeit smaller, space in a basement room that we both agreed should be my man cave for a layout.   So off I went to the model train stores again, this time aided by the ability to order trains and layout buildings and materials easily online.  And, again, my real pleasure was in constructing the layout, particularly since the limited space allowed for only one set of switched rails.
Luckily, I do have a couple of photos of this layout:
But, much as I loved this little set, it did not exert enough gravitional pull to keep us in Wisconsin when the opportunity arose for my wife and me to move to Massachusetts in 2015.  And, again, I considered the logistics of trying to save this layout too difficult to attempt.  So all but the trains, tracks and bridges did not survive the move.
And now, sadly, all I have left of my third train set remains bagged and boxed on a shelf in our basement.  Here's a sampling: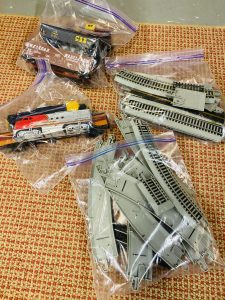 So what about a Chapter 4?  Yes, I consider embarking on yet another reconstruction from time to time, particularly now that I am retired.  But, besides the prospect of starting again from scratch being pretty daunting in itself, I also face the classic real estate conundrum: location, location, location.  As yet, I have not figured out where, in the somewhat smaller confines of our condominium, the trains could be set up without impinging on greater spatial priorities, like our washer and dryer and my elliptical exerciser.
But I do keep thinking about this possible Chapter 4.  And, on a more cosmic scale, this prompt has led me to reflect on what exactly all these model train adventures have meant to me over the years. And I actually have come up with an insight. As suggested throughout this story, it is that I have far more enjoyed the slow and laborious process of constructing the layouts than the ultimate activity of watching the trains go around in circles within it.
In short, as is often said about travel and, indeed, life itself: it is all about the journey, not the destination.
John Shutkin
Characterizations: moving, right on!, well written