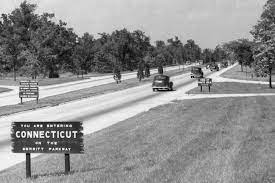 First, a litle geography for those who, unlike me, did not grow up in the "Land of Steady Habits" — i.e., Connecticut.  Specifically, I grew up just outside New Haven, which sits about midway through the state (east/west) on the water on the northern side of the Long Island Sound.  This map may help: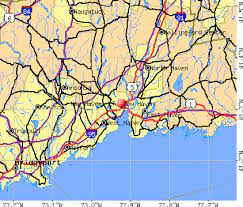 Besides New Haven, there are adjacent towns of North Haven, East Haven and West Haven in pretty obvious spots.  As kids, when we went to an amusement park in West Haven that overlooked Long Island Sound, we used to think it was ridiculously clever to ask where South Haven was and then point out to the waters of the Sound and shout, "There it is!"  (We were easily amused at the time.)
In the 1950's, pre-interstates, the main artery of NEW passage from New Haven was what we simply called "The Parkway, " which is/was actually both the Merritt Parkway, west of New Haven towards New York, and the Wilbur Cross Parkway, north towards Hartford.  The Parkway is really one continuous four-lane divided highway, and it was never entirely clear exactly where or why the name changed, though we always assumed it was when The Parkway went through the West Rock Tunnel in New Haven (which, of course, we always had to hold our breath going through):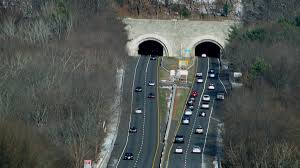 The Parkway was a Depression Era WPA project and was intended to be both efficient and scenic, surrounded by trees and with many hills and slow, winding curves built into it: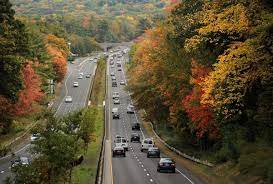 The Parkway was also noted for its many beautiful underpass bridges, each of which was designed differently.  Happily, the bridges have been carefully maintained/restored over the years and are still a delight to view:
Notwithstanding The Parkway, as noted in this week's prompt, the Interstate Highway System ("IHS") was established in 1956.  And it has had significant impact, for better and worse, on travel in and through Connecticut.  I will share two brief stories about it, one about I-95 and the other about 1-91.
I-95, as most everyone knows, was/is the interstate highway built between Florida and Maine to more quickly move traffic along the entire Eastern coastline corridor (and off of US 1).  In Connecticut, it was/is called the Connecticut Turnpike, with a few honorific names over the years that nobody ever uses.  I-95 provides an alternative to The Parkway between New York (to the west) and New Haven, continues east along the Connecticut shoreline to Rhode Island and then turns north through Providence and up the Massachusetts coastline.  The Parkway, by contrast, turns north in New Haven, heading towards Hartford, Connecticut's capital city (but more about that shortly).
I remember my father explaining to my brother and me in 1959 how they were working like crazy — literally night and day — to finish construction of I-95 in Connecticut before January 1, 1960, as that was the deadline established by the IHS for any state to have state revenue-generating tolls on the interstates.  If completed after that date, the interstate had to be toll-free.  They finished just in time and, as a result, the Connecticut Turnpike was jammed with toll booths — particularly on either side of New Haven, to catch all the daily commuters —  for decades, until they were blessedly removed in 1983.  The toll booths led to massive traffic back-ups and more than a few horrific accidents as unwary/sleeping/drunk drivers — particularly of tractor trailers —  smashed into the booths.  Indeed, every time I got caught in one of these messes, I was reminded of (and rued) the state just beating the deadline.
The dreaded toll booths: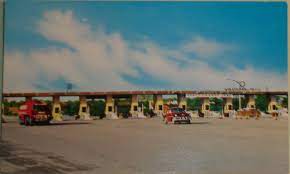 For the record, The Parkway also had toll booths, but they were much less frequent and beautifully rustic log and shingle structures: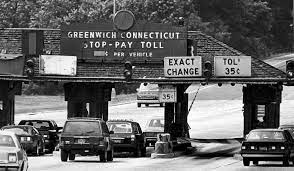 Several years later, I-91 was built.  As mentioned, The Parkway turns north in New Haven and heads towards Hartford.  But, for whatever reason, it ends about fifteen miles south of Hartford.  As a result, to get to Hartford from New Haven pre-I-91, you had to take a road known as the Berlin Turnpike (Berlin referring to the town in Connecticut it goes through, not Germany's Berlin).  Despite being called a "turnpike," the Berlin Turnpike was back then a Route 1-like commercial highway, jammed with traffic lights and neon-festooned pre-chain restaurants and motels. It took forever to drive those final miles to Hartford on it.  My parents, understandably, hated it, but my brother and I loved it, as there was much to see out the car windows  — and a particularly tasty steak and roast beef restaurant called the Hawthorne Inn along it that we would always beg our parents to stop at.  I was even able to locate an old postcard of the Hawthorne (albeit at night) on eBay:
All this ended with I-91, which goes north from New Haven directly into and through Hartford, then through Springfield, MA and all the way up to White River Junction, Vermont.  As I-91 was completed in 1965, it was always toll free.  And, driving back and forth to college in Cambridge for four years starting in 1967, I learned to really appreciate it.  But, not surprisingly, traffic on the Berlin Turnpike dropped immediately and precipitously right after I-91 was completed, and almost all of the restaurants and hotels (including my beloved Hawthorne) went out of business. However, the New England Historical Society has written a fun story about its "Glory Days."  Sic transit gloria Berlin Turnpike, no?
*         *         *
Thus ends my brief Connecticut Interstate Geography And Roadway ("CIGAR") lesson.  Which reminds me, did you know that Connecticut was also famous for its cigar tobacco?  That's next week's Land of Steady Habits lesson, class.
_____
*   NEW = North, East and West.
John Shutkin
Characterizations: funny, well written