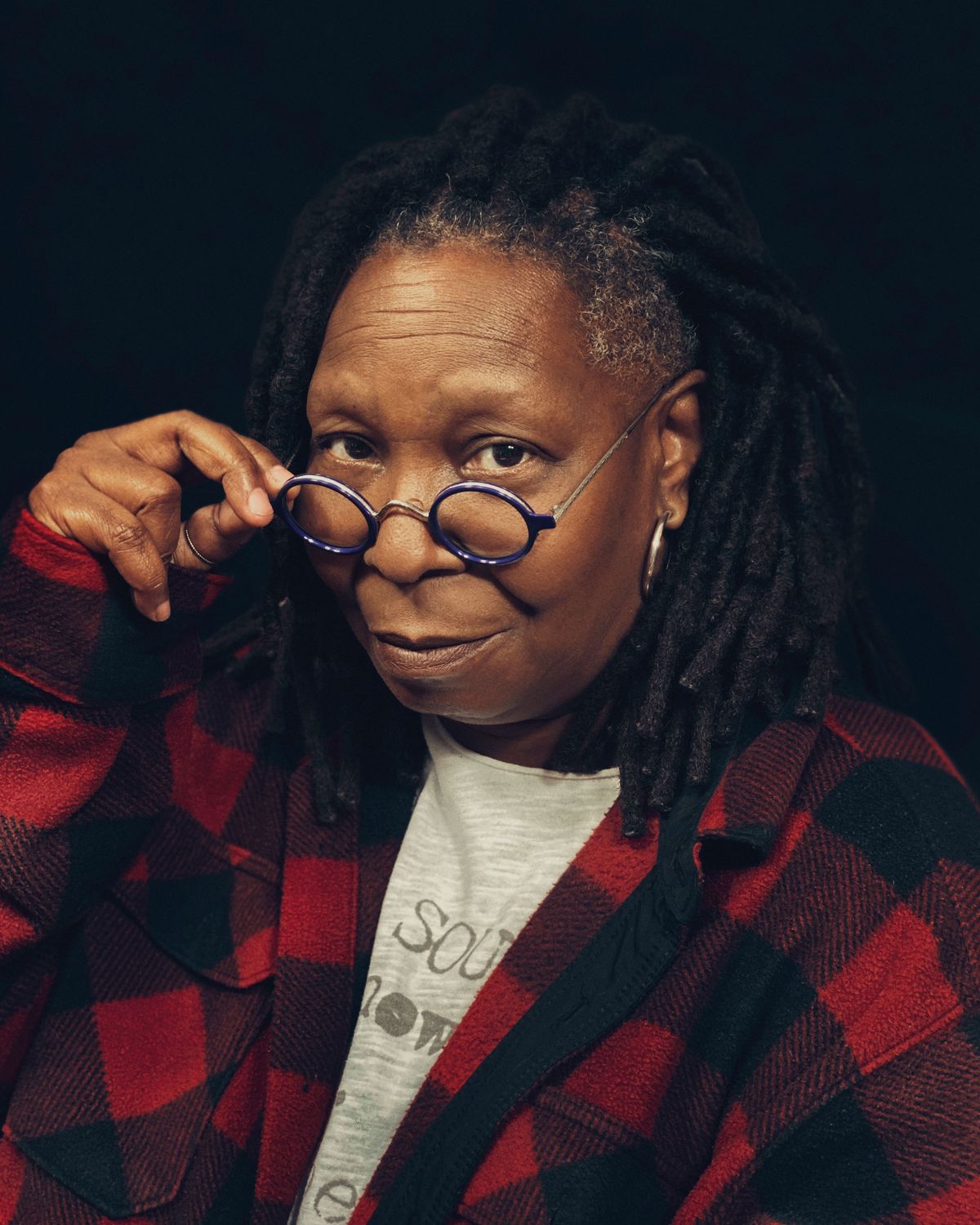 The first time I encountered Whoopi Goldberg, she was doing her act at a tiny performance space in San Francisco's South of Market district. The proprietor at 544 Natoma, a friendly madman named Peter Hartman, invited me to drop by and catch a new solo performer. The name sounded like an old-school Borscht Belt comic. So I laughed.
Seriously, Whoopi Goldberg? He said she was a black woman, and very good on stage.
I went on faith and that night saw Whoopi morph from one character to another: a male dope fiend, a blonde surfer chick, a 77-year-old show-biz fringie. Her portraits were textured, humanistic, finely tuned. There were 20 or 25 people in the audience that night, in a room the size of a large kitchen. I remember Whoopi breaking the fourth wall as she acted, looking into people's eyes and sometimes approaching and touching them on the knee or the arm.
That was 1981. She was obviously gifted, and obviously had a bedrock of self-confidence. But I never expected – who could? — that in three years Whoopi Goldberg would be an A-list movie star. One day she's a struggling artist, dressed in oversized painters' pants, a man's thermal undershirt and a floppy knit tam. She's sharing a messy cottage in Berkeley with her boyfriend David Schein and her 10-year daughter Alex. She and Schein are acting with the Blake Street Hawkeyes, a scruffy, experimental stage troupe, and in between gigs she collects welfare.
She didn't have Mainstream Future Star written all over her — not at all. And yet, in 1984 Mike Nichols was presenting her on Broadway and Steven Spielberg was offering her the lead role in The Color Purple. There was no middle ground, it seemed, over which she had to pass; she just catapulted from obscurity to stardom.
"All this stuff is coming to me on a silver platter," Whoopi told me when I interviewed her for the San Francisco Chronicle. "People have literally told me, 'Anything you want, ask.' "
Over the next 36 years, Whoopi made 184 film and television appearances. She won an Oscar, a Tony, a Grammy and an Emmy. Hosted the Oscars four times and several Comic Relief specials with Robin Williams and Billy Crystal. Co-produced and starred in Hollywood Squares, then leveraged her visibility into a lucrative, 13-years-and-running gig as host of The View.
A remarkable tale, especially when you consider its origins. Reared in a housing project in the Chelsea district of Manhattan, Whoopi was born Caryn Elaine Johnson. Her parents divorced early and her schoolteacher mom, Emma, raised Whoopi and her brother Clyde on her own. In her teens Whoopi struggled with heroin addiction, got clean and became pregnant by her drug counselor. She also married him. In 1974, mother to a 1-year-old, she moved to San Diego and played lead roles in Mother Courage and Marsha Norman's Getting Out. She met  David Schein, also an actor, and followed him to Berkeley.
Whoopi thrived in the Bay Area theater scene. "The name Whoopi Goldberg was a godsend," she told Vanity Fair. "That's what brought 'em out." In Berkeley she created a one-woman show about Jackie "Moms" Mabley, the legendary African American comic. The first time I saw Moms, a man in a wheelchair with a pronounced nervous disorder started to laugh uncontrollably. Without breaking character, Whoopi/Moms slowly walked into the audience and placed a gentle hand on the man until he quieted.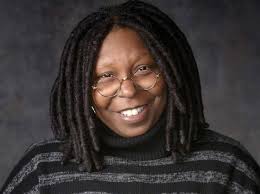 I knew her boyfriend a little bit. David Schein was wiry and frisky and passionate about theater; he wrote an opera Tokens, a Play on the Plague, that he staged at Theatre Artaud in San Francisco. He called Whoopi by her birth name, "Caryn."
One day Whoopi and David called me at home and serenaded my answering machine with "Hymn For a Sunday Evening" from Bye Bye Birdie. Remember the silly, mock-triumphant line, "Ed Sul-livan! Ed Sul-livan! We're gonna be on Ed Sul-li-van!"? They riffed on that, replacing "Sullivan" with "Guthmann." I also have a postcard Whoopi sent to acknowledge something I wrote. On the front is a vintage Dixie Boy advertising graphic, showing an African American boy eating a grapefruit. On the back she wrote, "Thank you, Thank you, Thank you."
I got to know Whoopi in those days and liked her. She was direct, spontaneous, and could be both warm and tough. Her charisma was enormous, but she was not someone to be messed with. In February 1984, lacking a manager or an agent, she took The Spook Show, a multi-character solo show, to Dance Theater Workshop in New York. During the run, the actress Judith Ivey saw Whoopi perform, contacted Mike Nichols and insisted he not miss her show. Nichols saw it, went backstage and, reportedly in tears, offered to present Whoopi on Broadway. During those six or seven months before she opened, Spielberg asked her to star in The Color Purple. In 1991 she won an Oscar for Ghost – the first Black woman to be so honored in half a century.
For several years I reviewed movies and interviewed celebrities for the San Francisco Chronicle. Usually, the people I profiled were long-established stars. Only once did I write about someone totally unknown and then see her "blow up" and become a big star. That was Whoopi.
It felt surreal and disorienting to watch someone I knew, who was part of my community and for whom I had affection, suddenly become a public commodity. There were casualties in Whoopi's life when the hydra-headed monster of fame arrived. She and David Schein broke up. When her daughter Alex got pregnant at 15, a friend at Berkeley High betrayed her and sold her story to the National Enquirer. Probably hoping to keep the tribulations of fame at bay, Whoopi vowed to stay in Berkeley. But that didn't last a year. Soon she was in New York and Los Angeles, juggling a world of business managers and agents, publicists and personal assistants — the life of a major star.
She didn't always handle it well. In May 1984 – during her last window of relative anonymity — Whoopi fulfilled a commitment to revive Moms at the Victoria Theatre in San Francisco's Mission District. She'd signed the contract before Mike Nichols came calling, before Spielberg, and she wasn't happy about it. Granted, the venue was shabby and the pay probably lousy, but it was tacky of her to grouse about it on stage, which she did in character as Moms.
Would she have made those cracks if she hadn't crossed over and been offered riches and fame, as she said, "on a silver platter"? I don't know. "The biggest deal for me," Whoopi said when I interviewed her at that time, "is being able to dialogue with people I respect, like Jack Nicholson and Robin Williams. But there's the other side, too, which is not so fun … phone calls and talkin' money and learning to say 'No.' And finding yourself looking in the mirror at this egotistical bastard you've turned into in a matter of moments."
"Luckily," she added, "I've got people around to say, 'Hey bitch, put some deodorant on it.' That stuff kinda keeps me steady – that and my kid and my old man and my funky little house."
I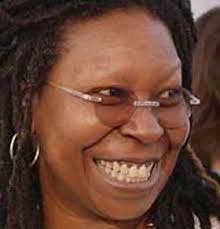 n November 1984 I flew to New York to see Whoopi on Broadway and visited her in the Chelsea district apartment she was renting. She was warm and friendly and encouraged me to keep in touch; she even invited me to stay with her on my next visit. I was flattered, but when I got in touch months later she didn't return the call. I heard similar stories from other friends who were closer to Whoopi than I.
It's difficult to maintain a friendship with a star. They have countless pressures and distractions: invasive fans, press and paparazzi; sharks eager to exploit and profit; layers of protection insulating them. A level of suspicion sets in: a feeling that the people campaigning for their time and companionship aren't genuine friends. I get that, and I remember a little frisson of excitement when I walked down the street with Whoopi in New York, soon after she got famous, and noticed the excited stares and waves. The air gets heady in a star bubble; if you get to share it for a little while, you feel special by association.
I saw Whoopi rarely in the years that followed. I didn't understand some of her career choices, but I loved the way she used her celebrity to support human rights issues and stand up for the maligned and oppressed. She's very generous.
In 1997, she starred on Broadway  in A Funny Thing Happened on the Way to the Forum on Broadway. I was in New York that spring and when I left a note at the stage door, her assistant called and asked me to meet Whoopi before the curtain that night. I showed up, and she gave me five minutes of her time before she started her vocal warm-ups. As I left she offered me house seats for the next evening's performance. Sure, I said, but when I arrived late I had to be seated after her opening number, "Comedy Tonight." Whoopi saw the usher guiding me down the aisle and called out in mock outrage, "Edward Guthmann, why the hell are you late?" It got a laugh from the audience and in hindsight I wish I'd said, "Whoopi, could you repeat that opening number?" — just to see how she'd react.
Our friendship, predictably, didn't stick. I might have avoided my disappointment had I followed the journalism rule book and never pursued the friendship to begin with — with Whoopi or any interview subject. That's easier said than done: Interviews are in many ways like a first date, and when you discover a mutual interest and congeniality that feels good, you want it to continue.
I think there's an element of seduction and flirtation in any interview. Several marriages were launched that way: Gregory Peck and his wife Veronique; Diane Sawyer and Mike Nichols; Phil Donahue and Marlo Thomas; Clint Eastwood and his last wife Dina Ruiz.
When you make a strong connection in an interview you feel great – just like you do when launching a romance or meeting a new friend. But if circumstances dictate an early goodbye, it can feel lonely. "It is always painful to part from people whom one has known for a brief space of time," Oscar Wilde wrote in The Importance of Being Earnest. "The absence of old friends one can endure with equanimity, but even a momentary separation from anyone to whom one has just been introduced is almost unbearable."
Edward Guthmann
Characterizations: moving, well written