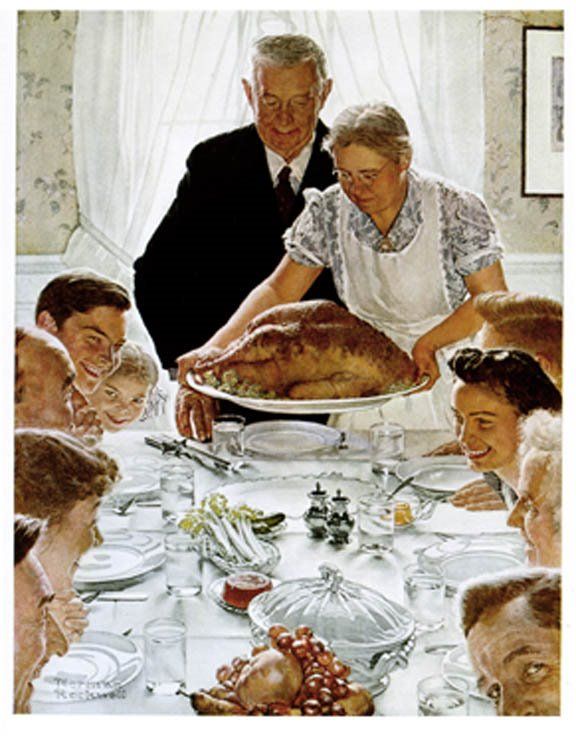 One of the main impacts that this annus horribilis has had on all of us — even those fortunate enough to stay healthy — has been the severe limitation on our options.  The one exception to this that I would note is in the category of streaming entertainment options.  OK; I realize that thousands of shows were already out there, but my wife and I didn't take advantage of this abundance of (mostly) riches until the pandemic struck and we knew we had to get through a whole lot of evenings together and, ideally, peacefully.
One of the main impacts that this annus horribilis has had on all of us has been the severe limitation on our options. 
But, as to the far more common issue of limited options, the holidays are certainly a prime example.  So let us look at the upcoming Thanksgiving. (The featured image is Norman Rockwell's classic reminder of what this holiday is supposed to look like — at least for affluent white people who aren't watching football games.)  My wife and I knew we did not want to risk travelling or having other family and friends travel any distance to see us, risk a large group gathering, or risk dining indoors at a restaurant. So, eliminate those options.
But last Thanksgiving — jeez, was it just a year ago? — we had a terrific, effortless Thanksgiving by booking a private room at a lovely inn in nearby historic Lexington.  We were joined by my wife's daughter and her husband and their lovely (truly!) two teenage daughters, who live nearby, as well as my wife's sister and her husband, who live on Martha's Vineyard.  An extremely collegial group — and, not insignificantly, one in which there is virtual unanimity in political views.  Indeed, the only issue of dispute arises from the fact that my step-son-in-law is from the Philadelphia area and continues to root for Philly teams rather than Boston ones.  But we all give him some slack on this one, especially since I continue to (quietly) root for New York teams.
So we have tried to duplicate last Thanksgiving as much as possible, both because it was so pleasant and, frankly, because we could all do with some degree of continuity with our pre-pandemic life.  But concessions are being made. The logistics for the Martha's Vineyard duo were too complicated, plus they have been in fairly frequent contact with their children and grandchildren of late and that posed risks to the rest of us.  So they will stay "on island" instead this year.  And we have decided, rather than a private room at the inn, to do take out and have a socially distanced dinner (as we have done previously at our home) using two separate tables in our living room.
The inn re-opened its restaurant several months ago and has developed a very good system for take-out.  After you call in the order and give them the payment information, you drive to their parking lot and a masked server brings the food out to your car and puts it in the trunk for you; you don't even have to get out of the car. (I wave and smile, though they can't see the smile behind my mask.)  So I made a reservation for a take-out Thanksgiving dinner for six a few weeks ago and will pick it up on noon on Thanksgiving Day.  Here is the menu: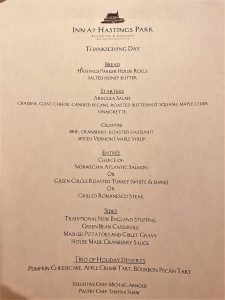 For the record, everyone ordered the turkey for the entree, which is a good thing, because I would not want to celebrate Thanksgiving with anyone who chose salmon or steak over it. I mean, there are limits. My only quibble is with the mashed potatoes.  I love mashed potatoes as much as the next All-American white bread kid — even travesties such as these that we all grew up with: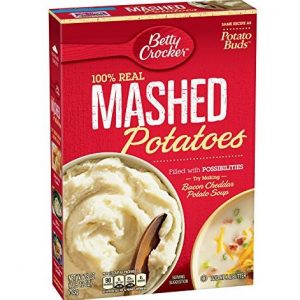 But, as the Pilgrims made clear nearly 400 years ago, Thanksgiving is about sweet potatoes, not mashed (white) potatoes.  Oh, the humanity!
Still, I think it's going to be a wonderful and yummy Thanksgiving, even if it is too small. We'll also fret about the pandemic and rejoice about the Presidential election.  And, yeah, we'll probably watch some football, too.
p.s.  Eleventh hour change of plans.  We have now decided to not even risk a gathering of six, especially with one granddaughter returning from three months at boarding school.  So I have arranged with the inn to separate the dinner into two separate packages, one of four servings and one of two (easy with us all ordering turkey).  I will still pick them both up, but then drop off the former with the "others" — though we may take a brief walk with their dogs around the nearby reservoir — and then take the latter back home for just my wife and me. But I'll still watch some football.  And, in a small effort to be festive, my wife and I plan to dress up and eat in the dining room with the fancy china and silver.
All in all, hardly a sacrifice.  Particularly in hopes of a much better next year in many, many ways.
p.p.s.  Does a p.s. qualify as a RetroFlash?  Rats; I thought not.
John Shutkin
Characterizations: funny, right on!, well written