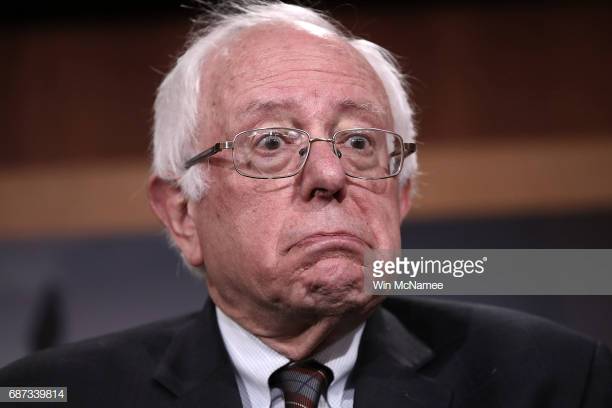 Who the f*ck is Bernie?  Hint: it's not the guy in this photo.
Who the f*ck is Bernie?  Hint: it's not the guy in this photo.  
I hate surprises. That is probably either cause or effect of spending a career in risk management-related legal positions.  So this was a tough prompt for me to warm up to.  I was originally going to write a little story about the April Fool's Day trick my wife pulled on me a few years ago.  It was very much a no harm/no foul trick, fooled me completely (and briefly — she spared me greater angst), and showed how very well she understood me and my foibles.
But then I read Barbara's story and it brought back to me a memory of a similar — though far less traumatic — episode in my own life.  I was thirteen and my brother was fifteen and our mother was planning on taking us to Europe that summer for a "grand tour."  (I think I have alluded to it previously.)  So off we went sometime the spring before — I don't think it was April 1st, though that would have added a nice touch of irony — to the massive Hall of Records building in New Haven, which is where one went those days to get passports.  My brother and I were sort of goofing off and only half-listening while our mother provided the requested details about all of us to the clerk behind the counter.  But then the clerk asked about marriages and husbands and, instead of just answering "Ned" — our father's name and our mother's former husband — our mother said " Bernard So-and-so," (I never really caught the last name.)  Then she got to Ned.  Upon hearing "Bernard," my brother and I looked at each other in WTF amazement, but were too shocked to say anything. Plus, we thought that challenging one's mother as to such facts in front of a passport officer probably wasn't such a good idea.
Anyhow, we kept our mouths shut and our mother casually continued on and, about ten minutes later, we left the passport office. Of course, as soon as we were out of earshot of the office, both my brother and I turned to  — and on — our mother and yelled, "Who the f*ck is Bernard?!?"  (Our mother was pretty casual about swear words, so this terminology might have been a bit unusual, but not totally verboten.)  She seemed honestly surprise by our surprise and replied casually, "Oh, didn't I ever tell you about Bernie?  He went to college [Wisconsin] with your dad and me and we went together when we graduated. We got married as a lark and then, a few months later, decided it was a silly idea and got divorced.  I really thought I'd mentioned it to you before."    My brother, acting as our spokesman, made clear that, no, she hadn't f*cking told us about Bernie before, and this was one helluva way to learn about it.  Our mother quickly apologized, but it was clear that this was not some deep, dark story that she had hidden from us; she honestly thought it was no big deal and that she had, in fact, mentioned it in passing at some earlier point.
My brother and I calmed down, a little, but were still in a "WTF — and what else haven't you told us about?" mood for a while.  We were finally assuaged when we talked to our father a few days later and he was equally casual:  "Oh yeah, Bernie.  Nice guy.  Your mom was actually married to him for a few months when I went off to medical school.  Didn't we ever mention it?"  Surprise, surprise.
Interestingly, in recent years, my wife and I have discovered that a number of our close friends had themselves had what are now called "starter marriages"  — early, brief, no kids, no further contact — and had struggled a bit with whether to tell their kids or not. And, equally interestingly, when they did tell their kids, they had been almost universally wrong in predicting their reactions.  The kids they thought would be cool with it were aghast and vice versa.  Guess the lesson is that there is no accounting for surprises.
John Shutkin
Characterizations: moving