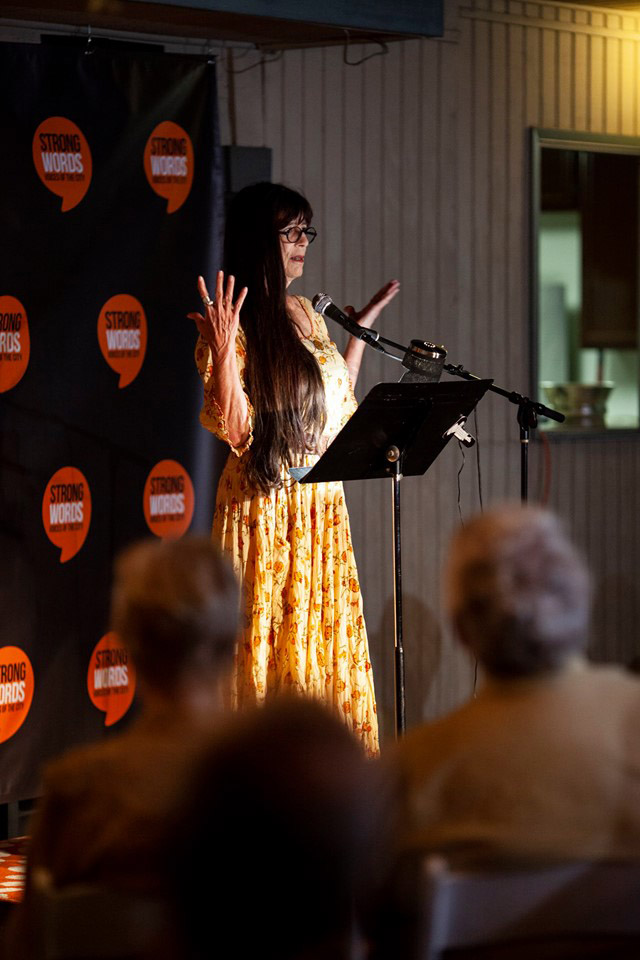 (As promised, here is the piece I read aloud last night at Strong Words in Atwater Village, a.k.a. the piece in which Stevie Nicks makes a surprise appearance. You can also watch the performance–mine, not Stevie's–by clicking here: youtube.)
As a court reporter, I am an officer of the court, and as such, I get some respect. I cover my 'shroom tattoo with a Band-Aid and wear stockings and high heels.
Strong words. I do love language, the written and the spoken word. I care about spelling, semantics, and syntax…and yes, I've been known to annoy the people I love most by correcting them. But even as a kid I was a word nerd, quietly extracting the Word Jumble from the newspaper while my brothers wrestled over the comic section. In school, my highest marks were always in English, and typing—words—and shorthand—more words. Later, I rarely missed an episode of that Pyramid game show, and I even won a little cash when I appeared on Password Plus. Now I do crossword puzzles every morning to keep those neurons humming along. And, I write.
It's 1980. I'm a single mother. I've moved back home as, thanks to the support of my mom and dad, I begin a new life. After three years of rigorous training, I am finally a certified court reporter. Rather than work in a courtroom, I choose to do free-lance deposition reporting—question-and-answer sessions that can be used as evidence in a trial. Depositions are typically held in one of the myriad law offices dotting Wilshire Blvd. from downtown to the Pacific Ocean and customarily set for 10:00 a.m., which means I can take my daughter to school, go to work, and usually pick her up on time.
As a court reporter, I am an officer of the court, and as such, I get some respect. I cover my 'shroom tattoo with a Band-Aid and wear stockings and high heels. I swear in the witnesses, and when attorneys get into arguments with each other as they so often do, I'm permitted to interrupt the proceedings and admonish them with my little spiel: "I hereby advise you that I cannot be responsible for the record if you continue to speak simultaneously."
A lot of courtroom dramas on TV and in film include a shot of the court reporter to lend credence to the scene. If the actress hasn't researched her role sufficiently—and it's almost always a woman, although there are male court reporters—it looks like she's stabbing at a tiny typewriter set upon a tripod. But if she has done her homework, her hands move in a seemingly relaxed up-and-down motion that's slower than you'd expect, and almost hypnotic.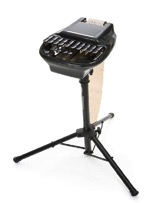 This form of stenography is also known as machine shorthand. The stenograph really is a marvel of phonetic engineering. Because it has far fewer keys than a typewriter, the stenographer uses letter combinations and presses multiple keys simultaneously to spell out whole syllables, words, and even short cuts for common phrases like SMAFT for "as a matter of fact," NERP for "in your opinion," KOIK for cocaine, KROIK for crack cocaine, and DAUB, DRAUB, and SHRAUB respectively for "domestic abuse," "drug abuse," and "sexual abuse."
Although a reporter must be 100% focused on each and every utterance for extended periods of time, once you get the hang of it you're often no longer consciously listening to the meaning of the words or their context but automatically recording sounds, akin to the way someone who is fluent in more than one language translates without really thinking. At the same time, it feels a lot like playing a piano. As in music, in speech there is rhythm, tempo and cadence, the lilt and moan of language.
Sometimes, though, you can't help but listen. When the fresh-faced attorney for the huge insurance company casually asks a young woman to tell him everything she remembers about the morning in question and she haltingly describes what happened when she was driving home from vacation early one morning, her husband snoring softly in the passenger seat and their two children fast asleep in the back, and she dozed off at the wheel and upon regaining consciousness found that her children had been killed in the crash that ensued when she bounced off the road and into the desert, court reporting is a dirge, and the court reporter must blink and swallow several times in succession to maintain composure.
And when people are arguing, as they often do in the antagonistic milieu of law and order, the sounds become atonal and dissonant, like free jazz: the increasingly shrill voice of the woman seated at a conference table who confronts and accuses her silent ex-husband of being responsible for their teenage son having hit land, at speed, while waterskiing, because he, the ex-husband, had steered the motorboat too close to shore before turning the wheel, what was he thinking, or was he, reckless, drunk, stupid, punctuated by the percussive low tones of her attorney admonishing her to keep her cool. Their son, now a quadriplegic, also sits at the table, in a wheelchair, expressing no emotion. The court reporter reminds herself that she is a mere extension of her machine, and tears are entirely inappropriate.
Indeed, sometimes attorneys tend to forget the court reporter is not the machine.  Like the time a persistent tickle in my throat had me coughing softly, coughing, coughing, coughing, and still the attorneys kept talking, didn't even notice, until finally the witness interrupted and asked, "Can we please stop and give the court reporter some water?"
Eventually, because the pay is better, I specialize in the hardest, most technical depositions—those of expert witnesses whose testimony supports one side of a case in matters of, say, engineering, medicine, or accountancy. I come up with my own shortcuts for phrases like "coefficient of friction," "paroxysmal atrial tachycardia," and "double-declining balance depreciation method." Stressful work, and soon my shoulders are up to my ears most of the time, and it takes a trained masseuse to relax my muscles because my daughter's small, sweet hands are no longer up to the task.
And then, even in my sleep, oh, the nightmares! I'm taking a deposition and my tripod is slowly collapsing and no one notices, now I'm falling off my chair trying to continue without interruption, and finally I'm on the floor, still at it! Or the deposition goes longer than expected and I haven't brought enough paper so when I get to the end of the pad I turn it over and use the other side even though the ink bleeds through and I know there's no way it will ever be readable now.
Don't get me wrong, it isn't always unpleasant. Sometimes it almost feels like a rock concert. Take the time Stevie Nicks, from Fleetwood Mac, is being sued by someone claiming to have written the lyrics to the hit song "Sara." At Ms. Nick's deposition, both she and her best friend— yes, Sara!—appear in full hippie rock star regalia with bold jewelry, flowing silk and velvet skirts, fringed shawls, and high-heeled boots, charming everyone, including the attorney for the plaintiff. The song is played over and over, questions are asked, and friendly, uninhibited, and not the least bit intimidated by the suits, Stevie answers expansively, speaking so fast I can barely keep up with her. Food is even brought in so there's no need to break for lunch—of course I can't eat because I have to keep recording—and it feels more like being backstage at a concert than a deposition, and I so want to just drop my hands and be part of it.
I'm no longer a court reporter, haven't been for decades, but the experience served me well. Most importantly, it allowed me to raise my girl on my own. It also taught me the Zen of not being attached to outcome; I have no control over how things ultimately work out. And it also taught me to listen. Because if I'm really listening, I can hear between the lines.
Oh, and at night, if I'm having trouble falling asleep, I "play" my stenograph in my mind…it's my version of counting sheep. Spell your last name…in your own words…in your opinion…wait a minute…as we sit here today…I don't know…no further questions.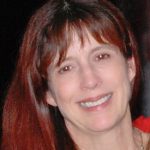 Barbara Buckles
Artist, writer, storyteller, spy. Okay, not a spy…I was just going for the rhythm.
I call myself "an inveterate dabbler." (And my husband calls me "an invertebrate babbler.") I just love to create one way or another. My latest passion is telling true stories live, on stage. Because it scares the hell out of me.
As a memoirist, I focus on the undercurrents. Drawing from memory, diaries, notes, letters and photographs, I never ever lie, but I do claim creative license when fleshing out actual events in order to enhance the literary quality, i.e., what I might have been wearing, what might have been on the table, what season it might have been. By virtue of its genre, memoir also adds a patina of introspection and insight that most probably did not exist in real time.
Tags: language, spoken word, spelling, semantics, syntax, stenography, shorthand
Characterizations: funny, moving, right on!, well written