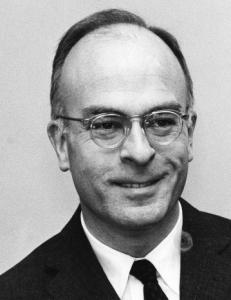 Near the end of my freshman year at Harvard, we applied to the residential "houses" where, hopefully, we would live for the next three years.  These houses had been endowed about 1930 by a philanthropist named Harkness, who gave both Harvard and Yale $10 million each to establish a system analogous to the college system  at Cambridge and Oxford. (It is almost impossible to find a university in the Northeast without at least one building — or, in the case of Yale, a tower — named after Harkness.)
Zeph was beloved by all in Lowell House, at a time when administrators were not exactly beloved at Harvard.
The story goes that either Harvard or Yale — I forget which, and it doesn't make much difference — turned down the offer until it heard that the other one was accepting it. So they both finally accepted the offer, though Yale chose to name its units "colleges" and Harvard, ever the contrarian, named its "houses."  Neither H's houses nor Y's colleges followed the Oxbridge tradition of truly autonomous academic units, but both embraced a variety of common activities — sporting teams, musical and theatrical societies, residential tutors, dedicated "Senior Common Room" faculty members, etc.  — far wider than just being dormitories and/or dining halls.
Lowell House was considered to be one of the "best" houses and thus very difficult to get into. One of the reasons for its popularity (besides a beautiful couple of courtyards and a reputation for well-rounded students) was its Master, Zeph Stewart.  ("Masters" are now called "Deans" to avoid the obvious antebellum implications.)  Zeph was a classics professor and also Supreme Court Justice Potter Stewart's brother — and typically referred to as his "smarter" brother.  (Let's not have a deep Freudian dive here into the implications of parents who would give their sons such names.)
I was surprised and thrilled when I learned that our whole residential trio had been admitted to Lowell; we were resigned to a less popular house where a good number of our friends had also applied. I was even more surprised when I met Zeph for the first time at a reception for incoming freshmen and he came right up to me (we had name tags).  He said, "In case you're wondering why you got in — besides sounding like a fairly interesting guy – it's because of Bethany."  (Some may recall from a previous story that Bethany was the tiny little town outside of New Haven where I had grown up.)
Of course, I had to then ask Zeph, "Why Bethany?"  He explained that, when he was an undergraduate at Yale, he came down with a serious illness — I'm thinking something like rheumatic fever — and rather than go home to Cincinnati and miss school or stay in the infirmary for an extended period, a kindly classics professor named Clare Mendell invited him to move in with him and his wife for the semester in their bucolic home in Bethany.  Not surprisingly, Zeph had fond memories of Bethany from that recuperative time and the name had jumped out at him when he was perusing the Lowell applicants' bios. He had also "checked me out" with Polly Bunting (see another one of my stories), who was then President of Radcliffe and had also lived in Bethany and Polly confirmed that I at least came from good Bethany stock.
Zeph was terrific — and not just to me; he was beloved by all in Lowell House.  And this was at a time when administrators were not exactly beloved at Harvard.  For example, when we began at Lowell, there were still strict "parietals" limiting the hours of visits by women within its ivied walls.  But Zeph had instituted with the guardians of Lowell's gates a rule that the Senior Common Room should be open 24 hours a day and there would be an "irrebutable presumption" that any woman seen entering or leaving the gates after parietals shall have been deemed going to or coming from the Senior Common Room  A wiser ruling Potter never issued.  And, once Harvard and Radcliffe started discussing an "experiment" in coed living our junior year, Zeph was all for it and made sure that Lowell was one of the three chosen houses.
Zeph's wife was an Englishwoman named Diana, and she was as lovely and gracious as he was.  Every Thursday, they held tea in the Master's House — complete with a beautiful tea service that had been in Diana's family for years —  and it could not have been more gracious and in delightful contrast to the contentiousness that surrounded our college life at that time. Thursday tea was hugely popular and even the most radical students could not resist attending and enjoying the camaraderie that this created.  As testament to that, there was a "coat and tie" rule attached to the tea — a rule that had been mocked for years and ultimately abandoned in the dining halls   — and yet everyone happily complied with it to attend.  We knew Zeph, in his quiet way, was one of the "good guys."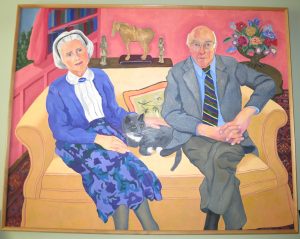 (Here is a portrait that was done of Diana and Zeph in the Master's House.  Also their cat, whom I generally liked other than when she would come into heat during spring exam period and yowl all night.)
I also got to know Zeph quite well as I was on, and then became chair of, the "House Committee" the social — and occasionally political — student government body in each house. Zeph somehow negotiated a brilliant settlement between these crazies in the Lowell House Bell Ringers' Society (Lowell has huge Russian bells mounted in its towers) who insisted on their inalienable right to ring the damn things on Sunday mornings and the rest of us residents who needed to sleep in to recover from whatever bacchanalian activities we had been engaged in on Saturday night. And I particularly remember late one night early when I was chair and painstakingly cutting the pictures of Lowell's student residents from our "pig books" and mounting them in the display case in front of the dining hall.  It was a real pain in the ass kind of job, but I thought it was important to do, so I felt I couldn't really delegate it to anyone else.  Zeph came wandering out of the Master's House and chatted and kept me company while I finished it (there was only one pair of scissors) and told me "I always thought you were the kind of guy who would do this stuff."  Probably the nicest thing ever told to me by a Harvard faculty member/administrator after "you're admitted" my senior year in high school.
I corresponded with Zeph a bit after graduating — and he wrote me a lovely reference for law school — and last saw him at my 25th reunion where, though he had retired by then, he hosted a lunch for us Lowellians in its dining hall.  As usual, he could not have been more charming in his low-key way.  And, as always, there was a sneaky wit behind it all, which I particularly loved (and have tried to emulate.)  In his brief comments to us, he said, "Remember how old and decrepit you all thought I was when you were in Lowell House? Well, you're all older now than I was then."   Amazement and laughter ensued.  Vintage Zeph.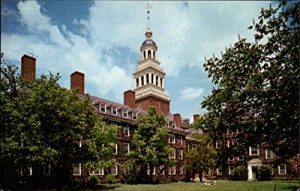 .Lowell House
And here is the portrait of just-retired (and also beloved)  Co-Deans, Diana Eck and Dorothy Austin, as painted by my Lowell House roomie Steve Coit: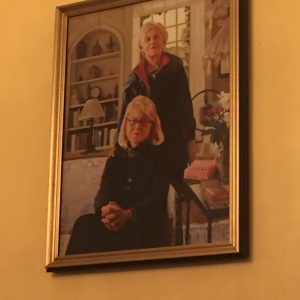 But wait — there's more….
Lowell House just re-opened after a two-year renovation.  The library is as beautiful as ever.  And you can see Steve's portrait of D + D on the left side of the picture of the dining hall.
John Shutkin
Characterizations: been there, right on!, well written