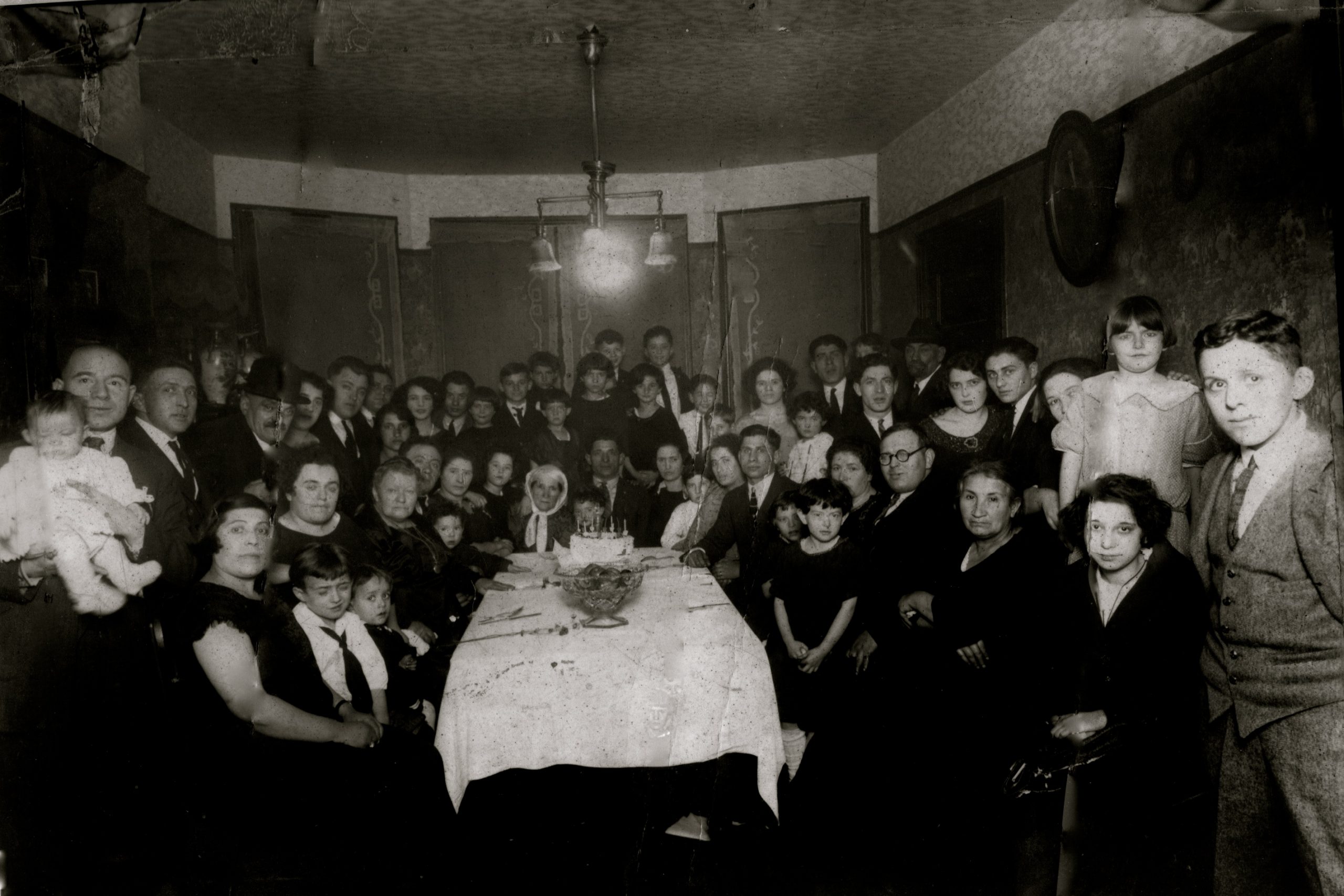 And other Lessons About Group Portraits
Taking those grand family photos is not a thing for my children's generation.
One of my favorite stories about my late mother-in-law, AKA Nana, was the group family photo taken at a wedding. She had a huge copy made, which hung prominently in her living room. She loved that picture. But when my youngest sister-in-law was divorced, what was she going to do with a beloved and expensive family portrait featuring her former son-in-law?
Nana was a clever woman. Even in this pre-digital era, she found a way to erase him from the family. She removed the now offensive photo from its frame and drew a curtain over her daughter's ex. Then, she drew a matching curtain on the other side. I wish I had inherited that picture because it was masterful. From that point on, whenever new members joined my husband's side of the family, the running joke was not to end up standing near the edge of the photo.
I inherited my parents' love for taking family photos to mark special occasions. We took so many of them and I still love reminiscing about who had joined the family, how cute my kids and then grandkids were, and how my nieces and nephews had found partners and started their own families. I never dreamed I would one day be confronted with Nana's dilemma, but sadly it happened. Not too long after we gathered to celebrate my mother's ninetieth birthday, my youngest daughter and her spouse divorced, and I was left with what to do about that family portrait, the last one that included my mother. The offensive ex-son-in-law was very tall and stood in the middle of the back row. I had some rudimentary skills with photo editing and decided to remove his head. Wish I could have done that in real life. Unfortunately, he was holding the baby, who ended up weirdly floating in space. I tried rehanging the picture like Nana had done, but my editing resulted in an eerie family photo. Ultimately, I took it down with great sadness.
Growing up, taking the huge family photo at special events was such a big deal that it caused a rift between me and one of my uncles. His son, who is much younger than I, has a bar mitzvah on the same day that I was a bridesmaid at a college friend's wedding. I attended the bar mitzvah service, went to my friend's wedding, and left the wedding celebration in time to make an appearance at my cousin's party. As a recent college graduate and engaged to be married woman, I thought I had gone above and beyond what was a reasonable expectation. But I missed the family portrait and my uncle held a grudge about it for several years. That's how sacred those pictures were for his generation.
When I look at my collection of group photos from family events, some inherited from my grandparents and parents, I wonder what it was about past generations that made taking these pictures worth the time it took to pose for them, especially ones like my featured image. My grandparents are on the far left and my mother is a baby in her father's arms. There are easily 100 people in this picture taken in 1923. Given the technology of the day, they had to stand or sit still for a pretty long time to capture this image, which must have been very important to them. Who are they? Why is there a cake on the table? I'm still fascinated by the image.
For 40 years, our Chavurah (Jewish friendship group) built and decorated a sukkah every fall. And it was our tradition to take an annual picture. That's right, we have 40 of these group photos. They range from years with 14 little kids and grandparents to years with only a handful of kids as they went off to college and fewer grandparents as that generation died to one of our final pictures that looked like this: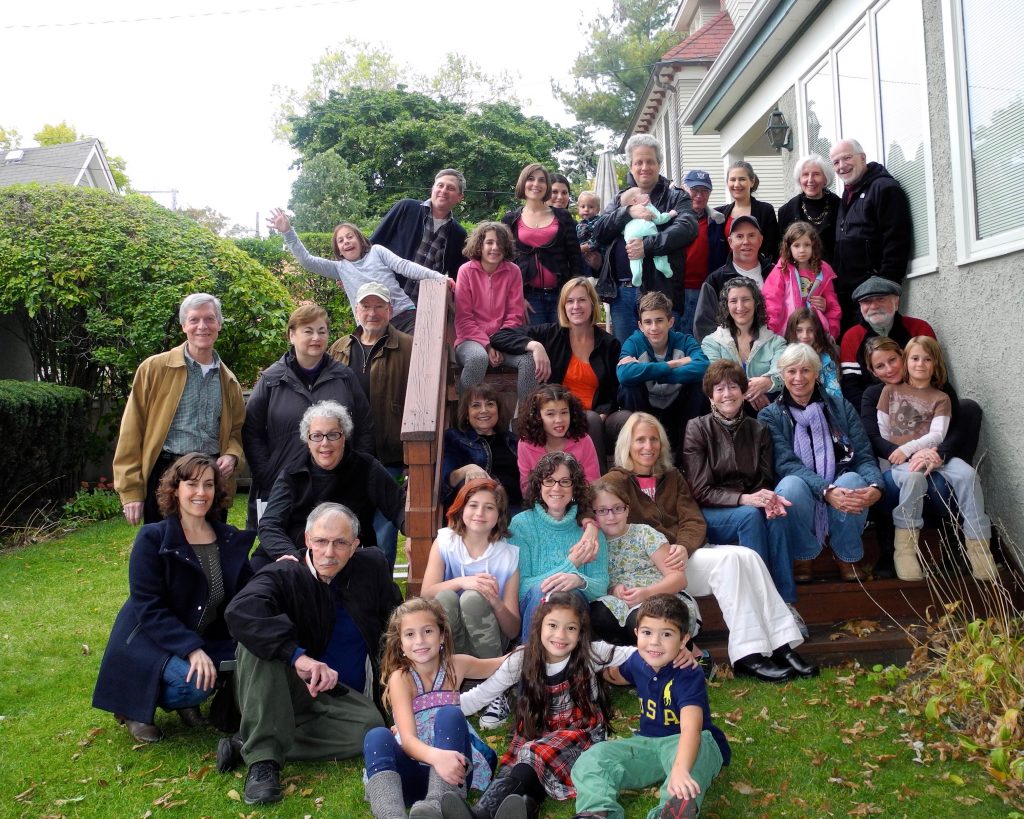 This chronicle of our group's evolution is priceless and was well worth the effort it took to herd everyone into the photo.
Taking those grand family photos is not a thing for my children's generation. When they have a photographer for a special event — a wedding or bat mitzvah, for example — they want pictures that capture the essence of the event, photo journalism style. Posed pictures are out. Even on those rare occasions when my immediate family got together, pre-pandemic, it was a struggle to get them to humor me with one of those pictures. We did manage it for our 50th anniversary because that was the only gift we wanted. But I know my children don't feel the way I do about these pictures of a large group of family members.
Someday, when I'm gone and they are looking at my photos, they may regret not having group photos of their own expanding families at various ages and stages. They have countless pictures on their iPhones but very few printed out in frames. And like so much of today's world, most of their photos are of a few people doing something or selfies. I guess it would be hard to look at a large family photo on a small screen. That's a sad loss in my book.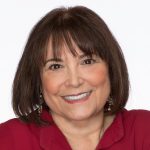 Laurie Levy
Boomer. Educator. Advocate. Eclectic topics: grandkids, special needs, values, aging, loss, & whatever. Author: Terribly Strange and Wonderfully Real.
Characterizations: funny, moving, well written