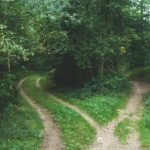 As the saying goes "Friends are the family we choose."  Indeed a friend for life is a precious gift,  but sometimes it doesn't work out that way.
What ended the friendship might be the abrupt surfacing of a major difference - all too common since 2020 -  or the slow erosion of feeling over the years,   or geographic distance,  or divergent personal growth.  But whatever it is,  it hurts.
Think back about Ex-Friends and share forward!
Start Writing
Read Stories