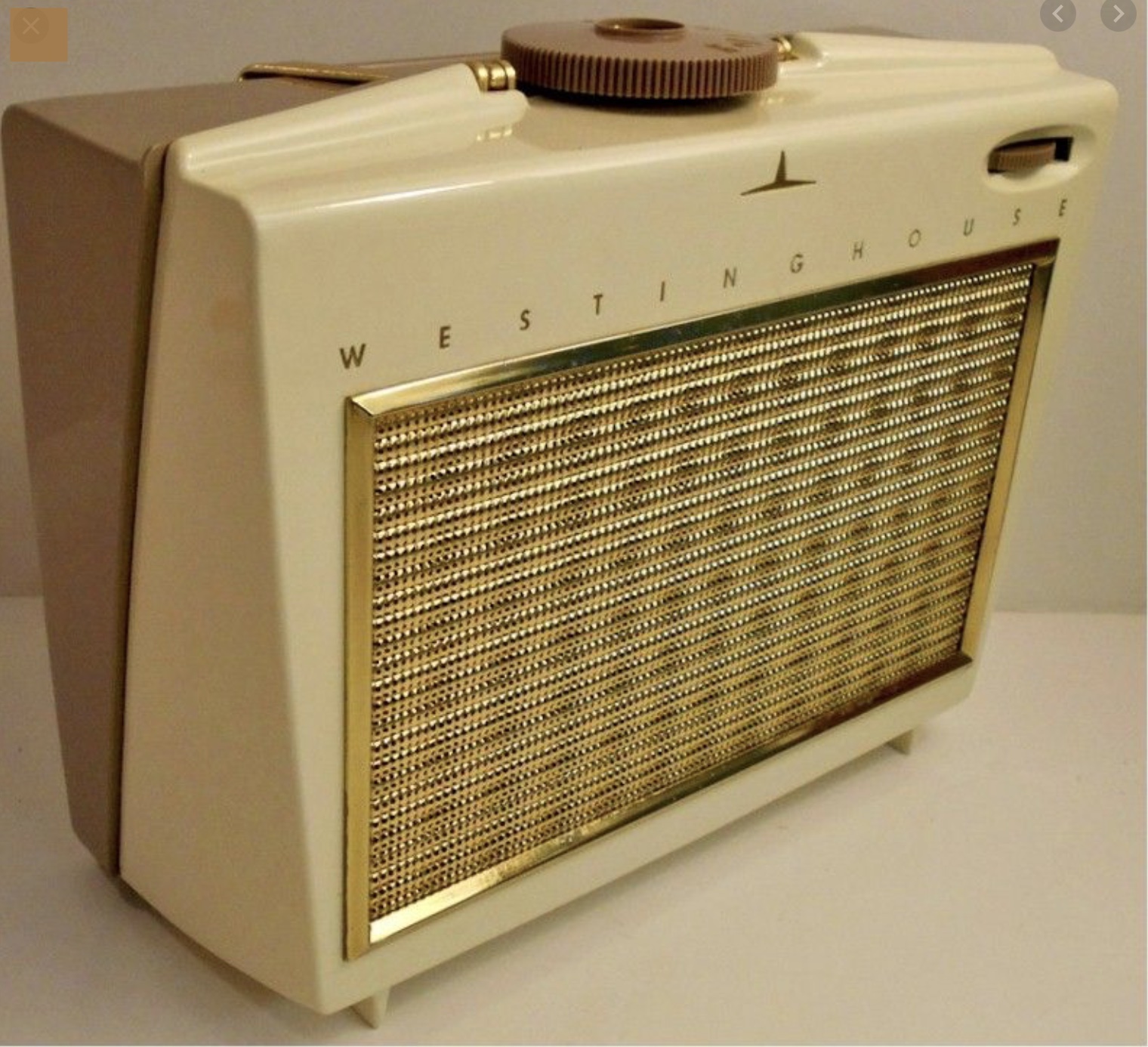 Of course, as usual I start from way out in left field.  Seeing the prompt, my first thought was a Sesame Street clip from long ago that always cracked me up: Martians Radio.  My sons loved this; like many Sesame Street clips it resurfaced regularly.  I don't know whether my boys loved it more for its intrinsic content or for its effect on me.  Same experience with the Swedish Chef on the Muppet Show (bork! bork! bork!). *
I particularly liked the weekly feature from StoryCorps, personal stories narrated by one family member to another.  Probably no surprise to this crowd.
Anyway, the featured image is the exact model of my first radio.  Late '50's.  A true portable but of a different stripe: this was a tube radio, not a transistor radio.  And it was indeed portable but could also be plugged into a household outlet.  The configuration was a bit strange: there were "D" cell batteries inside the case and the "portable" mode was activated by plugging the line cord into an outlet within the innards of the radio.  Bizarre.  But it worked.
In those days my sole listening activity was sports.  There was a local community college that was a national powerhouse in basketball.  I listened to most of their games.  We had a minor league baseball team in town, the AA club for the Yankees, at the time.  I followed most every game.  I have no idea what became of my radio; might have just worn out.  More likely was replaced with a smaller transistor radio before too long.  I note that there are at least a few for sale now on Ebay and other sites; the going price seems to be about $165.  Clearly the retail price for mine was just a fraction of that.
Of course in my teens the choice was Top 40 (did we call it that, then?). Still AM radio. The local choice was WENE. Or as their DJs would say it, "Wubyaee'nee". I suppose I listened at home but predominantly this was a driving thing. My mom's car, a convertible. Top down. Radio blaring.
I had a great summer job during my college years and earned enough to pay my share of tuition etc. and still purchase a car. Still WENE around home, but on my trips to Cambridge I looked forward to picking up the preferred Boston station (WRKO? 680?). I remember that when I got to Sturbridge on the Mass Pike I'd usually pick it up for the first time.  It meant I was almost back, a happy moment because I loved being in Cambridge.
In my early working years in Connecticut I had a driving commute.  No more Top 40.  It was Imus inbound; NPR's All Things Considered outbound.  For the last six years of my Connecticut time the commute was an hour each way so I heard plenty.  NPR talks about "driveway moments": the times when one has reached home but the current segment hasn't completed, so you stay in the car to listen. I found it astounding how often that happened.
In Chicago my commute was by train.  I don't remember listening to radio at all during my working years.  When I began consulting from my home office, however, my listening resumed, this time coincident with my morning workouts.  NPR and Morning Edition. I particularly liked the weekly feature from StoryCorps, personal stories narrated by one family member to another. Probably no surprise to this crowd.
Over the years, as I moved, my NPR station of choice changed. I don't remember what it was in Chicago. In the Adirondacks it was Vermont Public Radio; reception was better than from North Country Radio. When I moved to the Hudson Valley I was out of range of metropolitan stations and connected with Northeast Public Radio, a subnetwork out of Albany. Northeast was founded by an academic, Alan Chartock, who taught political science at SUNY New Paltz. Chartock was THE expert on New York State government. I believe he had regular commentary over the airwaves and wrote a number of columns on the subject. Truly a brilliant man. But.
As you know, the bane of NPR listeners existence is the periodic Pledge Drive.  A necessary evil, yes.  Taken to new heights by Chartock, who insisted on moderating these two-week marathons himself. None too pleasing of voice, in the first instance, his "patter" left a lot to be desired.  Over the course of the two weeks it became harder and harder to listen.  I don't know many how many times he told and retold and retold the story of his founding of Northeast Public Radio. Ouch.  I remember in 2013 suffering through the spring Pledge Drive until the final Friday.  Now, I regularly contributed to my local NPR station over the years, but this year, in a fit of pique over Mr. Chartock's performance I held back.  Until then.  Unable to stand it any longer I capitulated and phoned in my pledge.  The pleasant volunteer took my information and then sweetly informed me that the station was doing an informal survey, and "would I care to tell them what prompted me to give to NPR today?".  "Stockholm Syndrome", I replied.
---
* Probably this comes as no surprise after my last story, "Twice- (Thrice-? Umpteenth-?) Told Tales of the Great White North."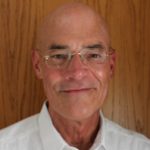 Tom Steenburg
Retired attorney and investment management executive. I believe in life, liberty with accountability and the relentless pursuit of whimsy.
Characterizations: well written